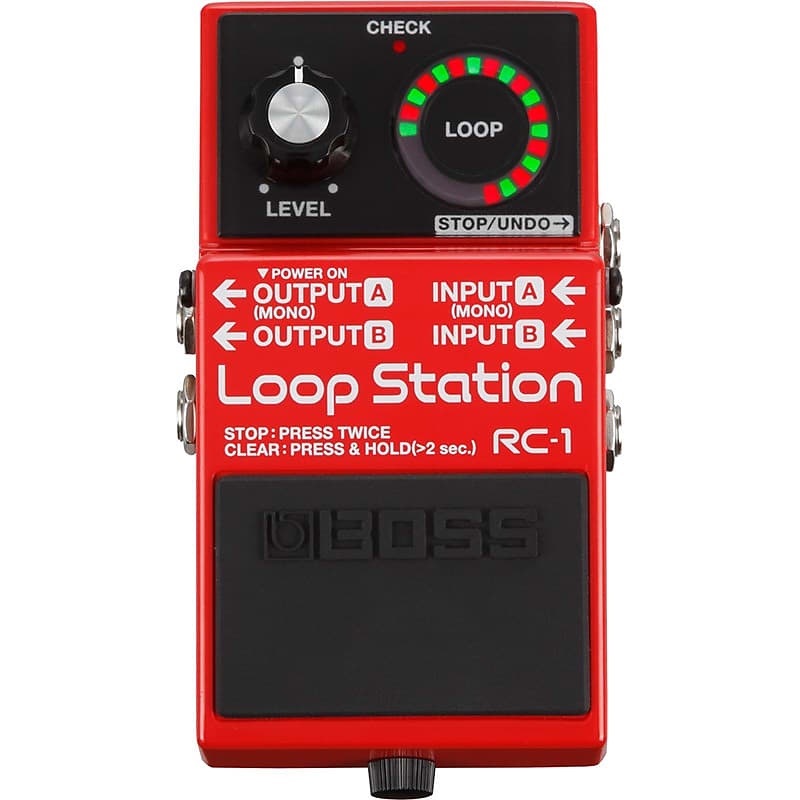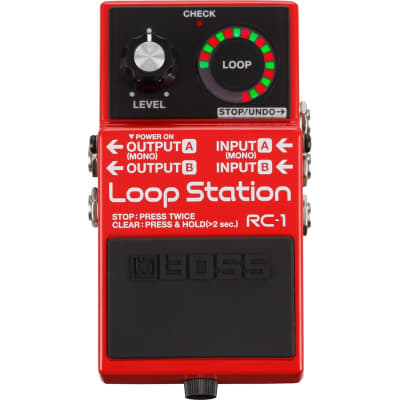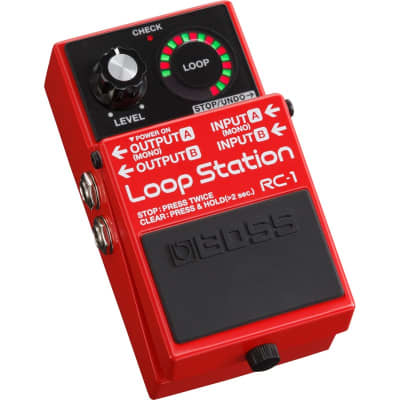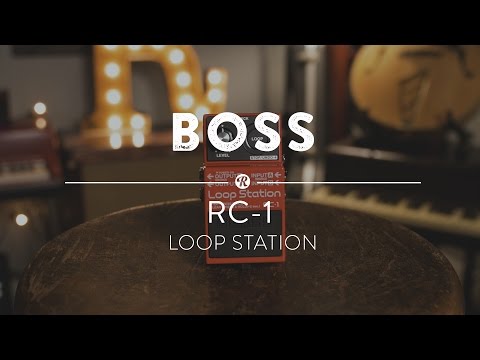 The RC-1 is the first Looper in the RC Loop Station range, perfect for first-time "Loopists" or beginner musicians. It comes in the iconic Boss Stompbox format, which is renowned for being extremely robust and can be "stomped on" millions of times without breaking! It can be used anytime, anywhere, as the RC-1 is battery-powered. A is sold separately if you require mains power.
If you are new to the world of looping, the RC-1 is a great option, as it has a simple layout and is easy to use. Quite simply, you press the pedal to start recording, press it again to add layers and double-tap to stop - that's it!
The Boss RC-1 also has 2 inputs, labelled A and B. This can be used as a stereo input, which is ideal for keyboards, electronic drums/drum machines, samplers, DJ hardware or even a smart device. Guitarists, Bass Players and Vocalists can use a single input, meaning singer-songwriters can have both their instrument and vocal microphone plugged in at the same time.
If you are a multi-instrumentalist, you could have your electric guitar, bass or keyboard plugged into one input and a mic in the second. You can then use the mic to capture any acoustic/percussion instruments, your voice or anything else you would like to record to the loop.
A great tip to master the art of looping is to treat the pedal as an instrument. All you need to do is press the pedal in time to what you are playing and you're golden - if you can tap your foot in time, you can loop.
What's really useful, is the coloured LEDs indicate exactly where you are within your loop, as well as give you a countdown to the start point. This visual aid is perfect for helping you to perform in time with your loop. IT will also inform you which mode you have the looper set to.
The RC-1 has 2 modes for different looping applications. Out of the box, the RC-1 is set to record loops in a specific order, Record > Overdub > Play.
Record - The first stage of any looper. This is where you set your loop length and base layer.
Overdub - This is the name for any layers that you would like to stack on top of the original recording. You can build up harmonies, rhythmic patterns, countermelodies and phrases. You can even undo/redo layers in case you make a mistake or as part of the creative performance.
Play - This plays the original recording, all the layers you have overdubbed and allows you to play along with them, without adding to the loop. This means you can perform freely without having anything added to the loop.
The second mode can be accessed by holding down the pedal switch and powering the pedal on simultaneously. The Second is Record > Play > Overdub. By having the RC-1 set to this alternative mode, users can explore musical ideas without capturing the audio straight after the initial recording.
No matter which mode you have the Boss RC-1 set to, it's able to record 12 minutes of audio in total. This means that from the first press of the switch, the pedal can capture up to 12 minutes worth of stereo audio and then pay it back to you repeatedly. It will then store your recording when you power it off.
If you would like to have more control of your loop, you can add an to make your loop setup even simpler you use. By adding an , you can have the pedal switch of the RC-1 will control Record and Overdub and the
Condition
Brand New (New)

Brand New items are sold by an authorized dealer or original builder and include all original packaging.

learn more

Brand
Model
Categories