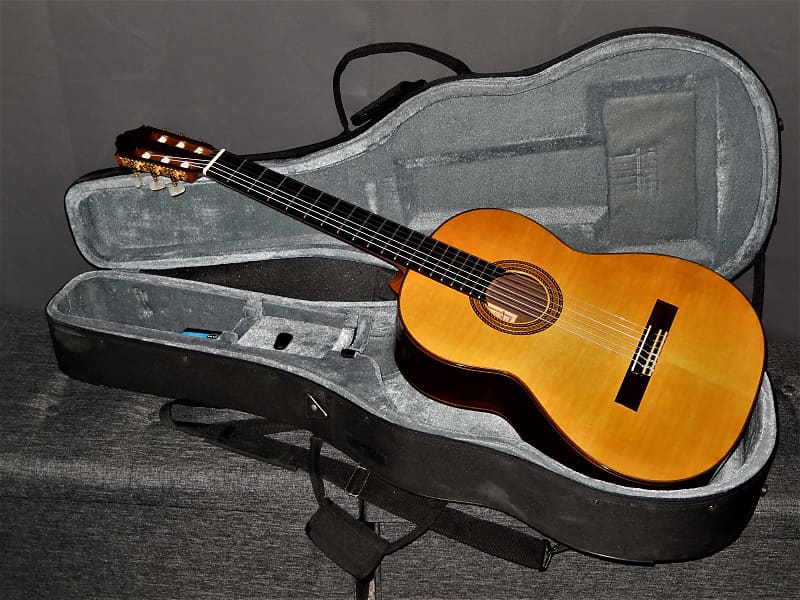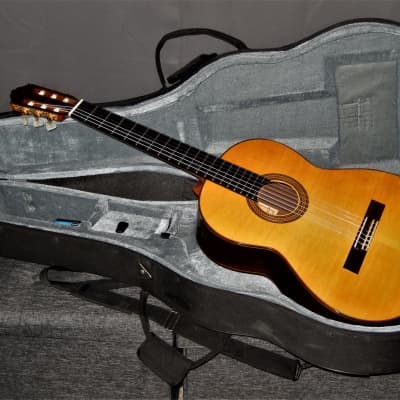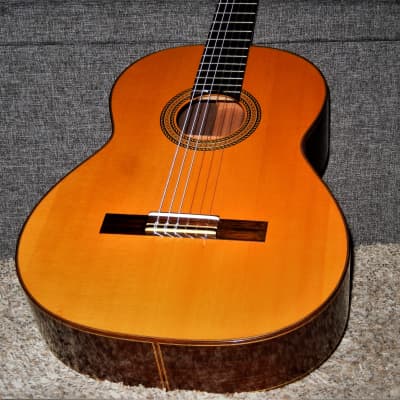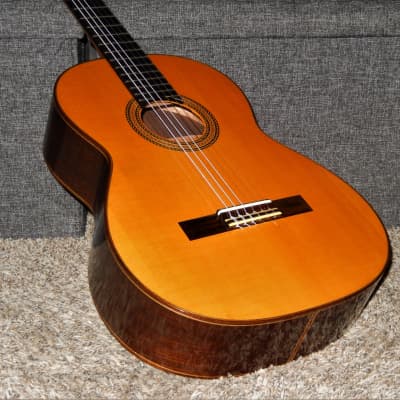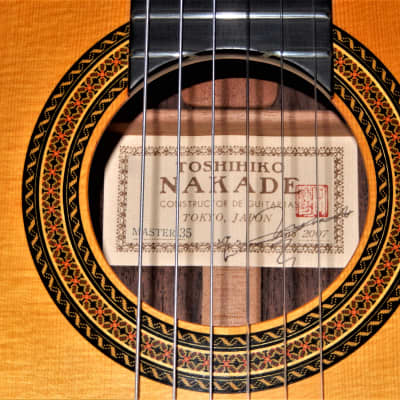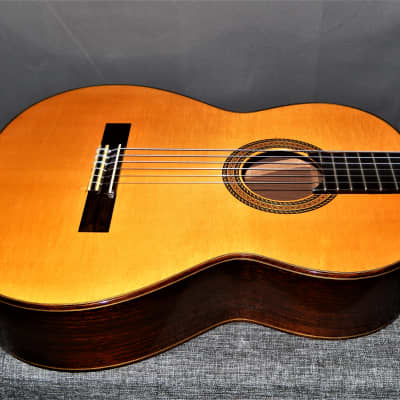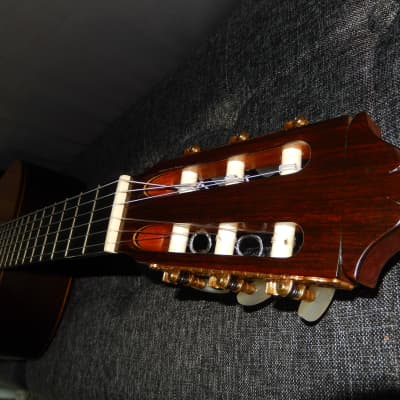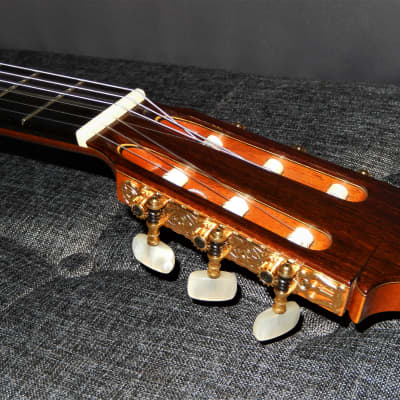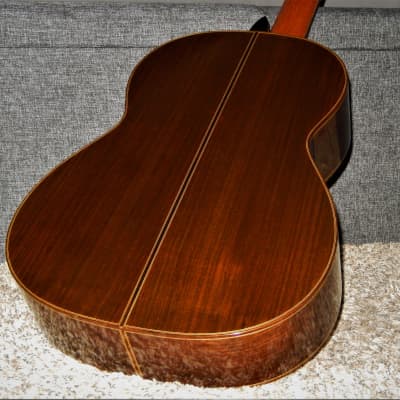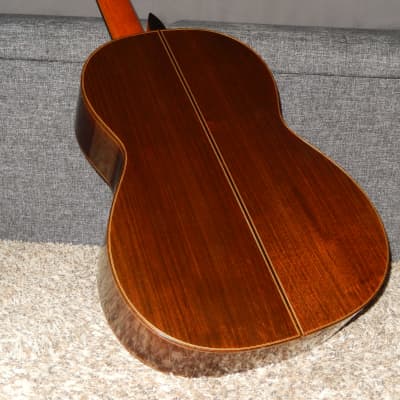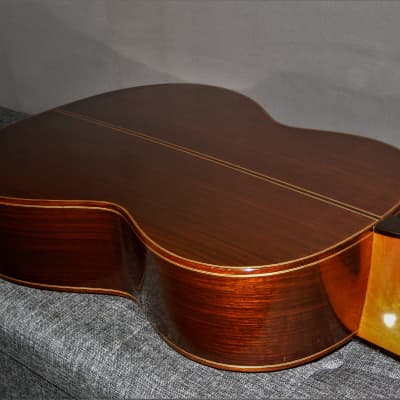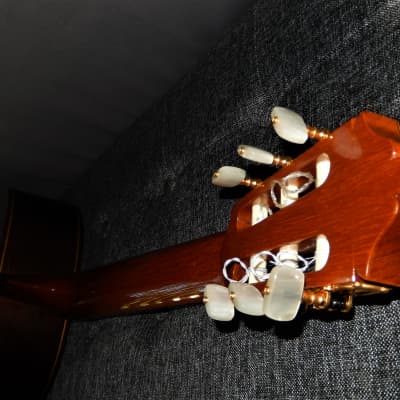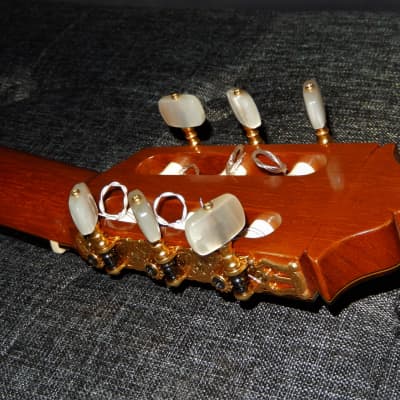 An important message for Australian buyers is located at very bottom of this page.
TOSHIHIKO NAKADE MASTER 35 2007 Classical Concert Guitar
This wonderful guitar was made in 2007 by Toshihiko Nakade, one of highest regarded Japanese luthiers of that era. His father Sakazo Nakade has been crowned by Japanese experts as "The Father of Modern Japanese Luthiery".
Nakade Family Luthiers
Sakazo Nakade together with his older brother Rokutaro apprenticed under Japanese Master Violin Luthier Mr. Kinpachi Miyamoto in 1930's.
Miyamoto had a chance to examine and measure Andres Segovia's performance guitar while he performed in Tokyo in 1929. Their master never ventured into guitar making, but the apprentices Nakade brothers did. They also went to Spain to study guitar making from the Spanish masters. Nakade guitars are high quality instruments and have a big following in Japan. They were famous in early 60's before Masaru Kohno got famous in the late 60's.
During 1960s both brothers were famous and their guitars equally highly regarded in Japan. Both brothers were selling their guitars at the same price level as Masaru Kohno. I believe that Rokutaro passed away in early 1970's. Sakazo continued his work until his death in 1993 (at the age of 87). In late 1960's/early 1970's he was joined by his 2 sons Teruaki, Toshihiko and later on by his youngest son Yukio. Rokutaro's son Osamu Nakade, also travelled to Spain in early 1960's and started his own workshop after his return to Japan in 1970. Sometime in 1990s Osamu Nakade designed a guitar model with top, back and sides made from bamboo, sold at very high prices.
Besides being trained by their father, Toshihiko and Teruaki went to Spain in mid 1960s, and studied at famous Hernandez y Aguado workshop for few years before opening their own workshops. Toshihiko started his independednt career in 1968.
All Nakade luthiers were making very high grade guitars and successfully competed with Masaru Kohno on Japanese market. Their workshops were never as huge undertakings as Kohno's workshop hence their guitars were sold outside Japan in quite limited numbers. In fact their guitars in many cases were of much higher grade than Kohno models sold for the same price.
Toshihiko Nakade retired in July of 2021. In recent years his guitars were sold at very high prices and nobody questions their greatness. His lowest classical models were priced minimum 600000 yen (at least $6000 in US distribution) while his model No100 (made with Spruce top & Latin America Rosewood b/s) was priced 1000000 yen (at least $10000 in US distribution). Toshihiko's flamenco guitars were made in very limited numbers and were always highly priced. His latest very top classical guitar models made in 2021 were Maestro (priced 1 100 000 yen) and Aguado (priced 1 430 000 yen).
Until at least 2003 Toshihiko's model Master 30 was made with figured Brazilian Rosewood b/s. In 2005 it was sold as model Master 35 priced 350 000 still made with BR b/s. Currently the same grade brand new guitar made by Toshihiko would be priced 800 000 yen, which means at least $8000 retail price in US distribution. The same grade guitars made in Spain are priced at least $15000.
This guitar offers everything that devoted player can ask for: terrific response & great volume, combined with superb note clarity and separation, clear piano-like trebles, deep and rich, cello-like basses, all well balanced and magnified by very great sustain. It is very lyrical yet bright sounding instrument. With all its crispiness and note clarity, it would certainly suit many experienced flamenco players.
Overall condition of this can be described as "at least very good for its age". Besides one string burn below the bridge (E1) and few very minor marks within its shellac finish, body of this guitar doesn't bear any significant cosmetic flaws. It doesn't have any structural issues either.
Specifications:
Top: Very Fine Solid Spruce/7 braces fan/shellac
Back & Sides: Solid Rosewood/ shellac
Neck: Spanish Cedar
Fingerboard: Ebony
Scale: 650 mm
Nut width: 51 mm
Strings Savarez Cantiga Alliance Tension Forte
The action is set to 3.50 mm under E6 and 3.00 mm with still extra room on the saddle.
This guitar will be shipped in used Hard Polyfoam Case in good condition.
Real Value of Japanese Vintage Guitars
The key to understand value of vintage Japanese guitars is to acknowledge galloping price inflation (devaluation of Japanese yen) during 1960s & 1970s. This inflation slowed down in 1980s.
During 1960s and most of 1970s model numbers of Japanese guitars were strictly interconnected with their prices in Japanese yen. By early 1980s and during following decades model numbers were no longer strictly associated with their prices. Some Japanese guitar makers introduced model names instead of model numbers. Others were still using model numbers with addition of letters and/or other symbols.
It is important to understand that two Yamaha GC10 guitars made 10 years apart are two instruments of totally different class. The same applies to any other Japanese maker/brand.
Any guitar priced 100 000 yen in 1970 (labelled usually as No10) would be priced 200 000 yen in 1975 (relabeled to No20 or 2000), 300 000 yen in 1977 (labelled as No3, No30 or 3000). Starting in 1977 Masaru Kohno introduced his new models No40 priced 400 000 yen and No50 priced 500 000 yen. By 1984 Kohno started using model names instead numbers and was raising their prices as he was pleased. The very top model 50 became model "Special", and a decade later it became model "Maestro". Naturally, all other Japanese guitar makers were doing the same pricing (labelling) upgrades.
Knowing all of that, you can bet on that Masaru Kohno No50 made in 1982 is practically the same grade instrument as Kohno No20 made in 1972, or Kohno no 30 made in 1975.
In 1970 the lowest Ryoji Matsuoka (all laminates) model was 10, followed by (solid top) models 15, 20, 25, 30, 40, 50, 60, 80 and (all solid woods) models 100 and 150. Models 60 and 80 were made with non-solid figured Brazilian Rosewood (double) b/s and top model 150 was the only one made with solid figured Brazilian Rosewood b/s.
In 1980 the lowest Matsuoka model was (all laminates) 20, followed by (solid top) models 30,40,50, 60 and all solid woods models 80,100,150 and 200. By 1990 the lowest Matsuoka model was M40 and the highest was M300. By 2010 the lowest Matsuoka model was M50 and the top model was M270.
You can bet that Ryoji Matsuoka model 50 from 1980 is of the same grade as model M100 from 2000, model 100 from 1980 is of the same grade as model M150 from 2000, model 150 from 1980 is of the same grade as M200 from 2000 and model 200 from 1980 is of the same grade as model M300 from 2000.
It is important to mention that if modern era luthiers are using 40+ years old woods to make an "all solid" wood classical guitar, its price is minimum $8000.
All vintage guitars made with Brazilian Rosewood are especially precious, including those made straight grain varieties and those with non-solid b/s.
Because response and tonal properties of Spruce soundboards are improving over time, long seasoned Spruces are far more precious than long seasoned Cedars.
It is not that very difficult to find out what are current prices of such guitars made by world's leading luthiers.
Important message for Australian buyers:
USPS International Priority Mail packages destined for Australia have quite restricted size (max. length is 42" and max. length + girth is 97"). For these reasons I must use the case that is no longer than 41" and therefore it may be different than the one you see on the pictures. You should ask me for any other details prior to making a purchase.
Reverb Buyer Protection
Reverb has your back if your item is lost, damaged, or doesn't match its description. Simply report any issues within 7 days and we'll help you get a full refund.Learn more about Reverb Buyer Protection.
Listed
3 years ago
Condition
Very Good (Used)

Very Good items may show a few slight marks or scratches but are fully functional and in overall great shape.

learn more

Brand
Model
Categories
Made In
Body Shape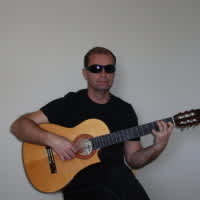 Milton, GA, United States