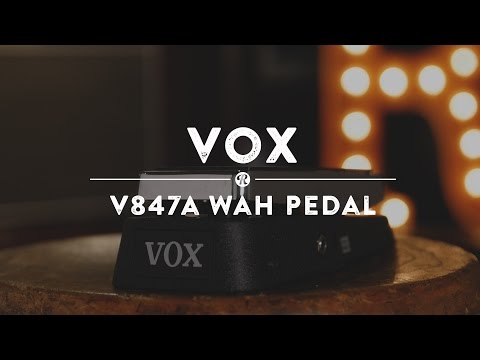 About This Listing
Modest Mike's Fully Modified Vox V847 USA Model BBB A+ Rating
Free shipping for the next US buyer.
All of our modified pedals are warrantied as new!

We can also modify your pedal! Just give us a call or shoot me a quick email for mod service information (see last picture, business card).

Wah'z happening? You just have to have a wah for some variety! Our pedals have all of these mods: *True Bypass Does a wah pedal affect your chain of sound when you turn it off? Is it a tonesucker? Unless it has true bypass, the answer is an emphatic YES! Wah pedals are notorious tone suckers. Normally when the wah is not on but still plugged into your amp or pedal chain, your guitar's signal still has to pass through the circuitry. This robs tone quality...especially the high frequency range. True bypass eliminates tone sucking! We replaced the old foot switch with a new 3PDT. This lets us rewire in a way that allows the sound to travel around the circuitry. When you are switched off of the wah effect, your guitar's signal will now go into the input of your wah and straight out the output jack to your amp, or next effect pedal. Once this was done, we added a little magic! *Sweep Mod Adds better EQ to the the sweep, makes it sound a little less thin and "trebly".
*Vocal Mod Adds more vocal quality. Makes it sound like it wants to talk!
*Volume Boost Mod Did you ever notice… the volume level drops a little when you click on a wah effect? Not any more! This mod brings up the volume level of the wah to match the volume level of your clean sound.
*Gain and Bass Response Mod Adds a little gain and bass to the wah. Sounds nice for mellow sounds, but also crank up your amp and add some dirt for a touch of growl!
*Midrange Mod Increases the mids and helps to smooth out the response between the bass and treble.
*Volume Pedal Mod This mod allows you to use your wah as a volume pedal! If you have seen our modified wahs before, you will notice this is a new feature. We have replaced the toggle switch we once used with a soft touch push button switch. When the button is pushed in your pedal is a wah pedal. Push the button again, and you get the volume pedal effect. You can use the side of your foot to activate this if you like, instead of reaching down to control it by hand. When you rock the pedal all the way back, the volume is very low. Just rock the pedal forward for swells, to set your overall volume level, or to use as a clean boost pedal.
*LED Mod "Is this thing on?" We added a water/clear blue LED. The LED is clear when off, a nice noticeable blue when on (it's bright!).
*9 Volt Power Jack Vox wahs made in the USA do not come from the factory with an external power jack. But we drilled a half inch hole and install a standard 9 volt DC jack. This pedal can be powered by anything you use to power your other 9 volt PSA pedals. No more batteries! Well, you can still use a battery if you prefer.
From our customers who have bought one of our modified V847 wahs, or had their pedal modified by us: "The wah mod is awesome! Loving it already and haven't even hooked into my cabinet with my band! Just played through a little crate practice amp but I can tell a big difference! Thanks again, the wah is wicked!"
"Hi Mike, I wanted to thank you for doing such a good job on my Vox Wah pedal. I appreciate the extra effort you put into helping me get a sound that I like. I will be spreading your name around those who are looking for someone who does good quality work. Someone like you. Thanks again. I hope you will come hear us sometime.In Christ, Karl"
"Awesome Product. Incredible Tone. Happy customer here." Buyer: vintel7
"DUUUDE! I got it. And it's awesome. Everything works brilliantly. Thank you. Thank you. Thank you. TJ"
"You got a wah? Send it to Modest Mike!" Robert J.
"Great pedal, nice sound & features!" Buyer: griffing
"Received my wah back today, thanks so much!! Exactly the fat classic sound I was looking for!! Will be doing more business with you soon!!!!" Steve V. Wait a minute...Steve V? It couldn't be...could it?
"This pedal is insanely unique! It's become a staple on my board. I'll be back! jgp76 (294)
From Thomas "Got the pedal today!!!! Right on man!!!! Thanks again Mike!"
"This is now the best wah that I have ever owned - thank you so much - I love the way it sounds!" - anabugg22
"Got the wah last night! Ripped open the box, plugged it up. YOU DID AN EXCELLENT JOB! I myself, have been a AV bench tech for over 30 yrs. You not only have good ears, but it also takes good technical knowledge of filters EQ's, gain, attenuation etc. to. I'll refret a Strat or a Les Paul before i'll tear into a pedal. I may get a schematic if it doesn't work. Again great work! PS. Sent a few more pic's. One, is my PA cabinets I built after I completed them, 1 1/2 yrs. ago. Since I added 2 more mids and 2 subs, and has 10KW in the gas tank! The other, is my guitar rig at a show I did in Louisville, with Danny Johnson of Steppenwolf." Jerry
"Dude you are the man!! The wah is great has never sounded so good! Had that wah since high school and it broke my heart when it failed. I will send the chorus and other wah next. By the way the metal pedal KICKS ASS no more hiss like the old days. Much cleaner sound." Robby
"Hey Mike----The Wah sounds fantastic! Rob"
From Russia: "Hello Mike! I received pedal today. THANK YOU VERY MUCH. It's a great pedal, really true wah ;) Nick"
"Hey Mike: I got a chance to REALLY give the new wah a test drive today ... WOW! That thing is freakin' incredible! I've never played through a wah with anywhere near the range of that pedal. And it's almost TOO quick! It will take some getting used to, but the amount of voicing heard for just 1/4" of travel is as much as MANY of the pedals I've played for the full throw. And, most importantly, it sounds fantastic. It's so near a talk box I could probably make it sound like that, with enough practice. Thanks again - great work!" Mike
Gordon, a music instructor from Canada, just bought one of our modded Vox V847 pedals: "WHAT A PEDAL!!!!!!!!!!!! Awesome seller!!!!!!! Mint mint mint. AAAAAA+++++++++++" Member id 416elgordo
From Mario:
"Great Pedal! Great Mod! Great purchase! Shipped abroad, just received it! 5 STAR"
"The absolute best sounding wah I've ever heard! After 2 days of testing I can honestly say this was an excellent purchase. This is the epitome of wah sound, where it should always have been. You do great work brother. I'll write you a stellar review for your page if you'd like." You just wrote a stellar review. Thanks Charles!
From Tom in Australia: "Hey Mike! Gigged the wah the other night. It was excellent! The tone and vocal quality of the wah was really impressive, and the volume worked a treat with the reverb/chorus/delay combo on the swells I use. It is easily the best tone combo I've gigged with and I really love it mate."
We seem to sell a lot of pedals to Australia. This email is from Michael: "Hey Mike, just got home today and the first thing I did was unbox the pedals you modded for me. I have got to say I am blown away, the wah pedal sounds absolutely incredible and now the SD-1 outclasses all of my OD pedals! Thanks so much, I'll hit you up for any future mod needs and will link to your site on mine. All the best!"
"Hey Mike, It's Paul G here, I can't thank you enough for the work you put in on this guy, and how reasonable your price for such good work was, of course! Just showed up quick as can be, and sounds amazing. Such an impressive boost in tone and range all around, and utterly ideal with the volume and adapter mods. You can be sure that I'll be recommending you up and down! Can't wait to get it on stage. I'll be in touch again I'm sure, best of luck and please keep up the great work."
From Mike L: "Just wanted to thank you very much for my wah pedal. I am soon to be 48 years old. After over 10 years of health problems I am just now being able to get back to playing guitar with others again. In the past I have often wanted a wah pedal but every time I played one in a music store they never sounded like what I was hearing on CDs so I just passed on them. After seeing all your positive reviews I bought this pedal. And I must say, this pedal has that sound I hear "in my head" of what I think a wah should sound like. I will tell others about you and I am sure I will be back to try another pedal down the road."
"Hi Mike, I just received my wah pedal, thank you for the lightning fast service and clean work. I was trying to solve some problems (noisy, no true bypass, batteries required) that were keeping me from enjoying using the pedal. You solved those problems; I've got a quiet, versatile, highly functional pedal now. I'm also pleased with the subtle changes in the pedal's voice. Clean, but still a Vox. I wanted to compliment you on channeling Paul Kossoff in the video on your website. Spot-on, and very tasty.Thanks again, Mike. I'll tell my friends, and keep you in mind for any future mods.Bryan LaVell"
"Do you have any of the newer made in China models in stock?" We have one, with all of the mods. Call or shoot me a quick email if you would prefer this one.
Left footed? We got you covered! We have one with the LED at the top right, and the volume pedal effect button installed on the left side. Call or send us a quick email for this one.
Waht more could you ask for? How about free USPS Priority shipping?
"We make your sounds... sound good!"

Thanks for looking, and keep rockin'! Mike
*See all of our mod services and modified pedals here on Reverb, modestmikesmods.com, our eBay store, and on youtube!
Product Specs
Listed
12 days ago
Condition
Very Good (Used)

Very Good items may show a few slight marks or scratches but are fully functional and in overall great shape.

learn more

Brand
Model
Finish
Categories