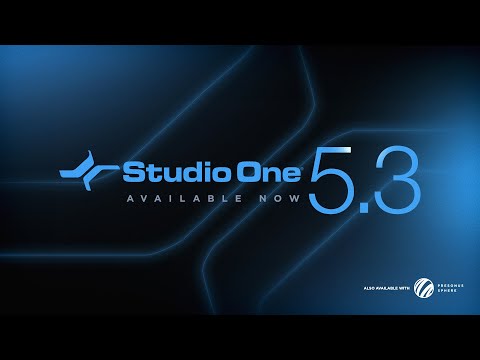 This is a digital download. Your registration code and instructions will be emailed to you within 30 mins or less during normal business hours. There are NO returns on this product, please be sure you have checked your system compatibility before you make your purchase.
New in V5.3
Musical Symbols and Dynamics Processing are now integrated with Sound Variations
Both Musical Symbols and Dynamics Processing have been added to the Sound Variations editor. The integration of Musical Symbols allows composers to add symbols to their scores in a manner already familiar to them—and virtual instruments will respond with the appropriate performance articulations. Dynamics symbols are tied to MIDI Velocity, with customizable values.
Musical Symbols also now receive their own Lane in the Note Editor—any changes made in Score View will be reflected in Piano View, and vice-versa. The Lane is divided into note-based Articulations—such as Staccato, Accent, or Portamento; and range-based Directions like Pizzicato, Vibrato, or Col Legno. Musical Symbols are now displayed directly on Note Events, and there's even a Variations Global Track view atop the Piano View.
Musical Symbols can be mapped by hand, or Auto-Assigned based on the Sound Variation names of the currently-loaded instrument. And perhaps best of all, orchestral libraries from our friends at Vienna Symphonic Library, UJAM, and EastWest have already done the Sound Variations mapping of their robust libraries for you—a major time-saver!
MIDI channel support for Sound Variations and improved selection
Studio One 5.3 has extended the output mapping of Sound Variations to include MIDI channel information as part of an activation sequence. MIDI channel mapping can be used alone or in combination with other activation messages like keyswitches, controllers, or velocity—deepening Sound Variations' usability with Kontakt instruments.
Sound Variations are faster and easier than ever to search and apply thanks to a quick right-click menu of recently-used Variations—for quick re-application—and a one-click "apply" button to place the currently-active Sound Variation at the cursor point.
Show Page improvements
Drag 'n' drop more things to create Patches on the fly
Drag 'n' drop now works in the Show Page for virtual instrument Presets—drag a Preset from the Browser to a Player and it will create a new instance of the associated Instrument and create a new Patch. The same works with dragging Ampire to a Real Instrument or Backing Track Player—it even works with complex FX chains.
Seamless patch changes
When playing virtual instruments live, seamlessly switching between different sounds is a must! Virtual Instrument Player Patch changes are now gapless during a performance, so long notes held across patch changes will not be cut off while the new instrument is activated.
Format conversion and backup options
Zip and upload to PreSonus Sphere
In 5.3, you can now save any Document (Song, Show, or Project) to a .ZIP file, with the options to convert all media to .FLAC and/or exclude any unused media—keeping your file sizes down. And with one extra click, Studio One will upload your .ZIP to PreSonus Sphere Workspace for safekeeping or collaboration. Of course, you and your collaborators can download them again straight from the Cloud tab of Studio One's Browser—you don't have to leave Studio One and mess about with your computer's file explorer or Internet browser. And Studio One can also open any Zip it makes.
You've also got new options to quickly export .AAF, Capture Sessions, MIDI Files or Open TL via the "Convert To…" option in the File menu.
New creative applications of The Chord Track
Rapid chord progression prototyping via D'n'D
With a single drag 'n' drop (of course), you can now drag a Chord Event from the Chord Track into an Instrument Track to render a simple Note Event chord to play with—great for auditioning and prototyping new arrangements.
You can even drag an Audio Event directly to an Instrument Track to render your chords as a Note Event, if the chords had been detected before.
MPE support for VST3 instruments
5.3 adds MPE support for VST3 instruments using Note Controllers in Studio One. This allows MPE compatible VST3 instruments to work with Studio One and compatible hardware controllers. Great for users of those instruments which automatically hide their VST2 counterpart when a VST3 version is installed
Audio Clip Versions
New in Studio One 5.2, you can now create new versions of audio clips to add more creative freedom to clip-based editing. Use multiple versions of a clip that references the same audio file to try alternative edits with Melodyne, Bend Markers, or Gain Envelopes to dial in just the effect you need.
Mix Console
Your mixing workflow is unique. Your mixing console should be too. That's why Studio One® lets you resize the Mixer windows and faders with both narrow and wide views, compact and expanded inserts, and Send Views. Freely reorder channels or have Studio One organize the Mixer automatically. At any time you can simply select multiple channels to create a temporary or ad-hoc group. You can change settings such as volume or pan for all selected channels without having to create a group first. Show or hide the Input Mixer, output channels, and hardware controls as you need. New in Studio One 5, powerful Mix Scenes capture a snapshot of the entire console, including view/hide state, fader levels, effects chains, and more. Scenes can be recalled in part or in full using your mouse, keyboard, or any hardware controller. The Studio One Mix Console makes sure that you have access to the critical functions you need, customized just for you.
Safety Options
Let's face it: crashes happen. And unfortunately, the larger your plug-in library grows, the more potential for an unstable plug-in to crash your session grows as well.
Studio One 5.2 makes troubleshooting Song, Project and Shows with possibly crashing plug-ins easier by automatically launching the new Safety Options window the next time you open Studio One after a crash. This window lets you pick from a number of safety options in order to isolate the problem and prevent the crash from happening again.
Create without boundaries. Produce without limits. Wherever sound takes you.
Record, produce, mix, master, and perform all from a single, intuitive application. Designed with ease of use at its core, Studio One® 5 is your creative partner from studio to stage. The Start Page provides what you need to begin your creative process, including a dashboard with all your songs, projects, and shows, plus a personalized user profile that allows you to add custom metadata to all your creations.
Open the Song Page and you'll find everything you need to record, compose, edit, and mix with a complete set of virtual instruments, effects, groundbreaking arrangement tools, and an advanced Score View based on our award-winning notation application. Next, assemble and master your masterpiece in the Project Page. Projects and Songs are linked, so you know the mix you're mastering is always up to date.
And when you're ready to hit the stage, Studio One is right there with you. New in Version 5, the Show Page lets you add virtual instruments, backing tracks, and plug-in effects to your live instruments with an easy-to-use Setlist that lets you sculpt your performance and change your show each night or do a quick edit on the fly when inspiration strikes. The standard for end-to-end production, only Studio One 5 seamlessly moves with you from initial inspiration to full production, final mix to mastered album, digital release to stage production… and lets you truly create without boundaries.
The original drag-and-drop interface.
Studio One pioneered the drag-and-drop workflow that continues to be a guiding principle in our design philosophy. Audio loops, virtual instruments, plug-in effects and even presets can all be dragged into your session from Studio One's innovative Browser. Copy FX Chains from one channel to another simply by dragging and dropping. Convert MIDI to audio or audio to MIDI, just by drag and drop. New Clip Gain Envelopes let you polish performances or remove glitches with adding a plug-in to your effects chain. Ease of use is at the heart of Studio One, so you'll work faster than ever before.
Composition done right.
Modern composers need tools that let them incorporate electronic elements with traditional scoring. The new Score View in Studio One merges the best features of PreSonus' award-winning notation software, Notion, into Studio One 5. You can view multiple staves at once to work on voicing, or just one track at a time. Use the score symbol palette to change dynamics, add trills, tremolos, and more during playback. And you can pick your Musical Editor View per-track, so you can switch between the Score View, Drum View, and the conventional Piano Roll View to suit your needs on a per-track basis - or, look at the same note data in different Views all at the same time, offering a rare flexibility not often found in the digital audio world.
Produce without limits.
Forget laborious transposition, cutting, pasting, and moving when arranging. With Scratch Pads to test out arrangements, an Arranger track that makes moving sections of songs around as easy as moving Parts, and groundbreaking Harmonic Editing—the most flexible implementation ever—no other program can approach the ease of arranging and songwriting that Studio One 5 delivers. Inspiring virtual instruments and unique Multi Instruments let you create your own unique library of sounds. And with the brand new Aux Inputs, your hardware synths, drum machines, and groove boxes can become an easily-incorporated part of your production. So dust off that TX81Z or Portastudio and put them back to work.

Analog mixing with digital ease.
With a completely redesigned suite of effects plug-ins, Studio One 5 supercharges your mixing. Any plug-in with an input drive now features a State Space-modeled analog input drive stage to add just the right amount of grit and warmth when you need it. Studio One Professional's unique Pipeline XT plug-in lets you use your beloved collection of boutique, vintage, and classic analog signal processors as easily as software plug-ins. The Channel Editor lets you create complex effects chains including the Splitter tool that lets you run multiple plug-ins in parallel on a single channel. Mix Engine FX support State Space models of classic analog consoles that affect your mix across channels on any bus, collectively. This isn't a stereo bus plug-in, this is multi-source processing that creates vintage-inspired artifacts like true console crosstalk, analog noise, and input gain saturation.
Perform without fear.
Studio One 5 takes you from the studio to the stage or stream with its new Show Page. Create a Setlist using songs you're already created in Studio One, incorporating a mix of live instruments, pre-recorded tracks, and virtual instruments. Each song in the Setlist can have its own unique instrumentation. Songs in your set can be rearranged on the fly using drag-and-drop, and elements from your Song files can be added to your Show via simple copy-and-paste or direct export. When it's showtime, turn on the clean Performance view with a large meter and customizable, real-time controls over the parameters you want to adjust in real-time while on stage. Your studio sound is larger than life—now your stage persona can be, too.
Master mastering.
Studio One Professional is the only DAW that links songs and stems with finished, mastered Projects. Transfer mixes or mixed stems to the Project page for mastering—but if you hear anything you need to change, simply jump back into the Song and make your tweaks; the revised version updates with a single click so you can continue mastering without losing any previous work. Use Studio One Native Effects and your favorite third-party plug-ins to provide the final EQ, dynamics, and imaging control you need to create a professional sound. You'll also find analysis tools, like spectrum analysis, M/S-processing, K-System and EBU loudness metering, phase meter, expandable level meter, and oscilloscope to provide visual confirmation to what you hear, as well as help with conformance to existing broadcast and duplication standards. Apply processing to individual tracks or the entire collection, to take your masters to the next level. And when your masterpiece is ready, you'll find DDP export, CD burning, and direct upload to Soundcloud and PreSonus Sphere options to share your mastered recordings with your clients and collaborators - or release your albums to the world.

The Start Page
The Start Page is not just the place where you start out with your ideas - it is also the place where you can find finished professional demo productions done entirely in Studio One.
The Browser
Drag-and-drop is the core workflow principle of Studio One, and it all starts with the Browser. The Studio One Browser lets you drag and drop plug-ins, audio, and so much more. Get the full tour of the different Browser Tabs to help you get the most from this powerful innovation.
Drag and Drop
Drag and Drop is probably the single most important thing to learn in Studio One. Get an overview of just some of the many things you can do with Drag and Drop.
Tracks and Channels
Have you ever noticed that when dragging an instance of Impact XT into your Song, you end up with one Track in your Song window, but eight Channels in your Mixer? Or are you perhaps struggling with unintentionally switching presets on Instrument Tracks, even though they weren't selected? Then you need to watch this episode and learn the difference between Tracks and Channels.
Pattern Creation and Editing
Patterns are an alternative to the classic Instrument Parts in Studio One and especially good for highly complex variations or polyrhythms with just a couple of clicks. The combination with PreSonus ATOM and ATOM SQ pad controllers makes Pattern Mode the prime choice when it comes to electronic beat making in Studio One.
new in Version 5:
NEW! VST / AU Support and ReWire. Use third-party plug-ins, virtual instruments, and ReWire-enabled applications.
NEW! Studio One® Remote Support. Use the free Studio One Remote app for iPad® and Android™ tablets to remotely control Studio One while you're away from your computer. Great for recording alone!
NEW! Redesigned Native Effects™ plug-in suite. The complete suite of Studio One's Native Effect plug-ins have a fresh new look and some amazing new features. Several plug-ins—including Analog Delay, Rotor and Tricomp—have been updated with a State Space Modeled drive stage for natural analog saturation.
NEW! Key Switches and Note Controllers support. Key switches are now filtered and excluded from any type of playback processing, and Studio One now supports Note Controllers and MIDI Polyphonic Expression
NEW! Clip Gain Envelopes. The newly-added Clip Gain Envelope is the perfect tool for correcting sections of audio that are either too loud or too soft, without adding a compressor or limiter plug-in.
NEW! Aux Channels. A new channel type that allows any external instruments and audio sources to be fed into Studio One's mixer without the need to create an audio track that clutters your session.
NEW! Recording and playback in 64-bit float WAV format. With Version 5, Studio One now supports recording in 64-bit floating-point WAV format, the recommended recording format for audio interfaces with 32-bit converters.
This item is sold As-Described
This item is sold As-Described and cannot be returned unless it arrives in a condition different from how it was described or photographed. Items must be returned in original, as-shipped condition with all original packaging.Learn More.
Condition
Brand New (New)

Brand New items are sold by an authorized dealer or original builder and include all original packaging.

learn more

Brand
Model
Categories
Prescott, AZ, United States