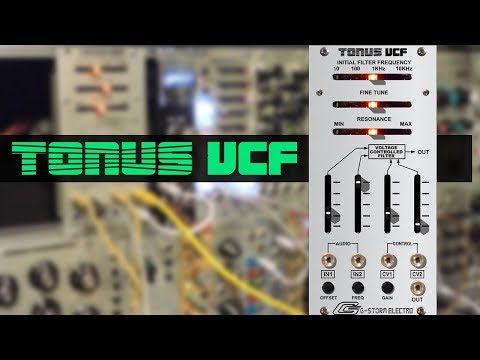 About This Listing
Put the famous
ARP 2600
synthesizer filter adaptation in your Eurorack modular system.
The Tonus VCF Black Panel version is a faithful Eurorack filter adaptation of the early ARP 2600 synthesizers that brandished the highly regarded 4012 filter module.
The Tonus VCF is named so in honor of the Tonus ARP logos that adorned the first 2600s.

The ARP 2600 is a beast of an analog synthesizer.
Among its filter versions, the 4012 module is regarded as the most desirable.
And for good reason.
Borrowing from the Moog transistor ladder design, it was not a direct copy. ARP used different components, used a different buffer circuit, and modified the resonance feedback design. The most recognizable use of the 2600 is the voicing of R2-D2 by Skywalker Sound.

Great care was taken to keep the Tonus VCF design as close to the original as possible including transistor selection, a NOS dual FET package, and a temperature compensation resistor to prevent excessive drift. Transistor pair-matching is made at or below 1 millivolt variation. My modules are lovingly hand-crafted in the USA.
FEATURES:
24 db/octave Lowpass Filter w/ Resonance
Illuminated Bourns Slider pots - Frequency, Fine Tuning, and Resonance.
High Resonance settings can self-oscillate the filter and can be used as a sinewave oscillator.
Mix together two different audio sources at the input jacks w/ signal attenuation sliders.
Modulate the filter cutoff with two different control voltage inputs w/ signal attenuation sliders.
There are trim pots accessible on the back for adjusting frequency, offset, and gain.
This new slim design makes it skiff/boat-friendly.
Includes a 10-pin to 16-pin Eurorack ribbon connector

SPECS:
12HP Module width
22mm Module depth
43mA on +12V
6mA on -12V
0ma on 5V (not used)
"Great module! Thanks for recreating these things. This thing looks like you cut out of a 2600, and said here try this. Very authentic and sounds great. Fantastic Job." –JG, WA
"I literally just played with the filter resonance, my maths, and batumi for like 3 hours. Never even plugged anything into the input…Awesome sounding filter! Spot on for the original Arp 2600. – Chris, Washington DC
"Boop zoop warble gloop zip, and that's just the first 30 seconds. Thanks for another great module." –Adam, Australia
"Your TONUS VCF is beautiful. I have a ton of filters and this one is easily one of the best I own. Thank you for such a great module." – Doug, WA
"I'm really really really loving this ARP filter and mixer. I've used a bunch of 2600's in the past and this totally gets the vibe of the early ones." – Ed, VA
Product Specs
Condition
Brand New (New)

Brand New items are sold by an authorized dealer or original builder and include all original packaging.

learn more

Brand
Model
Categories
Made In