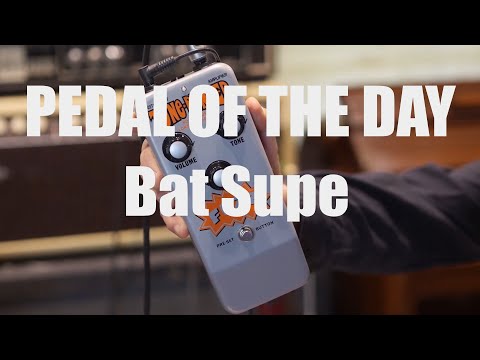 About This Listing
Bat Supe Tone Bender
supa jumbo , jumbo supa ?
its sort of supa in a batman case - people are calling it bat supe !!
here's the story from Mr Main
Some years ago I spotted a weird looking Batman Tone Bender (circa 1975) on evilBay. Bug eye knobs - cool!
Jumbo circuit but with the usually unpopulated final gain stage, populated - cooler!!
Excited Dave thinks he's gonna experience a high gain Jumbo circuit akin to some bastard child of the Supa Tone Bender - wrong.
The final gain stage is there and receiving power, but the usual bridging capacitor common on all Jumbo's is still present and therefore completely bypassing this gain stage. Weird.
I've seen another example like this and this occurrence was the same. Additional parts, but not in circuit. Friday afternoon at the Colorsound factory? Hmmm

But, a Jumbo with BC108's was still a cool thing and bug eyes are always extra bonus. On closer inspection another oddity was revealed. I'm not 100% on this but it appears as though two of the resistors have been fitted in the wrong place. Or maybe not.
What this does is over bias the second gain stage, like quite drastically so, the usually smooth tone has an almost woody bark. I have seen a similar thing on the Bell Electrolabs Fuzz units. Happy accident or intentional tuning!? I'd still err towards the Friday afternoon job myself.

Any huw, long story short. This here creation is a game of lets pretend. Lets pretend the final gain was actually placed in circuit. This is what you have. A Supa-Jumbo, a Jumbo-Supa? It's technically neither. It has very unique character with an intense, almost psychedelic, fuzz tone when dialed wide open. The over biasing on the second stage gives a noticeably different manner in how the note attack is delivered. More of an overloaded compressed feel that you'd get with a germanium device than the smoothness of typical Big Muff type circuit. You could almost say it sounds more like a Tone Bender. Set heavy on the bass side of the tone control there is more of a lower midrange roar than the heavy synth-like blanket of low end you'd find with a regular Jumbo. It kinda feels like you're using something closer related to a MKIV than a Big Muff.

There are 12 pieces in the project in total, thus far, (numbered #000 - #011) with all units being assembled by Daniel Lee Tunstill. All set-up procedures, transistor selection, final testing and inspection are carried out by myself.
So , I'll get a demo up soon . For now you can see it on out instagram account macaris_official
enjoy
rock on
Product Specs
Condition
Brand New (New)

Brand New items are sold by an authorized dealer or original builder and include all original packaging.

learn more

Brand
Model
Finish
Categories