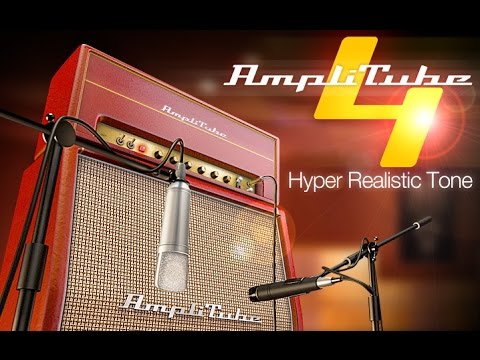 About This Listing
Get ready to have your mind (and ears) blown. AmpliTube 4, a major upgrade to the world's most powerful guitar and bass tone studio for Mac/PC, is here and will take you to a level of hyper-realism and customization of tone you never knew possible.
AmpliTube 4 is a guitar and bass tone studio for Mac/PC that works as a standalone application and as a plug-in for your favorite DAW. AmpliTube recreates the entire guitar/bass signal chain from instrument to recording device, and does so in a very realistic and intuitive way. But it also does it in ways you never dreamed possible. If you're new to using computers to get fabulous guitar tone, then you're in for a treat. If you're a veteran computer tone-master, well, you're still in for a treat. AmpliTube pioneered — and leads the way in — guitar amp and effects modeling, and AmpliTube 4 takes it to the outer edges of extreme hyper realism with intuitive familiar tools.
Hyper-realistic cab room
AmpliTube has always been about realism, and now that extreme commitment to accuracy is a part of its completely redesigned cabinet section. The new Cab Room feature is the most advanced cabinet section ever made, giving you a new level of customization and flexibility never before seen in software or reality.
Hyper-realistic gear — British Amps
AmpliTube 4 welcomes 5 new classic amplifier models to the mix representing some of the best British tones from the 70s, 80s and 90s. Each amplifier has been modeled from scratch to embody a different aspect of powerfully classic British amplifier design: There's the Brit 8000, Brit 9000, Red Pig, Brit Silver and Brit Valve-Pre. All of these new amplifiers have been created utilizing the same methods and patented technologies that have made the AmpliTube brand name synonymous with world-class sound, hyper-realistic tone and extreme accuracy.
Acoustic Simulator
AmpliTube 4 is all about exploring new tonal possibilities and its new "Acoustic Sim" model pedal turns the electric guitar into a hyper-realistic acoustic. It delivers stunning realism and an amazing playing experience that can be tweaked with the onboard controls. Players can choose from and blend 3 acoustic body styles and 3 types of top material to sound like a full range of popular acoustic guitars. Now guitarists with AmpliTube 4 will always have at their disposal great acoustic sounds.
Creative connections and effects placement
New to the signal path in AmpliTube 4 is an effects "loop" insert slot situated between the preamp and power amp sections and can accommodate up to 4 daisy-chained rack or stomp effects.
8-Track Recorder/DAW under the hood
When used in standalone mode, AmpliTube 4 features a built-in 8-track DAW that makes recording ideas and songs a breeze. Its powerful sequencer-like waveform editing should be immediately familiar to you, making it easy to use it as a sketchpad for new ideas or as a full-featured recording solution on its own. Each track features standard treble, mid and bass eq, pan control, level, mute, solo and record enable functions, plus there's an FX enable button allowing for application of different tone configurations to individual tracks. As a learning tool, you can import any audio tracks into the DAW section, define loop points and use AmpliTube's built-in Speed control to slow down difficult passages without affecting pitch, and use the Pitch control to change keys without affecting speed. This feature is perfect for working out difficult solos or practicing different leads or melodies over a series of chord changes in a backing track. AmpliTube 4 Features
Hyper-Realistic tone
3D Cab Room w/ selectable room simulations
Dual Mic placement on any speaker
Individual speaker selection
Speaker interaction modeling
Cabinet mixer for mics, room, DI and master level
New British Series Amps
Power Amp/Speaker dynamic response
Acoustic Simulator
Effects loop slot between pre and power amp
Universal effects placement
Rack effects can be used as stomp effects
Stomp effects can be used in rack section
8-track DAW/Recorder
4-track Looper
UltraTuner
Built-in Custom Shop
Product Specs
Condition
Brand New (New)

Brand New items are sold by an authorized dealer or original builder and include all original packaging.

learn more

Brand
Model
Categories
Made In
;