Anyone can sell on Reverb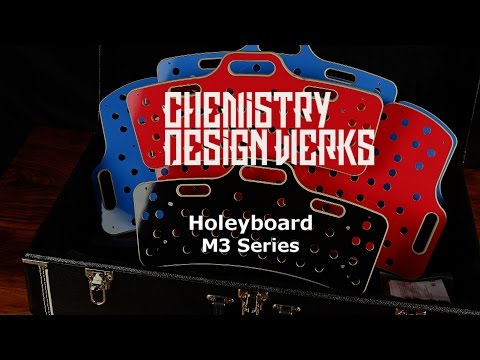 M3 Patented Updated Holeyboards
Holeyboard M3 Updated Features:
A little bit better in every way. We listened to feedback and gigged with the original designs and made them better. New and refined features:
• Lighter, Faster, Stronger! Over a pound and a half lighter than the MkI.
• Lifetime warranty
• Generation II 6061 Aluminum HoleyRisers
• Patents issued on the Standard and WIDE
Fits more pedals (1-2 more per Holeyboard) We took advantage of area that wasn't being used to and made a little more room without making it bigger and maintaining the ergonomic curved deck; magic.
Larger diameter holes. Lava Cable/George L's friendly for easier cable routing.
Power Channel. New channel cut under the Top Shelf where the power cables come out for easily routing them under the board to keep things clean.
More robust integrated handles. Easier to grip.
NOTE: THIS IS THE WIDE BOARD in the Natural Finish, ready for your own artwork or coating. By popular request many people have a wah and a volume pedal, this adds a spot for one of those on the left side with an additional handle as well. Dimensions are 30.5" x 18" x4.75". Enjoy!

Carrying Case/Messenger Bag: new! I'll put a separate listing for the bag it fits the standard board! It's bulletproof and is made for me by Atomic Tarp here in MN, they make trampolines for Hobie Cats among other things, it will last as long as the board and it has a huge shoulder strap so load-in at your gig is easy.

I Make These Boards in St Paul, MN. This is a quality "Throne" for you boutique pedals. Are you putting that Klon Centaur on with gooey velcro? Seriously, it's designed to last and to protect your pedals; for the working musician. Add your own graphics if you wish and then add your pedals.

» Made in the USA. Designed in St Paul and made in Minneapolis. Buy American.
» Light Weight, Super Strong. Designed to be easy to carry, grab the handle to get on or off stage quickly, even better, throw it in the Holeyboard Bomber Case (listed here on ebay) and put the bag on your shoulder to get in and out easily and quickly.
» No Velcro Required or nasty adhesives! Velcro is nasty, gummy, sticky, it peels off, pedals move and fall off. I designed this to use Zip Ties, one of the best inventions of the 20th century. The patent pending hole pattern allows you to mount anything easily with Zip Ties. They are easy to use, they don't damage your pedals with nasty sticky stuff, they stay on, people can't steal them at gigs, and they don't fall off. If you want to move the pedal or change it out, just grab a Zip Tie. Simple. Velcro does work if you so desire.
» A Light Eco Footprint: Sustainable thinking is at the heart of this product, pure in form, pure in function and pure in materials and construction with minimal waste. The raw material is purchased locally and the machining of the parts is done locally by small business partners. The material is Baltic Birch Plywood, an extremely durable and attractive, renewable resource. We ship boards leaving the natural Baltic Birch surface finish, ready for your own artwork or ready to age gracefully with use. We have chosen to avoid the use of chemical preservatives and coatings (except on limited edition boards with graphics or hand-painting). You are welcome to add your own tongue-oil finish or clear-coat of your choice if you so desire but it is not necessary.

» Elevated and angled Top Deck: eliminate the toe dance trying to hit the pedals in the back row, they are raised above the level of the first pedals and are angled for easy switching. Below the top deck is the perfect place for a power supply such as the Voodoo Pedal Power series.
» Patented Ergonomic Curve: The board mimics the arc of your foot when swinging from side to side for more intuitive, accurate pedal switching.
» It is built like a tank. 1/2" Baltic Birch ply, CNC cut. The expression "party like a rock star" wasn't created by accident, musicians are busy, they are creative, they need stuff that works and that lasts.
» Warmth of real wood: Be creative, paint it, draw on it, put stickers on it. It's real wood and it gets badges of honor with use. Just like a good guitar it gets better with age. Why put your pedals on carpeting? The pedalboard ships with the natural baltic birch surface, if you would like to add a finish coat or graphics you may but it's not needed.

» Use any zip tie style fasteners. 14" length seems to work well. Note that
if you have some large pedals you can just attach two zip ties together.
Place the effects where you want, loop the zip ties around and through the most convenient holes and tighten. To remove just clip off with a clipper, scissors, or knife.
» Power supplies mount perfectly under the Small Holy board. Check
out our website for different ideas on how to set up your board.
» Rubber Feet: Screwed in rubber 1" diameter feet to keep your board from sliding and out of the spilled beer and whatever else is on the stage when it's your turn to play.
» Three Carry Handles: As they say, the devil is in the details. Picking up a pedal board is not comfortable, quick or easy. Three integrated handles, on top and on the side, allow for you to easily carry your board for load-in and load-out.
» Easily Assembled: Note, the boards ship flat and if you wish you can use the Small Holey Board (top riser section) separate from the Large Holey Board (bottom section).
Condition
Brand New (New)

Brand New items are sold by an authorized dealer or original builder and include all original packaging.

learn more

Brand
Model
Finish
Categories
Year
Made In