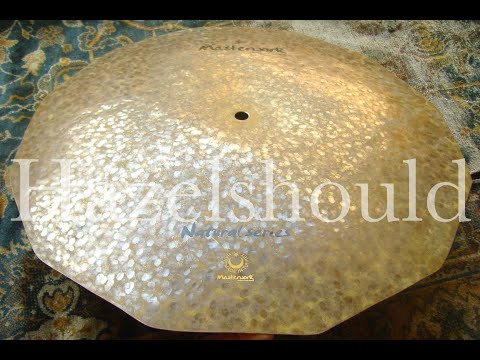 About This Listing
*** Because I love you, you can hear this item in the sound file video. From the app, scroll to below the description to find the YouTube link. From the browser, scroll to the last picture for the YouTube link. ***

WHY YES!!! IT'S A DODECAGON THIN UNLATHED RAW HAND HAMMERED TURK FLAT RIDE!! WILL WONDERS EVER CEASE?!!
Here's a unique 17" ONLY 1237 GRAM 12-SIDED FLAT RIDE!!!
NO ONE HAS A BEAUTY LIKE THIS SUPER DRY AND CONTROLLED FLAT!!
It's a 17" TURK style PAPER THIN FLAT RIDE...or FLAT CRASH. VERY DRY WITH A UNIQUE AND SUPER ARTICULATE ATTACK AND WONDERFULLY QUICK DECAY!!
Offered up for your immense delight is this UNIQUE HAND HAMMERED Masterwork Natural Series 17" PAPERTHIN FLAT RIDE that is in NEW Condition and comes IN THE BAG. Check out the pictures! There are
NO
nicks, cracks, dents or dings on this 17". It's BRAND NEW!!!
As many of you may know, the absence of a bell gives a cymbal a controlled vibe. The overtones are focused. And that is exactly the case with this specific Masterwork.
And with 12 sides. It makes a effects style Thin Flat that you can really CRASH into!
Unlathed and heavily hand hammered!! And in a super quick 17". Very controlled and DRY!
AMAZING DEFINITION BUT NOT AS CLUNKY AS SOME BIG COMPANY DRY RIDES ARE!!
Responsive. Very quick. Effects like, amazing stick attack followed by a dark and smoky wash that dissipates quickly! VERY quickly in fact!
Weighing in at a very light 1237 grams, this Natural 17" plays like a controlled THIN DRY Flat Ride. The stick attack is VERY PROMINENT--compliments of the 2 dimensional UNLATHED surface, and the tone is dark, smooth and very organic. As a Crash cymbal, this Masterwork is focused, controlled, and the sustain is very short. PERFECT for accents and punches or effects. You can swing your ass off on this thing and it will not get away from you either in overtones or volume.
And that is the beauty of this unique 17". Simply AMAZING stick definition! And incredibly RESPONSIVE AT LOW VOLUMES! When you crash on it you get a super fast, lightening-like crash that evaporates quickly! PERFECT for accents!
You can use this Unique Masterwork Natural Flat 17" for any syle of music. It's dark leanings, controlled volume and great stick attack and response is perfect for jazz, blues, ballads, soul, trio work, folk, acoustic and singer/songwriter gigs. And you can even use it in mellow pop and rock, smooth R&B, definitely jungle music, drum and bass, techno, loops and samples, and anytime you need a unique controlled, semi-dark Crash Ride with a great attack and a quick sustain.
Again, no big company makes ANYTHING akin to this 17" THIN DRY FLAT!
So do yourself a favor and grab this UNIQUE DODECAGON, CONTROLLED, VERY DRY, 1237 GRAM, hand hammered Masterwork Natural 17" PAPER THIN Flat Ride!
AND HANG ONTO IT!!
Page 14005
Product Specs
Listed
7 months ago
Condition
Mint (Used)

Mint items are in essentially new original condition but have been opened or played.

learn more

Brand
Model
Categories
Made In