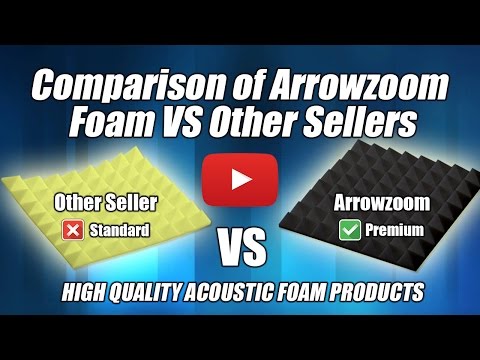 Product Overview:
Brand New Acoustic Foam
Made by Imported High Quality Foam
Sound-Absorbing Foam
High density acoustic foam cell structure for maximum noise absorption
Helps to flutter echoes and reduce excess reflections and reverberation
Improves vocal clarity and acoustics of your room
Highly fire retardant
Ideal for use in recording studios, home theatres and karaoke room
Color: Black
Size & Dimension: 50 x 50 x 5 cm (19.6 x 19.6 x 1.9 in)
NOTE: We may split your order into multiple shipments for postage. And due to shipping requirement, we compressed (vacuum sealed) the acoustic foam for easy shipping. Please kindly give it until 24 to 48 hours for the foam to restore to its normal size.
This New Acoustic Foam is made with High Quality Imported Foam. Sound vibrations are broadcast thru the air, causing issues with noise entering and exiting your house studio. This sound absorbing Polyurethane foam panel is designed to reduce echo within an environment. The Acoustic Studio Foam enhances the sound quality and aesthetics of any recording or listening environment.
Why hire a Professional if you can construct a sound-absorbing room in your house yourself! For the very best quality, most complete sound-absorption you just need this New Acoustic Foam! It comes with an adhesive which makes it convenient and easy to place. Buy these New Acoustic Foam now and have a perfect room to party!
Applications:
Auditoriums
Broadcast Studios
Computer Rooms
Equipment Enclosures/Rooms
Gymnasiums
Gun Ranges
Home Recording Studios
Home Theaters
Industrial Facilities
Professional Theaters
Professional Recording Studios
Warehousing Facilities
Property Value Metric (Imperial) Test Method:
Density (Core) 29 kg/m3 (1.8 lb/ft3) ASTM D1622
Compressive Strength 186 kPa (27.0 psi) ASTM D1621
Tensile Strength 241 kPa (35.0 psi) ASTM D1623
Open Cell Content 8.0% ASTM D2856
Water Absorption 1.2 % by volume ASTM D2842
Water Vapour Permeance
50mm sample 42 ng/Pa·s·m2 (0.70 Perms) ASTM E96
Dimensional Stability
Volume Change (%) after 28 days
-0.0 @ -20°C (-29°F)
1.5 @ 70°C (158°F) @ 97± 3% RH
0.4 @ 80°C (176°F)
ASTM D2126
Flame Spread Classification** Flame Spread <500
Smoke Developed <500
CAN/ULC-S102
Including S127
Time to Occupancy*** 24 Hours CAN/ULC-S774
Initial Thermal Resistance (50 mm) RSI: 2.45 m2·K/W (R: 13.9 ft2·hr·°F / BTU) ASTM C518
Hot-Surface Performance Passed when exposed to 93°C for 96 hours ASTM C 411
Fungi Resistance After 28 day incubation - no fungal growth exhibited ASTM C1338
Condition
Brand New (New)

Brand New items are sold by an authorized dealer or original builder and include all original packaging.

learn more

Brand
Model
Finish
Year