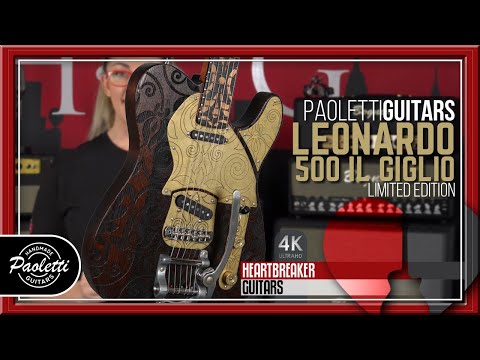 Buy with Confidence – Reverb Protection has you covered
Live support from an expert team of musicians

Simple and straightforward returns

A safe community for finding the gear you want
About This Listing
The Masterpiece is available for purchase! With just a few more left of the original 10 which were built, this guitar can be reserved now at Heartbreaker Guitars. With only 10 built, we will have our next one in September. Reserve now!
PAOLETTI GUITARS COMPANY
Back in 2005, Fabrizio Paoletti founded Paoletti Guitars—a special guitar company that pays homage to both Italian craftsmanship and Paoletti's family history by way of the build materials it uses. The Paoletti family once produced Chianti red wine in the Tuscany region of Italy, and now, the 130- to 170-year-old chestnut from the wine barrels is being repurposed and used to make beautifully handcrafted instruments.
Italy is the land of good wine, and the use of wooden wine barrels is cyclic and endless. Our company takes care to visit many vineyards and cellars around Italy, recovering the chestnut wood wine barrels that have been retired from winemaking. We make sure it is chestnut, since we have now an experience in working with it and we know how to express the best of its qualities.
THE LEONARDO 500 PROJECT
A while ago, we had the honor and the opportunity to recover a really special barrel very close to our location. Just 21 miles away from Florence, there is Vinci land it is known to have been the birthplace of Leonardo da Vinci. It is located on the slopes of Montalbano, a hilly massif rich in vineyards and olive groves.
We went to a cellar very close to the birthplace of Da Vinci, and discovered wine barrels that are recognized as part of the property of the Da Vinci family. As you may know, there is also an official wine cellar in Vinci that produces wine using the ancient method discovered by Leonardo.
Leonardo was a painter, inventor, scientist and also an expert in wine. From the Vinci countryside, during many trips, to the courts of the powerful, wine is a recurring passion. Leonardo studied the cultivation of vines: he was a brilliant agronomist and oenologist who gives precise instructions and revolutionary advice for the vineyard and the cellar. After recovering this very special chestnut wood with many many years of history and an age that could be approximated to over 200 years, Mr. Paoletti had a ingenious vision, he wanted to create Paoletti Guitars using this very special wood. Placing this wood on the top of a guitar, he had the inspiration to make a drawing starting from the city of Florence, and like a road, moving towards the ancient values expressed by Leonardo Da Vinci during his life.
The symbol of Florence is a lily ( Il Giglio ), and the city has proudly carried the Giglio of Florence on her coat of arms for almost a thousand years. The origin of the lily symbol however is even more ancient and can be traced back to the ruling class of the Roman Empire. We found inspiration in using this symbol as ambassador of our land, and finding a special relation with the golden ratio and divine proportion used by Leonardo in many works of art.
From Paoletti:
Words found in Da Vinci memories, where is clear a connection between "Il Giglio" and Leonardo's studies:
"Fibonacci numbers are often found in nature, for example as regards phyllotaxis, or the arrangement of leaves in plants. Moreover for reasons related to the development of flowers, the number of petals of many of them is a Fibonacci number, such as the lily (Il Giglio), which has three petals, the buttercups that have five, the daisy often thirty-four or thirty-five. To these numbers and therefore also to the golden section is the logarithmic spiral, which is obtained by obtaining squares from golden rectangles: each time in a golden rectangle I make a square I get another golden rectangle and so on. It is said that the golden rectangle reproduces, and can therefore be considered the oldest example of a fractal form. Even the logarithmic spiral is found in nature: the spirals formed by the stamens of daisies or lily sunflowers, and various species of shells are logarithmic spirals."
MR. PAOLETTI IN NAME OF PAOLETTI GUITARS COMPANY:
" In this very special year, 500 years since Leonardo da Vinci passed away, we pay homage to the genius, with our own art, the art of making guitars with a wood that no one has used before. Mastering all the properties of this ancient essence, here is the result of a long working process directly from my personal art.
Product Specs
Condition
Brand New (New)

Brand New items are sold by an authorized dealer or original builder and include all original packaging.

learn more

Brand
Model
;