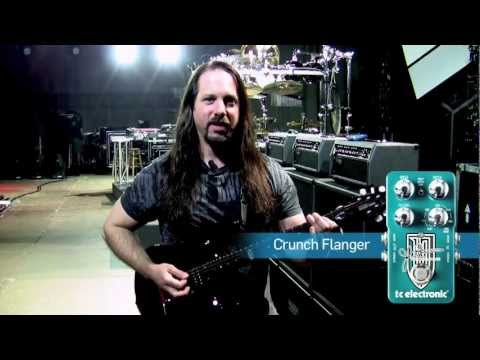 About This Listing
New TC Electronic John Petrucci "The Dreamscape" Modulation Mastery, Multiplied to Infinity

Great Minds Rock Alike
John's was one of the first rock stars to join our TonePrint program and his sounds proved so popular we decided to cooperate intensely and capture his interpretations of classic TC effects. We joined forces and the result is what happens when you set John free on the effects that inspire him.
Six Signature Tones Designed by John Petrucci
Chorus, flanger and vibrato in one pedal
Custom voicing switch perfectly tuned to John's custom 'dark' chorus sounds
Straight From the Gospel of John
Since they are such an integrated part of his "voice", John knows our products like the back of his hand - so he knew exactly what he wanted, yielding some of the best sounding modulation effects out there.
Modulation Mastery. Multiplied to Infinity
Dreamscape houses Chorus, Flanger and Vibrato effects that will keep you challenged, inspired and coming round for riff-inspiring possibilities.
Access to Greatness
Whether John is your main inspiration or you kinda dig his sounds, we've added a voicing switch that features a 'dark' setting - a mode that perfectly represents John's signature dark voicing that sounds great wether you wanna sound like the man himself or carve your own path.
TonePrint - Signature Effects!
The Artist Entrance
TonePrint means signature effects - and signature effects means truly creative tones. From classic innovators to the guys shaping the future of music, we've asked the coolest artists around to come up with their customized signature version of a TC Electronic effect - and make them available to you for free!
Beam!
Download the free TonePrint app for Android and iPhone, choose the TonePrint you want to hear and beam it instantly from your phone through your guitar's pickup into your TonePrint pedal. No cables needed! Learn more about beaming TonePrints.
Your Vision, Your Sound!
Music is the truest expression of self. That's why it is your right to have your effect sound the way YOU want to, no holds barred.
With the TonePrint Editor, you get full control over all effect behavior, knob ranges and everything in between so you can create your signature TC sound.
CONTROLS and FEATURES
Voicing Switch

Flavors your tone, including John's signature dark setting.

Depth

Subtle Steve or deep impact, it's your call.

Speed

This determines the speed of the modulation from slow and moody to swirling up a storm!

FX Level

Add faint hints of effect or crank for full-on mayhem.

Maximum You

TonePrint pedals offer both true- or buffered bypass. It simply means that no matter what your setup or situation, TC pedals give you optimal signal integrity so the you in your playing shines through with unparalleled clarity and definition.

John Petrucci Clean Chorus
The tone you think of when you read those four words is one of the essential cornerstones of rock. Based on TC's classic SCF pedal, this is John's go-to sound live and in the studio.
John Petrucci Crunch Chorus

Think of the most crushing riff John's ever done with Dream Theater. Was there chorus on there? Thought so. He loves this setting to fatten up his sound while refraining from sounding too processed - great for bigger-than-life crunchiness.

John Petrucci Clean Vibrato

John wanted a very clear sound that hints of a Leslie-swirl, so he went for a wide vibrato with a low speed setting. John actually got so inspired by this sound that he wrote a new riff on the spot.

John Petrucci Crunch Vibrato

John wanted a tone that was not too warmly and ended up with a more subtle, almost doubling-type of effect with a rich tone, without the sound getting dark or the effect getting too pronounced.

John Petrucci Clean Flanger

John opted for a type of phase cancellation that doesn't completely cancel out, but instead sums up the clean and effected signal into a warmer, swirly sound - the result is a very chorus tone with a spine-tingling swoosh.

John Petrucci Crunch Flanger

This is John's twist on a classic aggressive slow flanger. Twist the knobs to create numerous cool sounds, but try setting the knobs to the 12 o'clock position for that classic flange that works especially well on crunchy to heavy riffs. Kick this in on you signature rock riffs and heads will turn.
Product Specs
Condition
Brand New (New)

Brand New items are sold by an authorized dealer or original builder and include all original packaging.

learn more

Brand
Model
Finish
Categories