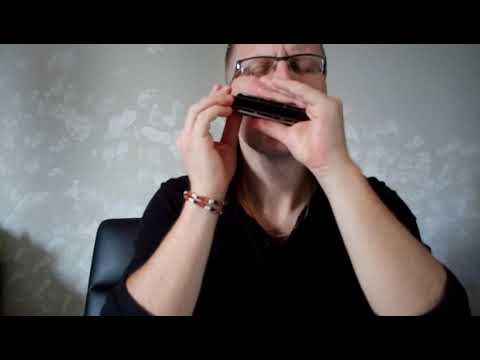 About This Listing
A NEW never been played in-case Hohner 980/40 Koch Chromatic Harmonica in Key of C. These are out of production and it is rare to find a new unused one. It probably one of the most versatile harmonicas ever made.
Description
The instrument has never been played.
Pushing the slide in brings your note up a semitone or half step.
Comes with original case and papers.
See pictures above, see video of the versatility. Turn on closed captions and pick english or your preferred language from the gear symbol.
Features:
• Chromatic harmonica.
• Color: Chrome.
• Material: Pear wood comb and brass reed plates.
• 10 Holes and 40 reeds.
• Key of C.
• Designed to play every complete scale in any key major, minor, pentatonic, blues all on one instrument.
• Each single hole contains four notes.
• Each note can be engaged individually by inhaling and exhaling in combination with pressing and releasing the button on the right side of the instrument.
• Allows for complete chromatic playing, using all the notes of the western scale.
• Solo tuned, meaning each group of four holes covers a complete octave.
• Diatonic with an extra set of notes.
• Without valves.
• Width: 5".
This instrument is based on a standard HOHNER M260 Chromonica I, but is tuned like a standard 10 hole Richter harmonica (Bluesharp). Pushing the slide button raises each note by one semitone, making it possible to play most of the notes of the chromatic scale which are missing on the 10-hole harp. Notes can also be bent as on Richter models.
Reeds: 40
Reedplates: Brass; 1.05 mm;
Comb: Pearwood
Length in cm: approx. 12.3
REVIEWS
***** A Very Useful Harp
The Koch Chromatic harmonica occupies an almost unique niche in the harp world. It is a chromatic instrument that is set up with a scale like a diatonic harmonica. That means the notes are in the same place as you would find them on a regular 10 hole harmonica when the slide is not pushed in. This also means it harmonizes the same when you are playing chords—something not possible on your regular chromatic scaled harmonica. When the slide is pushed in you can get the sharps and flats missing on your standard harmonica without bending or overblowing the note. Here's what some players overlook on these Koch harmonicas; you can still bend the notes if you want to, allowing that "bluesy" tone as you slide into the note. But the slide allows you to accurately hit both the drawn and blown alternate notes with great precision when you are playing a quick or complicated piece. It is an amazing instrument that should (in my humble opinion) be in every players case. Now some of the concerns. To allow access to twice as many reeds, the holes are slightly larger than on a regular harmonica, which means you'll use more air in playing. These harps have a pearwood comb, which many players believe give it a superior tone (I've never bought into the "wood sounds better" argument) but it also means that the comb does swell with moisture and is prone to cracking. You'll get a lot of years out of most newer Kochs, but the older ones almost all have cracks in the combs which leak air between the chambers and require being repaired by someone who knows what they are doing. Look for the green plastic cases to choose the newer models if you're buying used. Also some of the older Koch's are even larger and more difficult to play, not to mention having possible slide issues. One other thing; Koch Chromatics are only offered in the keys of C or G.
***** harmonica of choice for a pro
November 6, 2012 I have been playing harmonica for 60 years- This is an important harmonica to have in your playing collection.
***** Sharing info about the Koch Chromatic Harmonica
May 9, 2005
Howdy! As the owner of a Koch Chromatic harmonica, I thought I'd share some helpful information about this interesting musical instrument. This harmonica is a chromatic-style, with the slide button, which raises the pitch of the note one-half step upward. Any note you play will be raised one-half step when the button is pushed, whether you are blowing or drawing on that particular hole. This allows for chromatic playing, of a full octave of 12 notes. Now....the difference between a Koch Chromatic harmonica, and other models of Hohner Chromatic harmonicas is this....A Koch has its notes arranged in the same pattern as a standard 10 hole diatonic harmonica. If you are familiar with these, such as the Marine Band, the Special 20, and all other 10 hole diatonics, you will already know that holes 1, 2, and 3 are the low notes of an incomplete diatonic (7 note do-re-mi-fa-so-la-ti-do) scale, and holes 4, 5, 6, 7, are a complete 7 note diatonic scale, and holes 8, 9, and 10 are the high notes of another incomplete scale. This note arrangement is called the Richter System of tuning and has been in use since harmonicas were invented in the 1800's. It has that traditional sound and allows for the "oom-pah" vintage style of playing with chords accompanying the melody notes of the song, as well as the later style of bending notes as used for the blues and country music. So really what a Koch Chromatic is, is two diatonic harmonicas combined into one, if the one you buy is in the key of "C", then you will actually have two harmonicas, one in "C" and one in "C sharp", or also called "D flat" not meaning to be confusing. You will be able to play one whole complete chromatic octave of 12 notes on holes 4, 5, 6, and 7. But, you still will not be able to achieve complete chromatic octaves on the lower 3 holes or the upper 3 holes, simply because all the notes required aren't there.
Having told you all this now, you also need to know that if the brand new Koch Chromatics sound as good as the one I own, which is at least 50 years old and has certainly seen its days, this may be your absolute favorite harmonica! Koch was a separate company and had its own line of harmonicas, such as the La Preciosa, and was bought out by Hohner who took over their trademark names and model line. The Koch Chromatic is, I believe, the only one still being made under that name now.
This harmonica also does not have the little paper "windsavers" or "valves" glued over the reeds like most other Hohner Chromatics have. This will allow you to bend and wail notes much easier, and you won't hear that annoying clicking sound of the valves slapping back and forth as you play. That bugs me, I don't know if anybody else notices that or not....but always remember, if you love your harmonica, you will NOT SOAK IT, because that ruins it, and also remember to wipe it off after playing it so the finish stays reasonably clean and shiny.
In closing, if this review psyches you up to buy a Koch Chromatic harmonica, I believe that you will be very pleased with it and will enjoy playing it every day! Have fun and let the music begin!
This item is sold As-Described
This item is sold As-Described and cannot be returned unless it arrives in a condition different from how it was described or photographed. Items must be returned in original, as-shipped condition with all original packaging.
Product Specs
Condition
Brand New (New)

Brand New items are sold by an authorized dealer or original builder and include all original packaging.

learn more

Brand
Model
Finish
Categories
Made In
;