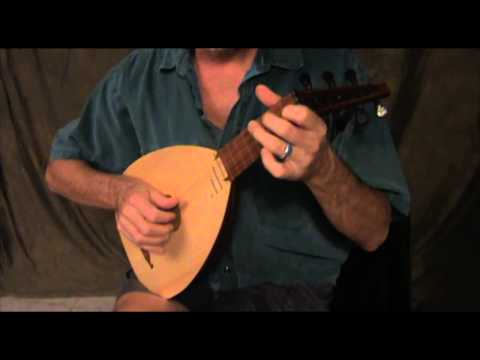 The Lute-kulele (TM) by Roosebeck, is one of the sweetest sounding ukuleles in our collection and is ideally suited for classical and fingerstyle music. Its design is based upon the Renaissance Lute which was prevalent in Europe in the 16th and 17th century, This Tenor-sized instrument is based upon a 430 mm (17 inches) scale and features six strings. The second (E) and third (C) strings are doubled providing a rich full and balanced tone. It is played like any normal 4-string ukulele.
Features:

European spruce soundboard with the famous Leonardo Knot rosette which was a favorite of many Renaissance lute makers. The back is made in the traditional manner of lute-making and is made of alternating staves of Sheesham/Walnut (Dalbergia sissoo) and lacewood (Platanus orientalus). The neck and pegbox are solid Sheesham and features a cattle-bone nut with a width of 37 mm (1 1/2 inch). An end-pin strap button is standard.
Accessories Included:

A Lightly Padded Gig Bag.

Item Specifications:
Item Weight: 1lbs.
Item Length: 22 Inches.

Item Height: 7 Inches.
Item Width: 9.5 Lbs.

Note: Finish color and decoration style may vary from photo.
*What is BLEMISHED?
Our product codes ending in "-1(S)" or "-2(S)" are blemished. These products are new and unused with superficial blemishes that may include, blisters in the finish, scratches, dents, stains, discoloration, rust or pitting on metals, imperfect glazes, non-structural repairs such as putty in nail holes, or other surface marks. A "-1(S)" product has minor blemishes and a "-2(S)" product has moderate blemishes and/or minor repairs. The irregularity does not affect the playability or sound quality of the instrument.
NOTE: This is a -2(S) product. For safety during shipping, we don't tune our instruments before sending it to customers.
SPECIAL NOTE ON STRINGS:

There is no warranty on strings. Manufacturers recommend that you change the strings on your instrument as soon as you receive it. Your instrument has completed a long journey before it ever begins the final leg of your home. During this time the elements affect the strings and may shorten their lifespan. It occasionally happens that a string will fail during that final leg of the journey. Therefore, it is recommended that you purchase a replacement set of strings and consider changing your strings soon after it arrives. If you are a student you may want to change your strings every 3-4 months. If you are a rock star you may need to change your strings every week. If you store your instrument, you should consider changing the strings when you pick it up again.
Condition
B-Stock (Used)

B-Stock items are sold by an authorized dealer or original builder, but have been opened, blemished, or used in some manner.

learn more

Brand
Model
Finish
Year