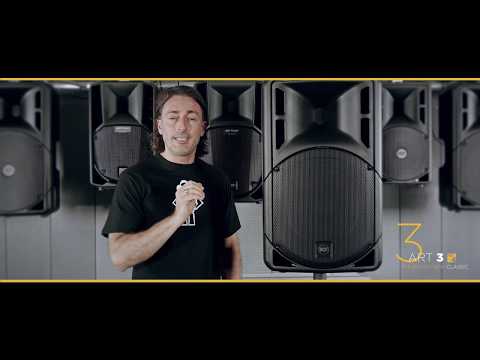 About This Listing
MESSAGE FOR PRICE
RCF ART-312A MK4 Active 2 Way Speaker
128 dB Max SPL
800 WATT 2-way peak power
DSP Processing with FiRPHASE
12" woofer, high power 2.5" voice coil
1" HF driver, mylar dome, 1.5" voice coil
Active speakers for live sound reinforcement and stage monitoring as well as distributed sound systems for clubs, music venues and corporate events. ART 312-A MK4 is the optimum choice for live sound situations where an exceptional full range, outstanding bass reproduction and accurate high frequency delivery are required
NEW PERSPECTIVE ON LINEARITY
RCF speakers are designed using a proprietary and advanced FiR filtering technology, conceived to deliver transparent sound, absolute clarity and perfect stereo images to the listener. The special FiRPHASE filters allow to achieve coherent distribution of sound for all listeners without phase distortions, ensuring minimum latencies to the system.
SUPERIOR TRANSDUCERS
Woofers and compression drivers are precision built taking advantage of RCF's technologies and a wealth of professional knowledge and experience dedicated to achieving extremely high standards.
POWERFUL CLASS D AMPLIFIERS
RCF's Class-D power amplifier technology packs huge performance operating with high efficiency into a lightweight solution. ART 3 amplifiers deliver ultra-fast attack, realistic transient response and impressive audio performance. The amplifier features a solid mechanical aluminium structure which not only stabilises the amplifier during transportation but also helps the fan-less heat dissipation. All the ART 3 amplifiers present SMPS power supply section in order to produce maximum output and minimum transportation weight.
BRING ART WITH YOU
Every ART model can be used in the standard or stage monitor configuration
Thanks to the rear profile of the cabinet, the ART 3 Series speakers can easily be used as stage monitors whatever the needs of musicians. Internal reinforcement prevents any deformation of the cabinet.
ART 3 speakers are ideal for the musician or sound provider. Their plug 'n' go design is simple yet powerful: double input (XLR or Jack), one volume knob. Cabinets are moulded on a special polypropylene composite material designed to dampen down vibrations even at maximum volume settings. From moulding to the final texture, ART3 offers maximum reliability and strength for intensive use. The ART 3 MK4 are equipped with handles for greater portability.
Acoustical SpecificationsFrequency Response50 Hz to 20 kHz (-3 dB)Maximum SPL128 dBCoverage AngleHorizontal: 90°
Vertical: 60°Compression Driver1" mylar-dome, 1.5" voice coilWoofer12", 2.5" voice coilInput/Output SectionInput SignalBalanced/ unbalancedConnectorsInput: XLR-F, and 1/4" female (balanced/unbalanced)
Output: XLR-M (balanced)Input SensitivityLine Input: -2 dBu to +4 dBu
Mic Input: -32 dBuProcessor SectionCrossover Frequency1800 HzProtectionThermal, RMSLimiterSoft limiterControlsVolume, boost, mic/lineAmplifier SpecificationsTypeClass-D amplifierPowerTotal: 800 W peak / 400 W RMS
High Frequencies: 200 W peak / 100 W RMS
Low Frequencies: 600 W peak / 300 W RMSCoolingConvectionConnectionsVDE AC socketCabinetMaterialPolypropylene composite (PP)Hardware4 x M10 flying pointsHandles2 x side
1 x topPole Mount/CapYesGrilleSteelColorBlackPower SupplyPower115-230 VAC, 50/60 Hz, user-switchableFuseAt 115 V: 3.15 A, 250 V
At 230 V: 1.6 A, 250 VPhysical SpecificationsDimensions (H x W x D)26.77 x 15.94 x 13.58" / 680.00 x 405.00 x 345.00 mmWeight37.0 lb / 16.8 kgPackaging InfoPackage Weight37.0 lbBox Dimensions (LxWxH)29.0 x 17.5 x 15.5"
Shipping
Ground shipping is free (orders over $40)
Free shipping only to the lower 48 states
DISCOUNT FOR STORE PICK UP In Santa Fe Springs, Ca
Product Specs
Condition
Brand New (New)

Brand New items are sold by an authorized dealer or original builder and include all original packaging.

learn more

Brand
Model
Categories