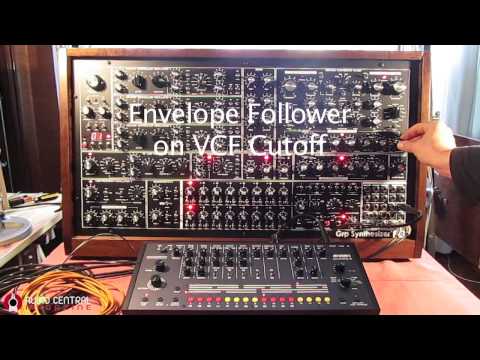 About This Listing
Gorgeous sound, features and controls.

Specs and photos can't really do this one justice. Find some videos and listen to a bunch. It can sound like a Moog modular, super Voyager, just huge and the creamiest or bonkers filter FM I've ever heard.

Shipping and insurance will be adjusted to actual cost. Clearly it will be packed very well. I'll include my life-size poster patch sheets.

This was built to order by GRP in 2013. They produce a limited, mostly annual run with about a 6-9 month wait.

3 VCO analog mono beast of a semi modular. Dual filters, Rich ladder VCF, cool Berlin School step sequencer with all the bells and whistles, like step repeat, back and forth, A/B (odds & evens) for counterpoint type sequences.

Review at GreatSynthesizers

GRP info and video at GRP synthesizer IT - URL will resolve to Italian site language by default. Edit the /it to /en for English version.


The Grp Synthesizer was developed to offer the enthusiasts of analogical sound a more affordable synth in terms of price and dimension in comparison with the precursor model A8, without renouncing to the quality and performance that characterize our synths. Being featured with the same step sequencer used for the Grp A8, this synth is able to guarantee nearly infinite sound combinations due to the new characteristics which have been implemented in the instrument, with the possibility to filter out external signals and to manage all the important parameters of the analogical generation chain.
The A4 has been derived from an audio section of the Grp A8 (of which it takes over the structure) and it results more versatile and eclectic passing from smooth and extreme clean sonorities to harder sounds thanks to the two distortion installed in the synth (one for each filter) and due to the possibility to make interact synth, ring modulator, external signals and step sequencer in only on mechanism with an immense sonority power. Furthermore, the Loop EG function enables the conditioned and unconditioned repetition of the envelope, in order to reach particular and temporal articulated sonorities (sonic characteristics).

Voltage Controlled Oscillator 1, 2, 3
Wide audio range (64'-2') w. Tune & Fine; six analog waveforms (sine, triangle, triangle & saw, saw, saw & variable pulse summed, variable pulse); manual pw & pwm (from VCLFO1, EG1, S&H, Aft); FM 1 Amt (lin/exp –from VCLFO1, LFO2, VCO1, 2, 3, Noise, S&H, EG1, EG2, Aft, ModW, KeyVel, EnvFoll) w. phase rev; FM 2 Amt (only exp – from VCLFO1, Env Foll); sub oscillator (on VCO 1, 2) -1/-2 oct; hard sync (VCO 1 master); kybd on/off (w. user's selectable octave offset from MIDI Interface).

Ring Modulator
Ring Mod Sources: VCO 2 & VCO 3/Ext Input (user's selectable).

Noise Generator
White & Pink Noise selectable.

External Input
Input gain from line to mic level; freely adjustable Gate Threshold (Gate to EG 1-2); enclosed envelope follower (goes into mod buss).

Audio Mixer
Separate level controls for VCO 1, 2, 3, Sub 1, 2, Ext Input, Ring Mod, Noise.

Filter Section
Dual analog filter section: 24 db/Oct Low Pass Transistor Ladder Filter w. pole selection & 12 dB/Oct State Variable Low, Band, High, Notch Filter.
Each filter has a separate Distortion/Level control.
Filter section can be configured in LP 24 Only, SV 12Only, Serial (LP into SV), Parallel, Direct Out (LP 24 goes on Left Audio Out, SV 12 goes on Right Audio Out).
Low Pass Filter:
Slope selection (6, 12, 18, 24 dB); Cutoff Frequency; Resonance; Overload LED; FM1 Amt (from VCLFO1, LFO2, VCO 1, 2, 3 Env Foll, Noise, S&H, EG2, Aft, ModW, KeyVel) w, phase rev.; FM 2 Amt (from VCLFO 1); FM 3 Amt (from Step Sequencer, Kybd Track 0-120%; Key Vel On/Off.
State Variable Filter:
Mode (12dB HP, 6 dB BP, 12 dB LP, 6 dB Notch); Cutoff Frequency; Resonance; Overload LED; FM1 Amt (from VCLFO1, LFO2, VCO 1, 2, 3 Env Foll, Noise, S&H, EG2, Aft, ModW, KeyVel) w, phase rev.; FM 2 Amt (from VCLFO 1); FM 3 Amt (from Step Sequencer, Kybd Track 0-120%; Key Vel On/Off.

Voltage Controlled Amplifier
Dedicaded Envelope Generator (see below); Control Selection (dedicated EG2, ON-hold, External CV); VCLFO1 Amt.

AutoPan
AutoPan Off/Internal Clock/VCLFO1; Pan Frequency Control; LED (red = internal clock; blue = VCLFO1).

Stereo Main
Master Volume.

Envelope Generator 1
Multi Stage Loopable Env (Attack, Hold, Decay, Sustain Lev, Sustain Time-Only in Loop On, Release); Gate Source Selection (Keyboard, S&H, ExtIn/ Step Seq); independent EG Amt for 24 dB LP Filter and 12 dB State Variable Filter, both w. user's selectable EG polarity.
EG time goes from 1msec to 20 sec.
LED: red = EG under Gate sources; blue = EG under Step Sequencer control;
Loop Envelope: loop from Attack to Release, w. Sustain Time selectable.
Loop Mode Switch:
Loop Off: EG as standard AHDSR, no Sustain Time.
Gate: EG loops from A to S (w. Sustain Time max 60") as long as Gate is On.
Auto: EG full loop, from A to R; independent from Gate.

Envelope Generator 2
Same as EG 1, without Hold segment.

Voltage Controlled Low Frequency 1
Frequency (from very low to 2500 Hz); Waveform (sine, ramp, triangle, saw, square w. variable pulse); FM Amt (exp, w. phase normal/rev); FM Sources (Key, EG1, EG2, LFO2, Seq A, B, A+B, S&H, Aft, ModW, EnvFoll); Sync (Off, Gate, Seq, MIDI – dividing factor selectable from internal MIDI Interface); Shaping LFO out (from: Off, EG1, EG2, Lfo2, SeqA, B, A+B, S&H, Aft, ModW, EnvFoll).
LFO act as modulation buss for auxiliary sources: EG1, EG2, S&H, Noise, VCO2, EnvFoll. The aux source can be amplitude modulated with the Shaping Select.

Voltage Controlled Low Frequency 2
Frequency; Freq Range (Low-Mid-High); Waveform (Triangle, Square); Shaping Select (Off, Aft, ModW).
Independent Send Modulations for: VCO 1, 2, 3 freq; PWM 1, 2, 3; VCF 24/12 Cutoff; VCA Level.

Sample & Hold
Frequency; Frequency Source (Int, VCLFO1); LED (red = Internal, blue = VCLFO1); S&H Source (Pink Noise, White Noise, VCLFO 1, LFO 2, VCO 1, 2, 3); Glide.
The S&H Clock can be routed to EG firing; there are three options: Off – no routing; Gate – the S&H clock is ANDed with keyb/ext/manual Gate; Auto – EGs always fired from S&H.

Tuning/MIDI
Master Tune; Portamento Time; Bend Amount; VCO 1 Portamento On/Off, VCO 1, Bend On/Off; Hold On/Off; A440 On/Off; Retrig On/Off; Manual Gate.
MIDI Interface: MIDI Channel Select; Keyboard Off Octave Offset; External CV In Octave Offset; MIDI Clock Divider on LFO Reset.
A4 receives: MIDI Note On/Off, Bend, Modulation, Aftertouch, Key Velocity, Expression Pedal, Damper.

Step Sequencer
User's configurable Mode Select 8x2 or 16x1.
Clock Source: Int, VCLFO1, Ext, MIDI.
Clock Divider on all Clock Sources; dividing factor MIDI: 1/1, ¼, 1/4t, 1/8, 1/8t, 1/16; dividing factor TTL: 1/1, /2, /4, /16, /32.
Sequencer Mode: FW, BW, FW/BW, PNDL, ALT, RND, TRG.
CV Seq Clock: A, Off, B on internal Clock.
VCO Seq Enable: VCO 1, 2, 3, Off/A/B/A+B
VCF Seq Enable: 24dB Off/A/B/A+B; 12dB Off/A/B/A+B.
Step Repeat: Off, x2, x3, x4.
Permutations: n,n+1; n, n+1, n; n, n, n+1, n.
Loop On/Off.
Hold On/Off.
Manual Controls: Reset/Step Advance, Run/Stop, Continue
Pulse Width (legato/staccato) on Internal & MIDI Clock.
Row A & B Parameters: Glide Amt; Range (x2, x4, x8); Quantizer On/Off.
Step Parameters: LED; Step Value; Gate On/Off; Step Mode (End, Skip, Normal).

Connections
Audio: Mono Out; Phones Out; Left/24dB Out; Right/12 dB Out; Audio External In.
Filter: CV In 24 dB; CV In 12 dB.
Amplifer: CV In VCA/After Touch
Synth Control: CV In; Gate In.
Sequencer Connections: Row A/B/A+B CV Out; Row A/B/A+B Gate Out; Run/Stop In; Continue In; Loop On/Off In; Clock Input; Clock Output; CV In Clock Modulation.
This item is sold As-Described
This item is sold As-Described and cannot be returned unless it arrives in a condition different from how it was described or photographed. Items must be returned in original, as-shipped condition with all original packaging.
Product Specs
Listed
2 years ago
Condition
Very Good (Used)

Very Good items may show a few slight marks or scratches but are fully functional and in overall great shape.

learn more

Brand
Model
Finish
Categories