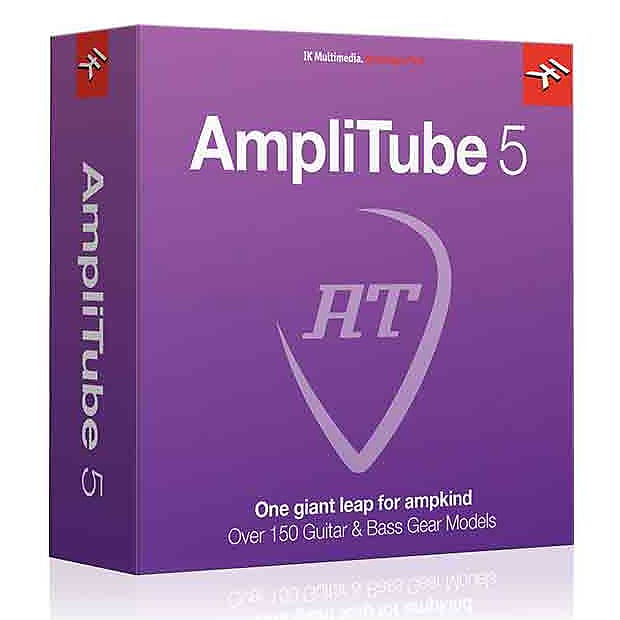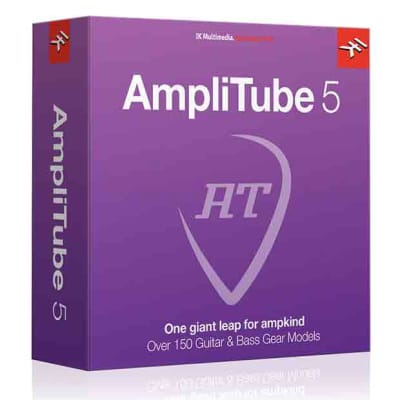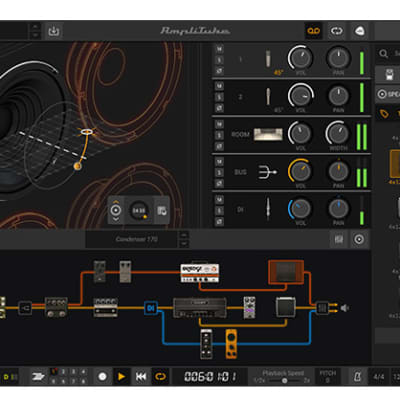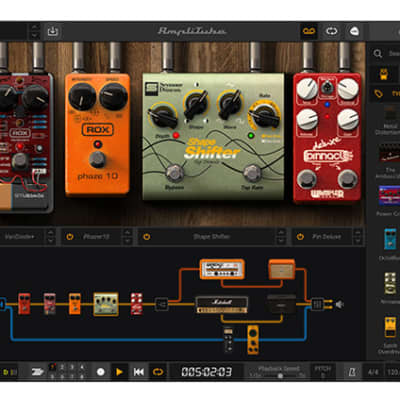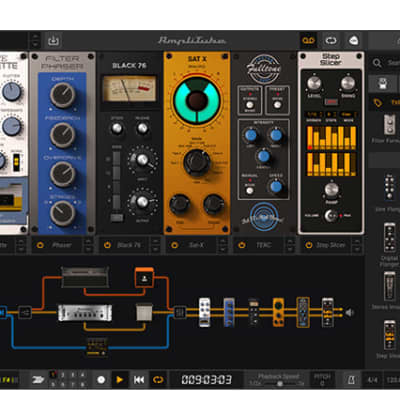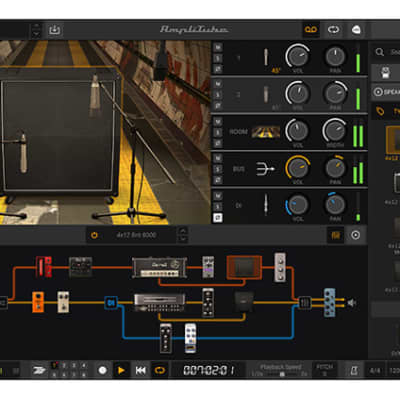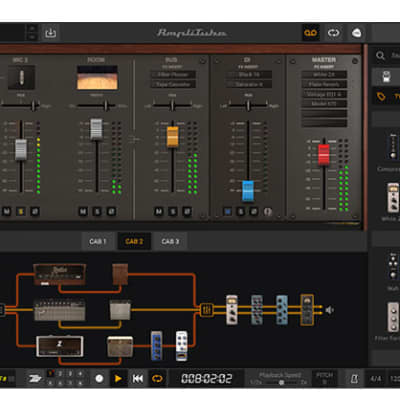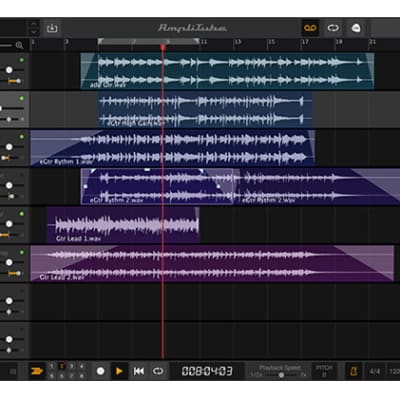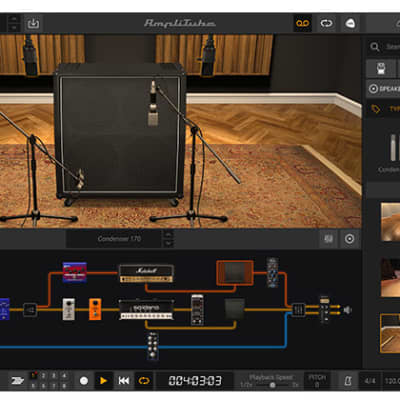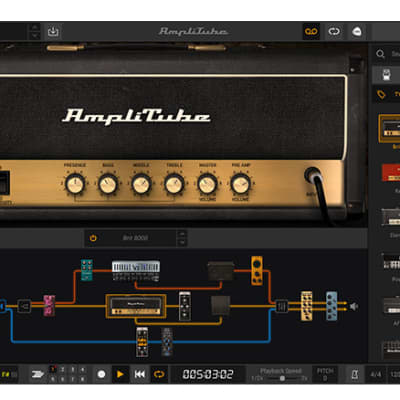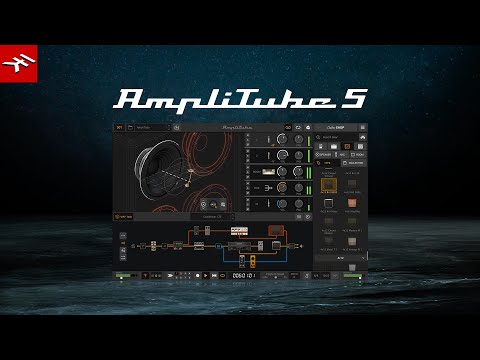 This is a digital download. Your registration code and instructions will be emailed to you within 30 mins or less during normal business hours. There are NO returns on this product, please be sure you have checked your system compatibility before you make your purchase. .
Guitar amp & FX modeling software with 175 gear models - Mac/PC Standalone, AAX, VST, AU
New Cabinet section with VIR™ technology
AmpliTube 5 also premieres a re-engineered Cabinet section with all-new DSP. IK's new Volumetric Impulse Response (VIR™) uses 600 IRs per speaker, 1,200 IRs for a 2-speaker cab and 2,400 IRs for a 4-speaker cab, capturing a massive 3D array of mic placement options, plus all the interactions between speakers, cabinet and floor for a completely true-to-life sound.
AmpliTube's movable microphones now truly shine, with an easy-to-use grid that lets you snap to a precise IR point or seamlessly blend between multiple measurements.
Best of all, we've re-measured over 100 cabinets in AmpliTube 5 Max, refreshing every single cabinet for a massive 143,000 IRs in all. How'd we do it?
We created a custom made, fully automatized, robotic measurement system. This let us re-capture and analyze every cabinet in AmpliTube 5 Max with ultra-consistent, millimeter accuracy, using a range of microphones, for up to 600 measurements per speaker, 2,400 per cabinet and a massive 143,000 IRs in total. It's a technological breakthrough when it comes to ultra-realistic sound and the most advanced and most comprehensive cabinet section ever.
You can now also import your own IRs and load them into AmpliTube 5 with the option to tilt or resize them, giving you total sonic flexibility.
New GUI
AmpliTube 5 boasts an all-new, fully-scalable GUI to adapt to any display size, including the latest Retina displays.
Freely Configurable Signal Chain
AmpliTube 5 features a new, completely customizable gear chain. Beyond mono & stereo, AmpliTube 5 now supports wet-dry-wet configurations and other advanced series & parallel routing.
The overall chain now supports up to a massive 57 simultaneous models across Stomps, Racks, Amps and Cabs. And setup is a breeze - just drag & drop any model into place, to build or re-position even the most complex rigs in seconds.
New Mixer
With the massively expanded signal chain options in AmpliTube 5, you need a better way to mix and record that sound as well. So AmpliTube 5's studio section adds a new Mixer window, letting you blend the sound of your cabinets and microphones, plus DI signal. With panning, levels, busses and 19 built-in effects, some derived from T-RackS 5, it's a powerful tool to put a final studio sheen on any track.

New Gear
129 brand new gear models, including 2 new stomps, 5 acclaimed amps, and 19 racks FX derived from T-RackS and redesigned specifically for AmpliTube 5, 2 new rooms and over 100 completely re-captured cabinets.
STOMPS
Ampless (based on Tech 21 SansAmp)
VariDiode+ (based on MXR Distortion+ with interchangeable diodes)
AMPS & CABS
SilverPlate 50 (based on PRS Archon 50)
MiniPlex 20 (based on Friedman Pink Taco PT-20)
New York B750 (based on Aguilar DB750) + NY410 (based on Aguilar DB410)
German 34 (based on - Bogner XTC 3534)
VHandcraft 4 (based on Diezel VH4)
RACKS
Black 76, White 2A, Plate Reverb, Hall Reverb, Inverse Reverb, Room Reverb, Shimmer Reverb, EQ 81, EQ PA, Saturator-X, Model 670, Vintage EQ-1A, EQ PG, Auto Pan, Tape Cassette, AM Modulator, FM Modulator, Filter Formant, Filter Phaser
Remastered classic gear
AmpliTube 5 also revisits all the original AmpliTube legacy gear, adding not only a fresh new look, but optimized internal gain structure and superior power amp - speaker interaction to maximize their realism and feel.
New Redesigned Custom Shop
Totally redesigned with a more modern, easy to navigate interface. The new Custom Shop now allows multiple purchases, making it easy to get a custom chain at once. Also, more easily sort by gear you own or don't own, unlock preset-specific gear and more.
Your guitar's golden channel
Need a way to connect to AmpliTube? Check out AXE I/O and AXE I/O Solo, IK's premium audio interfaces with powerful guitar shaping tools. They're the audio interfaces guitar players have been waiting for.
Or, check out our line of iRig guitar and bass interfaces and floor controllers. iRig is the world's most popular line of audio interfaces for iPhone, iPad and Mac/PC, with a range of affordable options to connect.
The Tone
Nearly 20 years ago, AmpliTube pioneered single component modeling technology, going beyond the "black-box-modeling" approach of electronics. Today, IK Multimedia leads the industry by offering players a complete solution for creating the perfect signal chain. From your fingers to your audience, when it comes to achieving sonic nirvana, no other modeling technology can match AmpliTube 5.
Dynamic Interaction Modeling (DIM™)
Analog circuits, especially tube and class-A discrete ones, are not dynamically linear, but have been modeled this way by most companies. So when IK debuted our revolutionary Dynamic Saturation Modeling technology over 10 years ago, it delivered a massive improvement in response and playability and cemented AmpliTube as the leader in realism and accuracy.
Now IK's Dynamic Interaction Modeling™ technology goes even further. Modeling the interactions and influence that each component has within the system and all of the variables that affect it.
In essence, our new approach produces the EXACT behavior of the entire system in a non-linear and completely dynamic way.
What this means to you is pure authentic amp tone as you'd expect it in the physical world — a sound and feel so true you won't believe your ears... or your fingers!
Volumetric Impulse Response (VIR™)
To capture the cabinets of AmpliTube with the same degree of realism and accuracy as the stomps and amps, IK developed our Volumetric Impulse Response technology.
Instead of using just a single or handful of impulse responses, VIR™ technology captures over 600 impulses per speaker (up 2,400 per cabinet), letting you freely move microphones around in 3 dimensions without sacrificing realism or tone.
VIR™ also captures the interaction of nearby speakers in a multi-speaker cabinet, along with floor reflections and interaction, for an experience that's virtually indistinguishable from mic'ing a real cabinet. This is a massive leap forward in AmpliTube 5.
"Made in Italy" craftsmanship and heritage
Lastly, our approach to creating hyper-realistic models of gear is firmly rooted in the finest Italian craftsmanship tradition. We don't simply look at schematics and listen to sound samples like other companies. Not only do we acquire the real units, painstakingly searching for the best specimen of its kind, but we always approach any new piece of gear as a unique modeling project.
From a thorough and detailed analysis of the circuit to hours of A/B sound testing, our process delivers true-to-the-original sound every time.
The most trusted brand by world-class amps and effects manufacturers
Don't just take our word for it when we say we offer the best-sounding, most accurate software modeling in the industry.
Check out our partner roster of the world's best amplifier and effects pedal manufacturers, who rely on IK Multimedia for the most accurate digital reproductions of their products. When Fender®, MESA/Boogie®, Orange®, Soldano®, ENGL® and many more decided to put their name on virtual models of their gear, they chose the best — AmpliTube.
Recording Live
Your dream guitar studio standing by
AmpliTube 5 is packed with all the gear you can imagine, but it also offers all the tools you need to practice, compose, record and jam. It's like having your own private, fully-loaded studio always ready to use.
UltraTuner
It might seem small, but AmpliTube always makes sure you're in tune with our patented digital tuning algorithm. It's so accurate (down to 1/100th of a cent) it actually outperforms those expensive strobe tuners and is accessible from any screen!
Super Looper
AmpliTube has long offered a looper to make jamming, practicing or songwriting more fun and productive. AmpliTube 5 takes this to an all-new level, letting you record up to 2 tracks at once. Best of all, you get unlimited layers to experiment to your heart's content. Create intricate arrangements or massive walls of sound easily and quickly.
8-Track Studio
Ready to get into recording? AmpliTube 5 offers a fully-updated standalone 8 track recorder and DAW, so you can just hit record and start wailing as fast as inspiration strikes. More than a multi-track recorder, this full-feature section lets you easily stack parts, drop in a drum groove or other audio files, adjust panning & EQ, change tempo and much more.
And now, since AmpliTube 5 comes packed with mixing effects derived from T-RackS 5, you can easily go from quick idea to a full, professional-quality production in just one screen.
Live Mode
Take AmpliTube 5 with an ultra-optimized GUI meant to be viewed fast from a distance. And take full control with deep integration with our iRig Stomp I/O and AXE I/O audio interfaces / controllers, so you can stomp on effects and switch presets with the same feels as real gear. It's the most powerful live system you can imagine.
More ways to connect
For nearly 15 years, IK Multimedia has led the industry in developing innovative audio interfaces to help connect to the power of AmpliTube. From our best-selling mobile interfaces to groundbreaking studio gear, today IK offers more ways to connect than ever before, no matter your needs, budget and existing gear.

AXE I/O
AXE I/O is a professional 2 in/5 out, 24-bit, 192 kHz audio interface and controller designed specifically with the needs of the recording guitarist in mind, providing best-in-class sound quality and powerful features. AXE I/O's award-winning Z-TONE adjustable impedance control gives you unique new tone shaping options, and with selectable active/passive pickup channels and PURE / JFET circuits, there's never been a front end like AXE I/O. Combined with seamless integrating with AmpliTube 5, a dedicated low-noise AMP OUT for re-amping, and so much more, AXE I/O is the perfect companion to your new digital gear collection.
Z-TONE DI
Z-TONE DI brings the award-winning sound shaping tools from AXE I/O to any other interface, with best-in-class sound quality, powerful tone shaping and the flexibility to record both processed and DI guitar tracks at the same time. Take your existing recording rig to the next level, expanding the possibilities of what you can do to your sound before it hits your computer.
iRig Stomp I/O
iRig Stomp I/O combines a USB pedalboard controller and professional, high-resolution, MFi certified audio interface with MIDI input/output in a rugged, stage-ready metal chassis. It's the ultimate live control rig, thanks to deep integration with AmpliTube 5's live mode. Switch presets, turn on stomps and pedals, and much more with the same feel as real gear.
Z-TONE Buffer Boost
Z-TONE Buffer Boost takes your live rig to a new level, letting you shape the sound of your instrument with the tone-shaping input circuits from our award-winning AXE I/O interface. Change the tone & feel of your guitar or bass, buffer your tone to survive even the biggest pedalboard, kick in the boost and supercharge all your existing gear with a powerful new front-end. Pair with AmpliTube to give your final sound some extra magic.
iRig HD 2
iRig HD 2 is a mobile guitar audio interface that fits easily in your pocket and connects directly to your Lightning and USB devices – so no matter which iPad, iPhone, Mac or PC you have, you're ready to rock at a moment's notice. There's no complicated setup, just plug in to AmpliTube and play with 96kHz professional sound.

Specs
Fully redesigned Graphical User Interface
Re-sizable display
New VIR™ Volumetric Impulse Response cabinet engine
Up to 2,400 impulse responses per cabinet
New impulse response loader
Fully redesigned power amps section with new impedance matching
Improved chains with custom routing options
Expanded rig with up to 57 simultaneous FX
Over 400 gear models
New effects derived from T-RackS
Industry-standard sound with DSM™ (Dynamic Saturation Modeling) and VRM™ (Volumetric Response Modeling) technologies for Hyper-Realistic emulation of real world gear and the best sounding models
Dynamic Response Modeling provides real amp response and feel — models dynamic relationship and interaction between power amp and speakers, plus physical and harmonic interaction between individual speakers, cabinet and room construction and mics
Perfect as a plug-in for studio recording and mixing in any Mac/Win DAW, native compatibility with 64-bit applications and operating systems
Also perfect for live performance thanks to the standalone version with instant preset switching via MIDI control
Highest supported Sampling Rate: 96 kHz
DAW automation and BPM synchronization
Two movable microphones allow you to mic the cabinet exactly like in real world studio and live environment
Replace individual speakers in cabinets (12" speaker models)
31 individual speaker models available with more added to Custom Shop
Stereo signal path makes it suitable for any type of instrument including drums, keyboards, vocals and more
Massive database of presets with multiple guitar and bass oriented tags and keywords, advanced search function and more
Perfect integration with IK's range of audio interfaces and controllers such as iRig AXE I/O, iRig Stomp I/O, iRig HD, iRig Pro, iRig 2 allows for instant recording and performing in the studio or on stage with full programming at the software level
8-track built-in multitrack recorder and DAW enables you to quickly capture ideas or even record a full 8-track composition in the standalone application without the need to open a DAW and with the convenience of AmpliTube superior quality audio processing
Multi-Track Looper for capturing and layering ideas quickly and easily
Export loops to hard drive and import into the DAW section, import audio to track 1 in looper for playing over backing track loop
Imports any Wav, Aiff, sd2, Apple Caf, Flac, MP3 audio file (Standalone version)
SpeedTrainer for speeding up/slowing down imported tracks without affecting the pitch – the perfect tool for practicing and improving your instrument skills or learning your favorite riffs and solos (standalone version)
Expandable via the new redesign built-in AmpliTube Custom Shop feature with gear from the world's top manufacturers and artists
Universal upgrade is available to anyone and any previous version of AmpliTube — Restore gear from previous purchases via the Custom Shop
Reverb Buyer Protection
Reverb has your back if your item is lost, damaged, or doesn't match its description. Simply report any issues within 7 days and we'll help you get a full refund.Learn more about Reverb Buyer Protection.
Condition
Brand New (New)

Brand New items are sold by an authorized dealer or original builder and include all original packaging.

learn more

Brand
Model
Categories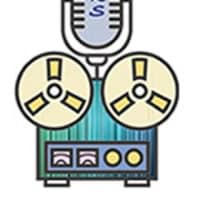 Prescott, AZ, United States