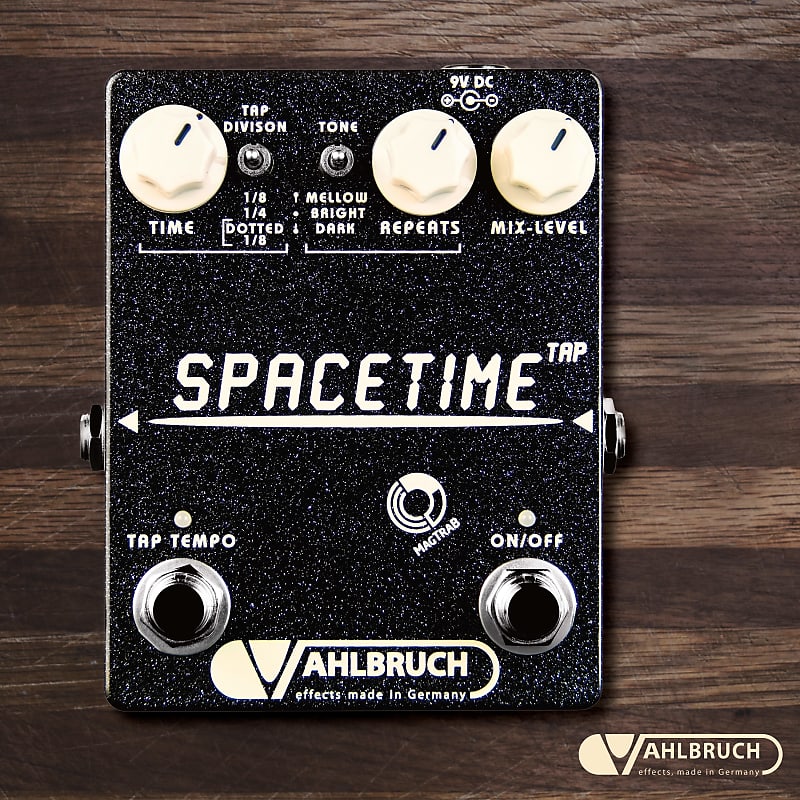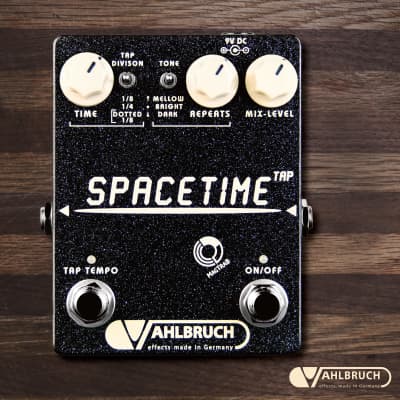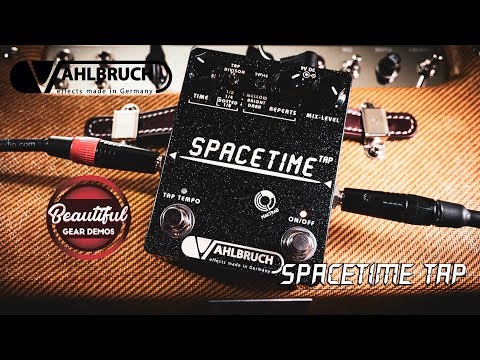 The lengendary "SpaceTime" pedal now with tap tempo and some more extra features:
Tap tempo with subdivision switch for 1/4, 1/8, or dotted 1/8
Internal switch for true or buffered bypass
Internal switch for spillover in buffered bypass mode
Internal switch for kill dry
This pedal is equipped with our unique "MagTraB" switching technology:

Inside the button a magnet is integrated which position is measured by a sensor on the circuit board. If the button is now moved, e.g. if it is pressed downwards, the position of the magnet will also change. The sensor measures this change without any mechanical contact to the button and the information is send via a micro-controller to a gold-plated relay, which then does the actual audio signal switching.
The advantages of MagTraB:
MapTraB buttons are as good as indestructible! MagTraB delivers an almost infinite number of switching cycles - many, many millions!
No annoying, mechanical switch clicks! Instead, the MagTraB push-buttons switch very smooth and silently!
The "SpaceTime" is a handmade echo pedal which combines the advantages of analog and digital circuits in a unique way. As a result it is a warm and deep sounding delay pedal, easy to operate and able to create beloved analog delay typical self-oscillations. Your direct (dry) guitar signal is completely preserved in the analog world - there is no latency for your straight guitar signal! In a carefully designed parallel digital signal path the generation of the echo signal is realized and fnally added to the dry signal back in the analog world. The "SpaceTime" pedal has three control knobs to adjust your tone. The delay time is set by "Time", the number of echo repeats can be changed by "Repeats" and the volume of the echo signal can be adjusted with the "Mix-Level" knob. Additionally a toggle switch allows you to change the treble content of the echoed signal. Switching from "bright" to "mellow" to "dark" gradually reduces the top end - resulting in warm, deep and natural sounding echo. The straight (non delayed) guitar signal is not affected by this tone control! A second toggle switch changes the subdivisons of the echo time entered by the tap tempo button. You can choose between 1/4, 1/8, and dotted 1/8. Turning the "Time" knob will overwrite the tapped tempo again. An internal DIP-switch allows you to select between "true bypass" or "buffered bypass", "kill dry" and "trails on/off".
Specifications:
Sturdy and unique MagTraB switching technology
Tap Tempo with 1/4, 1/8 or dotted 1/8 subdivison selectable
Internal switches for "true or buffered bypass", "kill dry" and "trails on"
Delay time max. 600 ms
Input impedance: 1.0M Ohms
Output impedance: 100 Ohms
Current consumption: 60mA
This pedal requires an external regulated 9V power supply (not included) polarity: postive@ring / negative@tip
Dimensions: 120mm x 100mm x 48mm
Weight: 350g
Handmade in Germany
Condition
Brand New (New)

Brand New items are sold by an authorized dealer or original builder and include all original packaging.

learn more

Brand
Model

SpaceTime Delay Tap Tempo

Finish
Categories
Made In