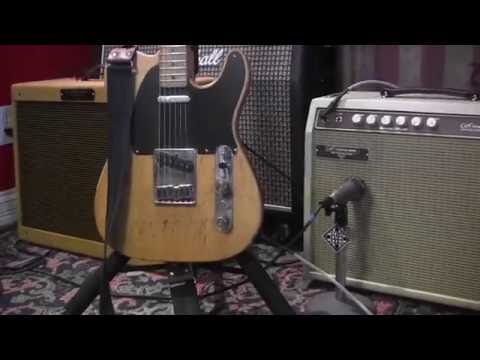 Carl's Custom Amps Blonde CPC-40 1X12 Combo Amp Blonde Fender Style Amp

Carl's Custom Amps is in high demand! Please allow 8 to 14 weeks to be built, tested, and shipped.
40 Watts of early 60's Cleans with great warmth and classic overdrive!
The video is of the 20W Version but the 40W sound very similar

Smooth Blonde Tolex and Wheat Grill are stock but custom cosmetics are possible.
In the early 60's Fender was producing it Brownface and Blonde amps. The Blondes are some of the best amps Fender ever produced. My blonde series is based on the instrument channel of the Blondes. The Blonde Series amps have the sparkle of the later Blackface amps but have a warmer mid range and responds beautifully to boosts, overdrive and distortion as well as having great overdrive when turned up. Numerous improvements to the power section, small tweaks and layout corrections make my Blonde series exceed the originals while capturing the 60's clean sounds so many players are looking for. It's a great pedal platform. The bass and treble knobs are especially effective on these amps with wider range than the later Blackface amps. Optional Master Volume add $25. ADD London Power Scaling and SAG Control for $350. I high recommend getting the London Power Scaling. It allows you to go from full power down to 1/10W and all points in between.
Features:
All Tube Hand wired Circuit Solid Finger Joined Pine Cabinet Eminence 1258 Legend Speaker High and Low Inputs ON/OFF Switch 8 Ohm and Extension Speaker Outs Volume, Bass, Treble, and Presence Controls with ultra wide range Solid State Rectifier for Punchy low end DC Elevated Filaments for very low noise Optional tube reverb and tremolo with footswitch Uses two JJ's 12AX7's and two JJ's 6L6GC Adjustable fixed bias with bias ports and individual bias pots for each power tube
Parts:
USA Made Power Transformer, Classic Tone or Hammond Output Transformer Malory 150 and Panasonic Tone Caps, Alpha Pots, Special Resistor Selection for the lowest noise and best tone. F&T, Nichcon Untra Long Life Life a Electrolytic Caps, Carling Switches, Neutrik or Switchcraft jacks, JJ's Tubes, High Quality Tube Sockets.
Customer Comments:


"Howdy, Carl.
I wanted to let you know how pleased I am with your Blonde 40w amp! This thing sounds exactly like I hoped it would. I can easily get full, sweet sounding fender clean tones with all the controls at 10 o'clock, and bright, scooped blackface tones with the bass and treble at 3 o'clock. It loves my strat and my tele. The real surprise came when I plugged in the les paul and turned down the bass and master volume, with the preamp volume nearly all the way up- This amp absolutely NAILS the early EVH sound!!! I can't believe how easy it is to get any sound I wanted!! The gain range and EQ on this amp is more useful than anything else I have owned, and over the last 25+ years I've owned nearly every famous amp you can think of. This is also dead silent quiet as far as noise is concerned, and the tremolo is absolutely perfect. It just sounds fantastic at every setting! I wish I had tried one of your amps years ago! Your build quality is quite impressive, as well. If anyone wishes their amp sounded better, they need to buy one from Carl! Every time I hear this amp, I can't help but smile- its hard to stop playing when it sounds this great! Thanks again, Carl. Your amps are absolutely PERFECT right out of the box."
Chris W
"Dear Carl,
Here's my review! Sorry it took so long—I have been spending basically every free minute playing your amp. Feel free to use this review on your website or anywhere else you feel it might be useful.
The Blonde 20w is easily the best sounding and most versatile tube amp I've ever played. It is incredibly responsive to playing dynamics and all the controls are all fully usable in every setting. Seriously, I haven't gotten a bad or unusable sound out of this amp. Basically, there isn't a single bad setting on this amp I've been able to find—they all sound great.
The London Power Scaling makes this amp endlessly versatile. I can go from practicing in a bedroom without disturbing housemates to easily playing over a drummer, without any noticeable change in feel or tone when the scaling is in effect. It is easily as user-friendly and accessible as my Blues Cube, but sounds far better.
The tone of this amp is stellar. It is articulate and the highs are present without being overbearing. With the Power Scaling, beautiful tube overdrive is easily accessible at any volume. As mentioned before, the controls on this amp are powerful—the usable range on every knob is basically it's entire sweep. The tremolo is smooth and strong and is an awesome addition to an already amazing amp.
The cosmetics and build quality are second to none. Carl is a consummate professional and a gift to all those who love great amps. The experience with Carl was awesome and he is always super helpful and pleasant.
If you are looking for an endlessly usable and versatile amp that can do basically anything from play small bedrooms to clubs but that features true tube tone, get one of these. With the Power Scaling, this amp is as versatile and user friendly as a Roland Blues Cube, but sounds vastly better and can be serviced until the end of time. Try doing that with a PCB amp...
In short, this is the best amp I've ever owned, and it was worth every single penny and every second of the build time. If anything happened to it, I'd replace it with another from Carl immediately. I won't ever be buying amps anywhere else and I'm already scheming on ways to get another one from him soon. If you're on the fence about getting an amp from Carl, climb down and order one. I guarantee you'll be blown away. It's truly vintage tone with modern ease-of-use and user accessibility, all in a handmade package built by someone who knows exactly what he is doing. Buy one! Seriously."
Mark V.
Note: Mark has an amp with the London Power Scaling option.
I've finally gotten to spend a few moments with my new amp. Couldn't be more satisfied or impressed. Thank you! The cosmetics are perfect. The sound is of course impeccable, but you already know that. I am looking forward to using it more. Thanks Carl!
Jess
"The amp arrived yesterday--it's fantastic! I've been frustrated with "blackface" amps for a while--too strident, not enough guts in the midrange--and I couldn't be happier with this amp. Really nice top end, really full-sounding without being congested... It's really, really nice. I'll get to crank it at rehearsal tonight and see how it does in that environment, but so far it's exactly what I hoped for.
Thank you!"
Jamie
"Hey Carl, this Yann from France, I've received the amp on Wednesday and I have to say I am totally amazed! This Blonde 20W is just wonderful. I love it so so much, this is the kind of amp that you instantly know you will keep forever. The other one that made me feel that way was a Quinn Deluxe Brown replica, and I thought it was a one time in a life feeling, I was wrong. Truly an awesome amp! "
Yann
"Carl,
Thanks so much for a job well done...This little thing is incredible!.....
As I continue to learn the amp's "personality", it's continuing to impress me.Eagles, check... Petty, check. Chuck Berry, Carl Perkins, check! I love this little gem!"
Brian M
"very nice job!
amp is the quietest I have ever had for a tube rig at idle..!!
sweet warm sound especially through the low input..
flawless reverb.l..great, comfortable handle and not too heavy!
great tone all the way around around..cannot say enough..
now to gig with it...tomorrow maiden voyage..
thanks Carl..well worth the wait!
Rick" "Man. I just bought your CPC-20 at a guitar show. I could not be happier. What a fantastic amp! Nails that Fender clean with wonderful separation of notes and is still really hearty and can take pedals that some amps fuzz out on. I love it. Just wanted to thank you for what you do. I will so recommend your amps to my friends. Have a great day!" Brian
Condition
Brand New (New)

Brand New items are sold by an authorized dealer or original builder and include all original packaging.

learn more

Brand
Model
Categories
Year
Made In