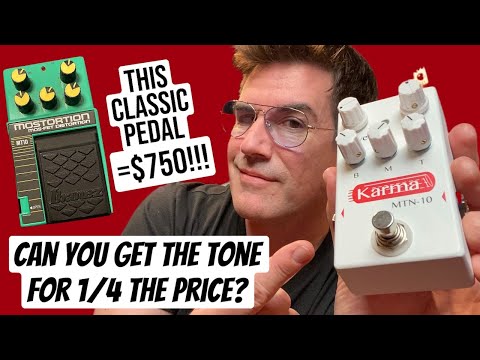 SHIPPING UPDATE: It now looks like these will be shipping around October 5th.
I'm so thankful for the many people who love and use this pedal and take the time to communicate with me. I've met some really nice, talented, exceptional folks through this little endeavor. Thank you!

Check out Tim Pierce talking about this pedal on Rick Beato's YouTube video from June 2, 2022 - starting at ~22:35

Check out the amazing video Pete Thorn did on this pedal!
These pedals go quickly and stock is limited to small batches, so...

Be sure to check out the glowing reviews people have left here about this pedal!
Also, tell your bass playing friends about our new model, the same great mostortion circuit with 12 significant tweaks to make it great for bass guitar/synth:
https://reverb.com/item/39334494-karma-mtn-bass-ibanez-mostortion-mt10-mt-10-new-version-tweaked-for-bass-limited-1st-run-now

Please note - the power jack is now on the right side, near the input jack.

From Jeff Senn, an amazing boutique guitar builder (jeffsennguitars):
"I've been a Mostortion user for over fifteen years, I'm never without one. The Karma has changed that now. It has replaced my Mostortion pedals and in fact, I prefer it. Don't miss out on these! Greg has unlocked the magic and somehow improved upon the original, a feat that many others have failed at. I never thought I would say this but skip the originals, get one of these.
Outstanding!"

Rob McNelley, mentioned in the description below, ordered his second MTN-10. Here are his unsolicited comments about the pedal:

"Greg--
I don't even know what to say...This pedal is fantastic! I got it today, and i was rewiring my studio, and decided to use it to test everything out once I had everything patched in. It sounded great! I was just running it through my Kemper. Then I pulled out one of my old Mostortion pedals and had the engineer tweak each pedal where I couldn't see him tweaking, and it got to the point where I couldn't tell them apart in feel or sound.... Then I pulled out an old deluxe reverb, and it nailed the sound through an amp as well.
But then......I started tweaking further, and started getting sounds beyond what the Ibanez Mostortion is capable of! Terrific low end definition. It sounds deep and muscular without losing clarity... And you can really dial in some really sweet vocal sounding lead tones. Man, you did a great job of recreating the Mostortion thing with all of the issues of the original units, solved. But this thing goes further. very inspiring pedal to play!
Thanks so much for making such a great piece of gear and sharing it with me. I'm already telling my buddies here to check them out!"

New from Karma Guitar Amplifiers-
the Karma MTN-10 pedal:

Very amp-like OD/Distortion

Premium quality plated through pcb

Meticulously assembled in the USA

All parts sourced in the USA when possible
True bypass switching

CA3260 IC chip as in the original

High quality parts throughout

Custom powder coated and silk screened enclosure

Flexible 3-knob EQ for wide ranging tone control

Plenty of gain to push the front end of your amp

Great touch sensitivity - highly dynamic
I first heard an Ibanez Mostortion MT-10 while recording Rob McNelley (Joe Bonamassa, Bob Seger, Delbert McClinton, many more) in a Nashville session. I loved Rob's playing, but I was also blown away by his tone. Turns out he was a huge fan of the Mostortion and bought as many as he could find. But Rob also warned me that as good as they sound, their construction was flimsy and they could be unreliable.

I was able to find a pristine example of one - as shown in one of the photos above - and soon realized what he meant. Even though I used mine exclusively in the studio, its controls soon became loose. And the foot switch rarely worked on the first tap. Not good qualities in a pedal, especially in a live setting.

Still, the sound of that pedal stuck with me, and about a year ago I built one using the original schematic and now-obsolete CA3260 IC chip, but with sturdier parts and construction and true-bypass switching.

I carefully A/B'd mine with the Ibanez model I had, and when I could hear no difference at all between the two, I sold my Mostortion.

To my knowledge, Ibanez never re-released a version of this circuit. It's a fairly complex build, but worth it in my opinion. The 3-knob tone control circuit is what really sets this pedal apart; it's easy to compensate for guitars that are too bright, too dark, or lacking in other tonal qualities. But it's also capable of some fairly radical tone sculpting.

The Drive control (Ibanez labeled it "Distortion") can take this pedal from a beautifully subtle overdrive into a snarling grunge, with a large range of luscious dirt in between. This pedal also cleans up quite nicely with your guitar's volume control.

The Soundcloud track plays roughly 23 seconds of the same licks at 4 different settings of the Drive control: 9, noon, 3, and maxed. The tone controls are all straight up and the volume control is the same for all of the examples. The guitar is a Strat played through Channel 1 of a Karma 20T amplifier.

I'll be building these pedals in very limited quantities.
Grab one while you can!


Condition
Brand New (New)

Brand New items are sold by an authorized dealer or original builder and include all original packaging.

learn more

Brand
Model
Categories
Year
Made In
Healdsburg, CA, United States