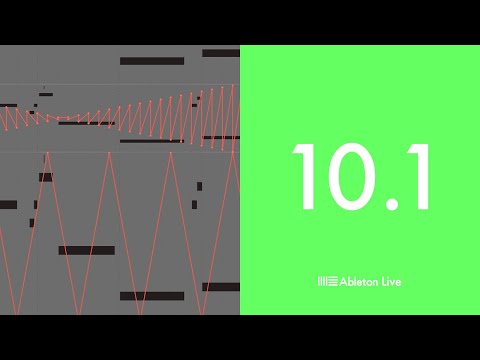 About This Listing
This is a digital download. Your registration code and instructions will be emailed to you within 30 mins or less during normal business hours. There are NO returns on this product, please be sure you have checked your system compatibility before you make your purchase.
FREE UPGRADE TO LIVE 11 SUITE THROUGH ABLETON WHEN IT IS RELEASED
Live 10.1 adds:
User wavetables: Extend the capabilities of Wavetable's oscillator section by importing your own wavetables or samples from your library into the device.
Channel EQ: A flexible and simple EQ with curves and gain ranges suitable for a variety of audio material. The shape of the filters adapts based on how controls are set to always provide musical results.
Delay: Combines Simple Delay and Ping Pong Delay and adds feature upgrades. Ping pong behavior, as well as Jump, Fade-In and Pitch controls from those devices are all accessed from the front panel.
New automation features: Choose from a new palette of automation shapes, stretch and skew automation and enter precise values with your numerical keyboard. Get easier access to clip modulation in Session View. Live now also simplifies complex automation into C- and S-shapes for easier editing.
Improvements to zooming and scrolling: Live 10.1 makes switching between detailed views and big-picture editing faster with streamlined keyboard shortcuts, pinch zooming on compatible computers, a resizable Arrangement Overview window, and more.
Also new in Live 10.1:
Freeze tracks that contain sidechain routing.
Export single tracks and groups with return and master effects applied.
Use your VST3 plug-ins in Live.
Live is fast, fluid software for music creation and performance. Use its timeline-based workflow or improvise without constraints in Live's Session View. Advanced warping lets you change the tempo and timing of any audio in real time without stopping the music. Record virtual instruments, drum machines, guitars or audio from the real world. Capture MIDI notes
after
you've played them, turning your most spontaneous ideas (and happy accidents) into music.Live's effects, instruments, sounds and creative features let you make music only limited by your imagination. Use Live's native devices as the foundation of sound design or mold and shape a range of carefully curated Packs into something new. And since the software keeps everything in time, Live is also perfect for on-stage improvisation and hands-on play—customize the software to fit your performance, not the other way around. And with Push, Ableton's instrument built specifically for Live, you get all the functionality of software with the immediacy of hardware.
Create with Live
No matter how you like to begin, Live helps you get the music in your head out of your speakers.Session View lets you sketch ideas lightning fast – play, mix, and match MIDI and audio loops of different lengths and tempos without ever stopping the music. The Arrangement View is where you organize music along a timeline and build sections of your song. Or record an arrangement directly from the Session View and improvise a finished composition.Live's synthesizers deliver a vast range of sound using wavetable, FM, and analog- and physical modeling architectures. A pair of sampling devices help you squeeze the most out of your drum samples and multisampled instruments with built-in slicing, warping and more. Included MIDI effects let you creatively manipulate your notes, while audio effects help you clean up your mix or make a creative mess.Live's Core Library comes with every edition of the software and includes vintage synths, analog drum machines, keys, multi-sampled drums, and much more. Curated Collections are toolkits of curated sounds from selected scenes designed to be shaped into something new.
Software without limits
Live comes with everything you need, but adapts to your unique needs. Map knobs, faders and buttons to nearly any controller to get hands on control of almost every parameter in Live. The software also includes auto-mappings for a growing number of MIDI controllers for instant results.Max for Live is a software platform that powers a range of Live's instruments and effects. Load one of its many built-in sound generators, and audio and MIDI effects to expand your sound. Or use it to customize devices, build your own and even hack how Live works. You can even use it to connect Live to lights, cameras, sensors, surround sound setups and more.
New in Live 10:
Create with new devices
Meet Wavetable, Echo, Drum Buss and Pedal: new devices that mean colorful new sounds are possible with Live's instruments and effects.
Wavetable
Immediately playable, infinitely capable, Wavetable is a new synthesizer built by Ableton. Shape, stretch and morph sounds using wavetables derived from analog synths, and a range of other instruments and sounds. Start sculpting sounds right away—even without a deep knowledge of synthesis—or explore its rich palette and potential through an intuitive interface.
Echo
Echo brings together the sound of classic analog and digital hardware delays in a single device—your new go-to delay. Drive and shape sounds with its analog-modeled filters, turn up the noise and wobble for vintage imperfections, or add modulation and reverb to create diffuse soundscapes, wailing feedback and more.
Drum Buss
Drum Buss is a one-stop workstation for drums, capable of adding subtle character or bending and breaking drums to your will. Add warmth and distortion with drive and crunch, take control of dynamics with compression and transient shaping, dial in and tune boom and control bass decay with the dedicated low end section.
Pedal
With separate circuit-level models of overdrive, distortion and fuzz guitar pedals, Pedal brings the character of analog stomp boxes to Live. The effect goes all the way from subtle to reckless—it excels at warming up vocals and other instruments, driving synth sounds or completely smashing drums. And of course, it sounds great with guitars.
Stay in the flow
You'll find improvements to Live that help you stay in the flow at every stage of your creative process, whether you're getting ideas down, organizing your setup or editing the details of your music.
Capture
Turn your most spontaneous ideas into music, without thinking about recording. Starting a song? Just arm a MIDI track and play. When an idea emerges, press Capture after you played it. Live will match your tempo and timing, and start your melody or groove in a perfect loop. You can also use Capture to progress your songs: add new parts or overdub MIDI into existing clips without breaking your flow—just press Capture after you've played it right.
Edit multiple MIDI clips
Create drums and bass, or chords and melody in tandem. Work with multiple MIDI clips across multiple tracks within a single view—in both Session and Arrangement. Now you can edit smarter and take better control of the musical relationships in your song.
Create and arrange more fluidly
The Arrangement View has been optimized for quick creative editing and more efficient song creation. Easily stretch a clip, slide its content or create audio fades with new clip interactions that work directly in the Arrangement. Automate with greater control using grid snapping and other improved breakpoint interactions.Focus instantly on what you need to with quick keyboard shortcuts: toggle automation visibility for all tracks, zoom in and out of selections of your song, nudge clips, and even make audio edits like reversing samples.
A multitude of workflow refinements
When it comes to creative flow, sometimes the little things make the biggest difference. Live 10 comes with a long list of them—here are just a few.
Do even more from Push
Live 10 brings new functionality and new high-res visualizations to Push. Now you'll spend even less time with the computer—whether you're composing ideas, editing MIDI or shaping and mixing sounds.
New library of sound
With new collections of Packs, Live 10 has more sounds that are ready for finished music, right out of the box. They're set up for tweaking to your needs or taking in different directions. Plus the library has been reorganized to make it easier to find what you're looking for.
Curated collections
A new range of sound packs captures the musical threads that tie together evolving styles and scenes. Each Pack is a curated selection of instruments, clips and samples that share a common sonic theme. They're ready to create with as they are, and are also set up with Macros for shaping into something completely new.
Essential Instruments
Built by Ableton in collaboration with artists and sounds designers, Live 10 Suite comes with four new in-depth instrument packs:Drum Essentials includes a huge collection of classic electronic kits and hits. Drum Booth brings together all the acoustic drum and percussion sounds you need. Synth Essentials offers expertly programmed presets for Live's synths alongside multisampled racks of classic hardware. And Electric Keyboards brings the lush multisampled sound of electric pianos and organs to Live's instrument lineup.
Max for Live – no limits, built in
Max technology is now fully integrated into Live. No additional download or set up is required to create with and customize Max For Live devices. They just work. Plus Live 10 Suite offers new devices and capabilities that bring more possibilities for musicians and device developers.
Streamlined, faster
Using Max For Live is simpler, quicker and more reliable. Significant improvements under the hood mean Max For Live devices now load faster, use less CPU and feel more like Live's native devices.
New and updated devices
Some of Max for Live's most popular devices have had major upgrades. Drum Synths have been reworked with a complete sound upgrade and a broader sweet spot. Plus the new LFO and other control devices let you modulate up to eight parameters from a single device.
Advanced MIDI–hardware integration
Max for Live devices can now send and receive SysEx, allowing deeper access to synthesizers—including full preset backup dumps, parameter control and more. Max for Live can also create custom control surfaces for custom hardware integration.
Multi-channel audio
New audio routing capabilities in Max For Live mean mixing for performances, installations and theaters using multi-channel speaker setups is now possible with the included Surround Panner device.
Features:

Multitrack Audio recording and MIDI sequencing of software and hardware instruments
Unique Session View for nonlinear composition, flexible performance and improvisation
Real-time warping of audio: automatically sync music and loops, regardless of tempo
MIDI-mappable controls for hands-on creation onstage or in the studio – plus automatic mapping for popular hardware controllers
Audio to MIDI conversion tools: extract harmony, melody or drums from an audio sample and convert it into MIDI.
Comprehensive selection of built-in audio effects for creative sound design, mixing or mastering
Advanced sampling and slicing tools
VST and Audio Unit support
Groove engine to apply swing to audio or MIDI, or extract rhythmic 'feel' from other audio files
Video import and export for scoring to video or warping video to music
Built-in Max for Live software with more instruments, audio and MIDI effects, and the ability to customize Live
Instruments, effects and sounds:

10 instruments: Wavetable, Operator, Sampler, Analog, Electric, Tension, Collision, Simpler, Drum Rack, Impulse – plus Instrument Racks and the External Instrument device
57 audio and MIDI effects, including Drum Buss, Echo and Pedal
5000 sounds
70 GB of loops and samples
Technical feature spec / compatibility:

Nondestructive editing with unlimited undo
Multitrack recording up to 32-bit/192 kHz
Automatic plug-in delay compensation
Link technology integration
MIDI remote control instant mapping
MIDI output to hardware synths
MIDI Clock/sync
ReWire support
Multicore/multiprocessor support
WAV, AIFF, MP3, Ogg Vorbis, FLAC file support
Unlimited Audio and MIDI tracks
Unlimited Scenes
12 Send and return tracks
256 Audio inputs, 256 outputs
Rex file support
POW-r dithering
Groove Pool and extract groove
Capture
This item is sold As-Described
This item is sold As-Described and cannot be returned unless it arrives in a condition different from how it was described or photographed. Items must be returned in original, as-shipped condition with all original packaging.
Product Specs
Condition
Brand New (New)

Brand New items are sold by an authorized dealer or original builder and include all original packaging.

learn more

Brand
Model
Categories
;