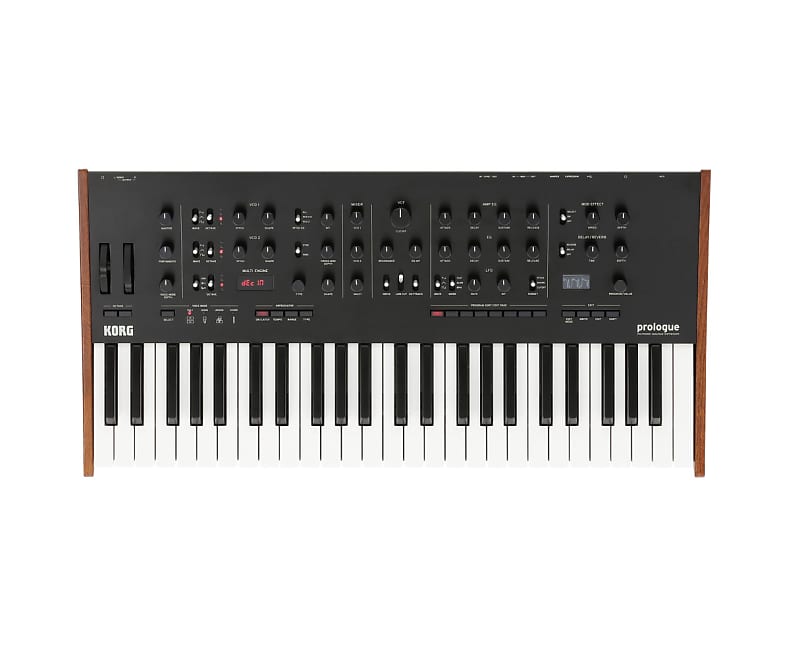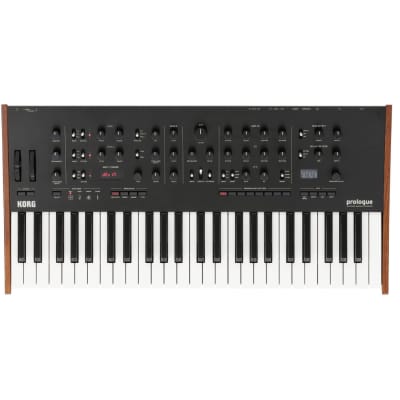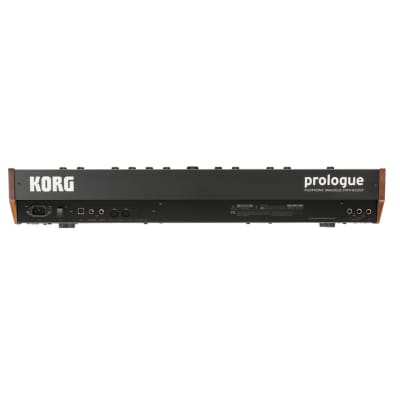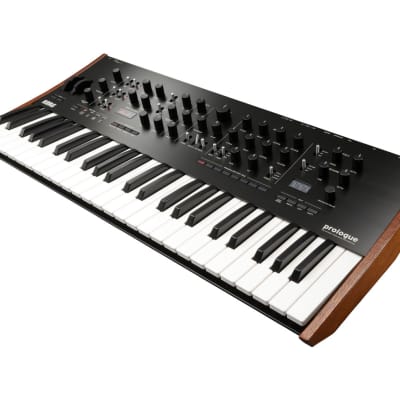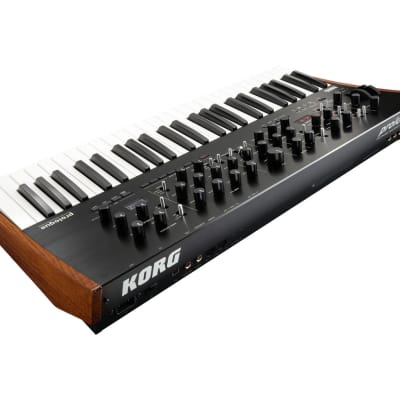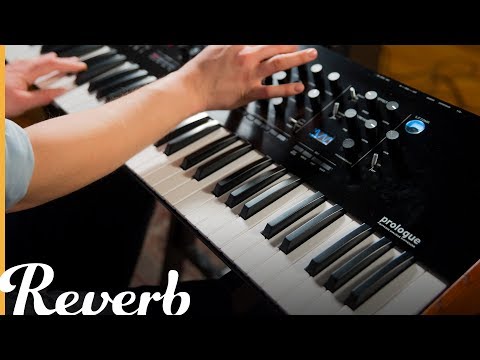 A New-Generation Of Flagship Analog Synthesizer.
The Ultimate Multi-Voice, Multi-Timbre, Multi-Engine.
prologue is a fully-programmable, full-featured, professional synthesizer. Preceded by the four-voice polyphonic minilogue and the monophonic monologue, it's the long awaited debut of the flagship : the prologue.
prologue is a polyphonic analog synthesizer equipped with a full-sized keyboard. With powerful analog circuits that are descended directly from the earlier models of the series, together with a newly developed digital multi engine and gorgeous DSP-based effects, prologue expands the variety of sounds and the possibilities for user customization.
The lineup is comprised of two models that cover musicians' needs for not only stage use, but also studio, home, or touring use : eight-voice 49-key prologue-8. These instruments are capable of sounds that go beyond existing analog synthesizers.
8-voice analog sound
The prologue is a polyphonic analog synthesizer with 8 or 16 multitimbral voices. KORG's analog synthesizer development in recent years has culminated in the prologue, which was designed using 11,000 discrete electronic components. Although the prologue is a flagship instrument, it still retains the inviting feel and accessibility of its predecessors. It features a pure analog path, impeccable sound quality, stunning presence unlike any other poly synth, and the same intuitive interface as the minilogue and monologue, granting you intuitive access to a vast world of analog synthesis.
The prologue uses a structure of 2VCO + MULTI ENGINE, 1VCF, 2EG, 1VCA, and 1LFO. In addition to distinctive, original circuitry, such as wave shaping to shape the oscillator's overtones and a sync/ring switch, prologue also features a two-pole low pass filter with enhanced sharpness, drive that adds powerful distortion, and a low cut (high pass) switch. Every detail has been improved on from minilogue and monologue. Its sound covers every sonic possibility : fat basses, powerful leads, and the beautiful pads that you expect from a polyphonic synthesizer.
Newly Developed Multi-Engine
The ingenuity of prologue goes beyond its analog design. The newly developed multi engine is provided as VCO3, adding digital waveforms and FM. This multi engine, which is equipped with three different sound engines, can be combined with the analog VCOs to expand prologue's sonic potential far beyond that of a traditional analog synthesizer.
Noise Generator
There are four types of noise generator, indispensable for percussive sounds or sound effects. Experience how digital filtering can produce direct changes in the color of the noise.
VPM Oscillator
The VPM (Variable Phase Modulation) / FM oscillator was newly developed for prologue. Its metallic and sharp sounds with their complex overtones could never be obtained by analog means. With 16 types of oscillator and the SHAPE knob, you'll be intuitively guided through complex sound design. Combine these wave shapes with prologue's gorgeous analog filters, and prepare for sounds you never thought possible.
User Oscillator
The user oscillator section lets you load oscillator programs of your own creation. Sixteen slots are provided, and one type of morphing wavetable oscillator is built-in as a preset.
Digital Effects
The high-quality digital effects feature pristine 32-bit floating-point processing, and add a further polish to the sound of the prologue. With two effect units provided (a modulation effect and delay/reverb), you can choose from a wide variety such as chorus or ensemble, warm tape delay, or diverse reverbs. The user effect slots let you load effect programs of your own creation.
User-Customization
The prologue offers an SDK (Software Development Kit) that allows developers to program, customize and extend the capabilities of the multi-engine and digital effects and is expected to be available for download in the spring of 2018. The prologue provides 16 user oscillator slots and 16 user effect slots, and users can use the prologue Librarian software (also expected to be available for download in the spring of 2018) to load into their prologue new oscillators and effect programs created by developers with the prologue SDK (Software Development Kit).
What types of sound will you create by combining the expanded digital oscillators with analog synthesis? You can create original programs and share code to participate in the user community. Start with sample code provided by KORG. The prologue belongs to you.
Bi-timbral
The prologue is a two-timbre synthesizer that lets you play two different programs simultaneously. In addition to layer and split, you can use crossfade to smoothly transition between the main timbre and sub timbre. An ample 16 or 8 voices ensure that the player's advanced performance needs will be met.
Voice Modes
The prologue provides voice modes that let you freely combine the 16 or 8 voices for performance. The standard POLY mode lets you play chords with up to 16 or 8-note polyphony. MONO mode is ideal for bass using the sub-oscillator. UNISON allows you to generate thick lead tones by sounding all voices in unison. CHORD lets you play chords with one finger. In conjunction with the DEPTH knob, you can use these modes to obtain a variety of effects.
Four Voice Modes
Poly : Operates as a poly synth with up to 16 or 8 voices. Turn the VOICE MODE DEPTH knob to switch to DUO mode, in which the instrument operates in unison as a poly synth with up to 8 or 4 voices.
Mono : Operates as a mono synth with sub oscillator.
Unison : Operates as an all-unison mono synth.
Chord : Plays chords.
Arpeggiator
The powerful arpeggiator opens up a world of limitless inspiration. It provides a four-octave range, and six arpeggiator types including manual set. From phrases that could not be performed on a keyboard to sequence-like sound designs, the arpeggiator can play a versatile array of roles.
Program Sort
The program sort function lets you instantly change the sorting order of the 500 programs. You can sort by category, alphabetical order, use LIKE to view the programs that you marked as your favorites, FREQUENT to sort the programs in order of their frequency of use, or ENVELOPE to sort the programs in order of their envelope shape (note duration). By choosing from eight different sorting conditions, you'll be able to quickly find the sound that you need, without interrupting the tempo of your rehearsal or production workflow.
Eight Program Sort Methods
Prog Num : Sort by program number.
Category : Sort by program category.
Alphabetical : Sort programs alphabetically.
Like : Sort by programs that you ""liked.""
Frequent : Sort by how frequently you used the program.
Envelope : Sort by envelope shape.
Random : Sort randomly.
Live Set : Sort programs registered in a live set.
Japanese-Made Natural Touch Keyboard
The attention to detail expected of a flagship extends to prologue's playability and design as well.
The keyboard is a high-quality Japanese-made natural touch keyboard, providing the same superb touch and feel as on KORG's high-end workstations, and allowing a high degree of expressive power.
prologue's body emanates beauty and the presence of a boutique synth, and newly redefines the look of a classic synthesizer. The black aluminum front panel features the same curvature as the minilogue, and sports a beautiful hairline finish. Metal knobs with a sense of weight, diamond-cut silver indices, and oak wood side panels are some of the details that emphasize the high quality of this Made In Japan instrument.
Condition
Mint (Used)

Mint items are in essentially new original condition but have been opened or played.

learn more

Brand
Model

Prologue 8 Polyphonic 49-Key 8-Voice Analog Synthesizer

Finish
Categories
Number of Keys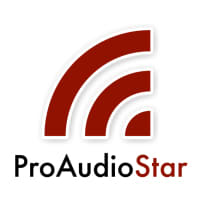 Brooklyn, NY, United States