Photo of Daphne Oram (1962), Photo by Daily Herald Archive/
Getty Images
.
Desmond Leslie had an eventful life. Related to Sir Winston Churchill, he was an RAF Spitfire pilot in World War II. Then he dabbled in screenwriting and directing for film and TV. In 1953, he co-wrote a bestselling book about UFOs, and in 1963 he punched the critic Bernard Levin on live British TV, watched by an audience of 11 million. The reason? Levin had given Leslie's wife, the actress and singer Agnes Bernelle, a bad review. Shortly after, Leslie returned to the family estate, Castle Leslie, in Monaghan, Ireland. He spent much of the rest of his life restoring it.
And if that wasn't enough, from some time in the mid '50s, Leslie made electronic music and musique concrète in a home studio in London. The studio featured what some consider to be the world's first multitrack sound mixer, built by Rupert Neve. The mixer went back to Ireland with Leslie, but it seems he didn't make much use of it thereafter. It can still be seen in Castle Leslie.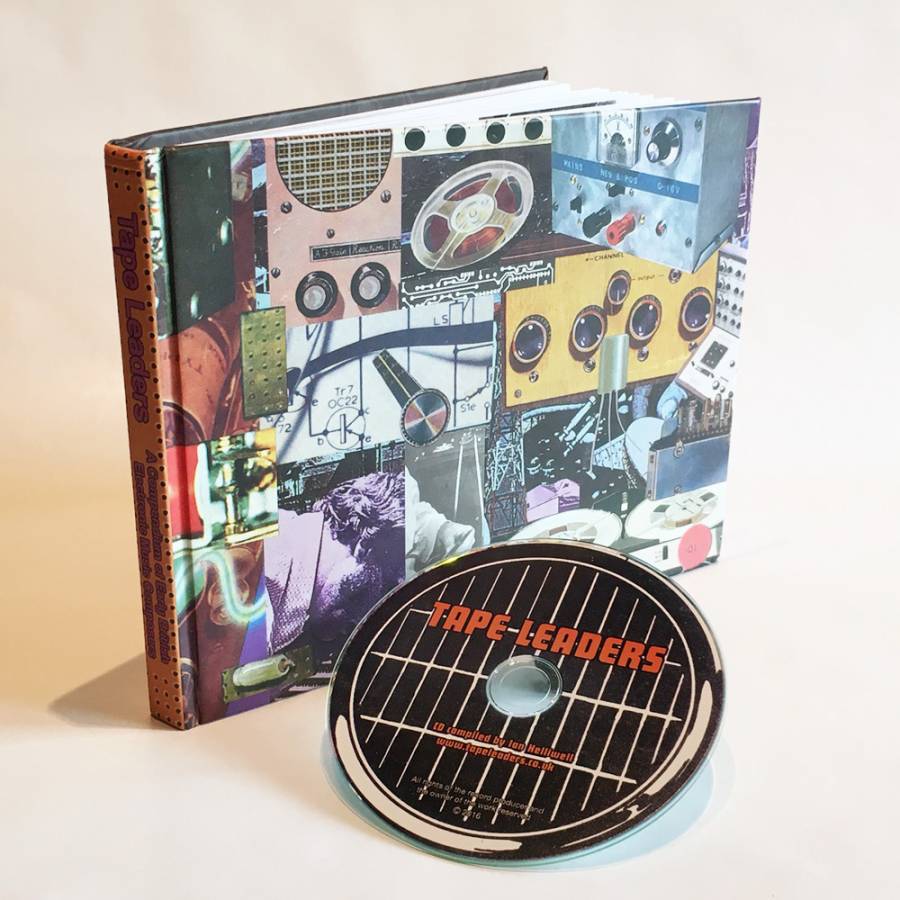 Leslie is just one of many fascinating eccentrics, visionaries, oddballs, and free-ranging intellectuals profiled in Ian Helliwell's richly entertaining book, Tape Leaders: A Compendium of Early British Electronic Music Composers.
Just republished in an expanded edition by Velocity Press, Tape Leaders features over 100 composers active with tape and electronics in the UK from the late '40s to the early '70s. Vividly illustrated not only with photos of the composers but also period ads, flyers, magazine extracts, and equipment catalogues, it's a hugely diverting prospect. And it comes with a 15-track CD of early British tape and synthesizer works, most previously unreleased.
Leslie's work doesn't make it to the CD. His experiments were pressed to an acetate in 1960, Music Of The Future, and then appeared on a limited series of library-music discs. Excerpts from this body of work occasionally surfaced as incidental music, including on some early episodes of BBC TV's Doctor Who. Trunk Records reissued Music Of The Future in 2005, ensuring a level of availability far exceeding many of the other artists that Helliwell features in his book.
The famous names of early British electronic music—including Delia Derbyshire, Daphne Oram, Tristram Cary, and Peter Zinovieff—are given due regard. But Helliwell comes into his own when he turns his attention to the autodidact hobbyists, of which Leslie was a particularly storied example. Holed up in spare bedrooms and attics across the country, this network of enthusiasts was like an advance party from the future. The circuit benders of their day, they specialized in the homemade, the adapted, the improvised, the repurposed.
Take Brian Whibley, who lived in Gravesend, Kent, and worked as a commercial artist in Soho, London. A skiffle musician and tape enthusiast, by 1963 he had a studio in his living room, the recording console built to fit the bay window. Furthermore, Helliwell tells us, "In the garden were several sheds to cater for his multifarious interests," which included woodworking and amateur radio. Whibley was featured in Amateur Tape Recording magazine, which reported that the expansive sweep of his interests encompassed "musique concrète and all main scientific advancements and historical events today."
The fragmentary biographies of such people only add to their allure. Leslie James Hills took out several electronics patents and had connections with Jennings Musical Instruments Limited, the makers of the Vox A.C.30. All we are told of his musical output is that "in 1961 he is believed to have aired a musique concrète composition to the Hastings & District Tape Recording Club." While Helliwell has done an impressive job unearthing information about many people like Hills and Whibley, there must have been dozens, even hundreds more. From the '50s, tape recording clubs sprung up across Britain. Much of the activity revolved around capturing sound events, musical or otherwise.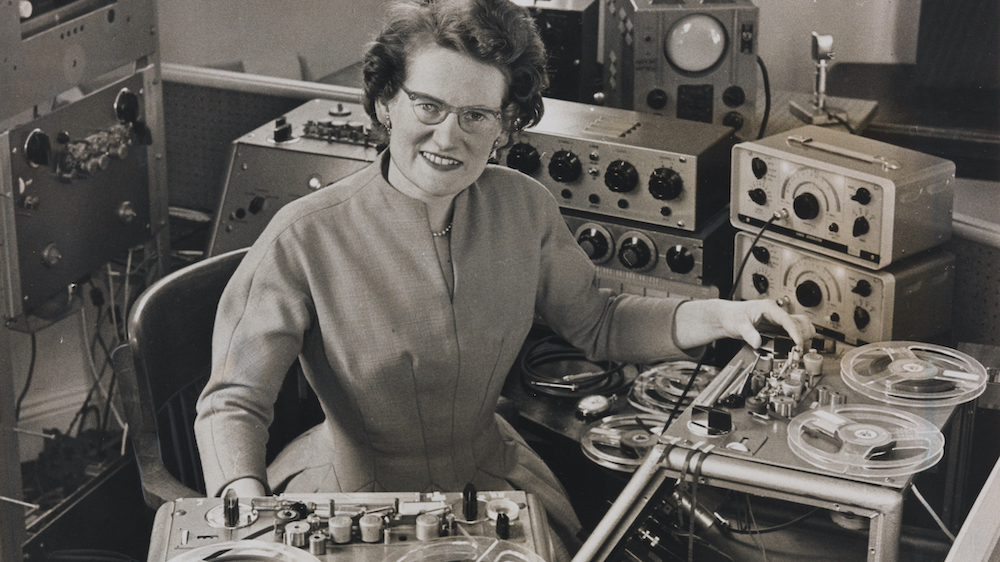 Daphne Oram.
Helliwell also provides plenty of evidence of tape recorders used as musical tools, to create and manipulate sound. There were magazines serving this community, including Amateur Tape Recording, which was published from 1959 to 1967. It ran an annual competition for amateur entries in different categories, including music. Ralph Broome, who worked in a radio repair shop in Doncaster, won a prize in the competition in 1960. His entry, "Nuclear Madness," is included on the book's accompanying CD.
The doyen of this lost domain of hobbyist composers was the inventor, engineer, musician, writer, editor, and lecturer F.C. (Fred) Judd. For years he toured Britain giving demonstrations of electronic music techniques in community halls and night schools. His first book on the subject, Electronic Music and Musique Concrète, appeared in 1961. Another, Electronics In Music, was published in 1972. Throughout the '60s, he worked for or contributed to most of the tape recording and hi-fi enthusiast magazines.
Judd's own studio, at his home in north London, had a voltage-controlled synthesizer of his own design in the early '60s, though it is now lost. This instrument features on Judd's contribution on the Tape Leaders CD, "Voltage Control 3." You'd be forgiven for thinking it might be an early pre-pop Human League demo from the late '70s, though it was recorded in 1963.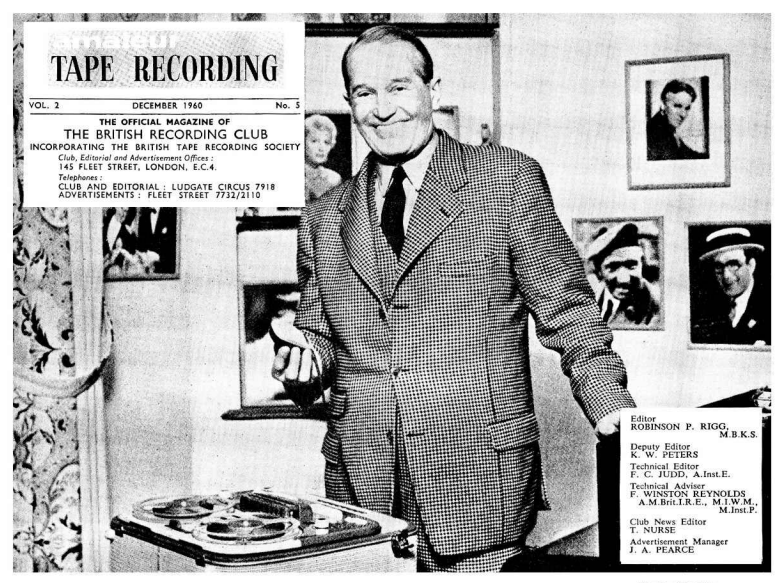 Amateur Tape Recording, Dec. 1960.
Judd's electronic music reached an international audience that same year when he scored Space Patrol, a TV science-fiction puppet series. First broadcast in the UK in April '63, and later shown in the US, Canada, and Australia, Space Patrol featured an entirely electronic soundtrack, recorded by Judd at his home studio.
Helliwell's affection and admiration for Judd is palpable. As well as memorializing him in Tape Leaders, he previously produced a Judd film and compilation album. His immersion in Judd's vanished world is such that he has absorbed the enthusiastic, didactic tone of the magazines his hero wrote for. Helliwell's writing, like Judd's, has something of the evening-class lecture about it—informative, technical, with the odd dry quip. It's easy to imagine him in a church hall somewhere, tape recorders and oscillators cued up for demonstration, a biro in his breast pocket.
As the '60s became the '70s, the ground began to shift. With the emergence of cheap synthesizers, electronic music moved away from tape composition. The EMS VCS-3 was popular in the UK, and as the decade wore on, the hobbyist magazines began to feature build-your-own-synth articles.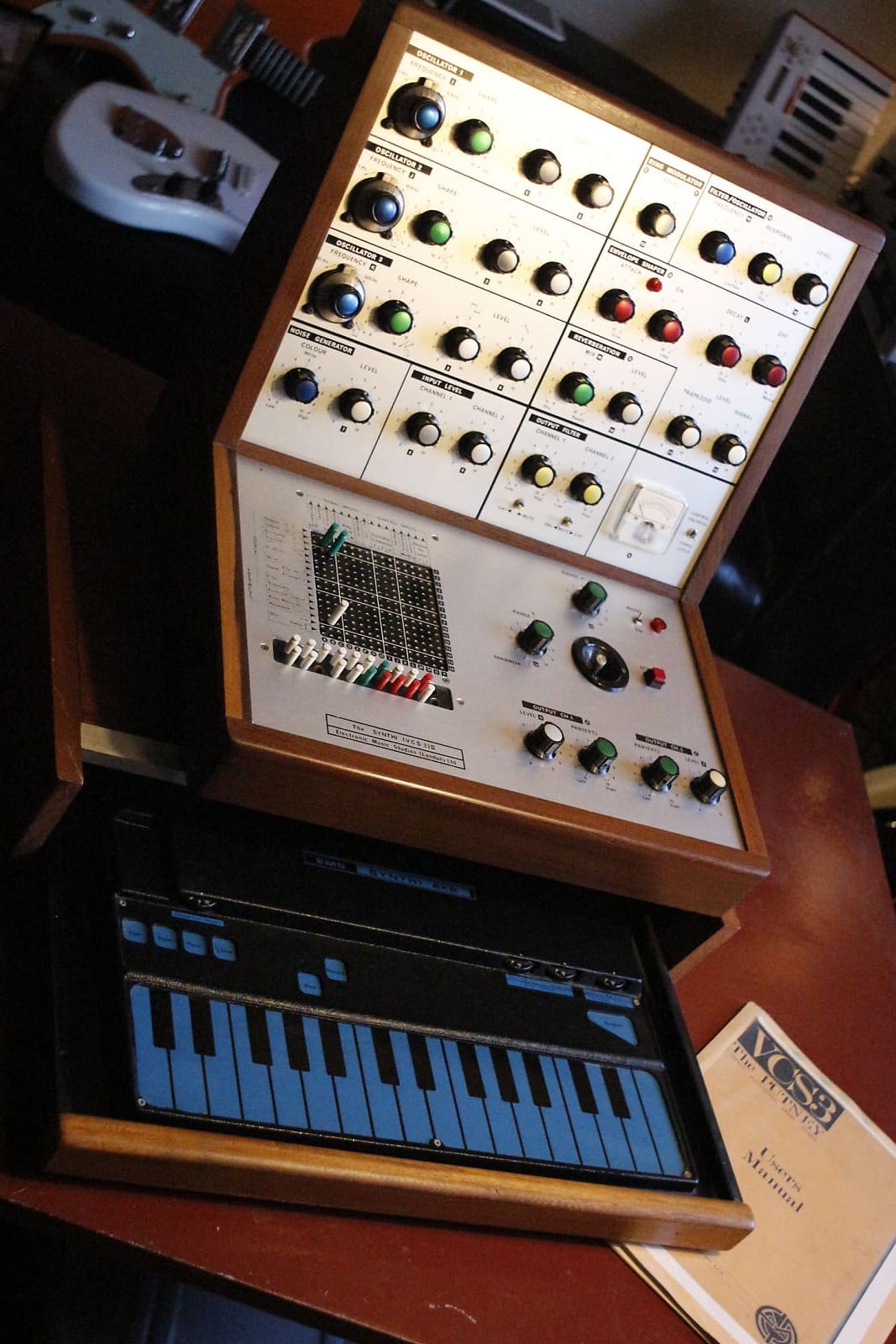 By this time, some forward-thinking British schools, colleges, polytechnics, and universities were teaching electronic music. Some had studios, though often little more than a Revox tape machine, a VCS-3 synth, and some filters. The musicians who came up through this scene were typically born after the war and had grown up with the music of the BBC Radiophonic Workshop, an established feature of the country's aural landscape. Helliwell introduces us to many of them.
Steve Duckworth, born in 1948, is one example. His childhood interest in tape recorders was further piqued by a '60s TV item about the Radiophonic Workshop, and he built some gadgets by following Judd's instructions in magazines.
Photographs of Duckworth's studio in the early '70s, reproduced in Tape Leaders, show what looks like a WEM Copicat tape-loop device, several tape recorders, and an EMS Synthi AKS—all crowded into what is quite obviously a garden shed. In that shed, in 1974, Duckworth recorded the opening track of the Tape Leaders CD, "M52." The EMS is pitted against the heavily processed sounds of an aerosol spray, an apple being bitten, and a flushing toilet.
Ian Loveday, born in 1954, is another of this later generation. He was active with a soldering iron as a teenager, and like Duckworth he read the hobbyist magazines in the '60s. In 1968, when he was just 14, Practical Electronics magazine printed Loveday's account, with accompanying circuit diagram, of an intercom he rebuilt to generate electronic sound. In the '90s, he was making techno and recorded several John Peel sessions for BBC radio, thus linking the '60s hobbyist scene right up to contemporary electronic dance music.
Helliwell's entry criterion for Tape Leaders is that a composer must have worked on an experimental tape composition before 1971. People like Duckworth and Loveday qualify by a few years but remained active way beyond the main period covered in the book, as did many others featured. Helliwell's narrative is therefore a slow fade through much of the '70s.
1978 Powertran Transcendent 2000.
The tape recording clubs waned in this period, too, and the enthusiast magazines took on a different character. There was a move toward DIY synth kits. Many musicians who began exploring electronics in the post-punk era grew out of this culture. Bernard Sumner of Joy Division and New Order built a Powertran Transcendent 2000 synth that he used on Joy Division's Unknown Pleasures. There is, perhaps, a companion volume to be written exploring this period.
This book is a one-off. Histories of early electronic music often tend toward the cerebral and academic. Helliwell's relationship to these more formal academic studies mirrors the relationship of the hobbyists he champions to the music establishment of their time. They were enthusiastic outsiders. So is he.
Though accurate and informative, Helliwell's writing mixes an almost evangelical fervor with dry humor. It is as much the story of his enthusiasm as it is a work of history, and all the better for it.
---
About the author: Mark Brend is an author and a musician. His books The Sound Of Tomorrow (Bloomsbury 2012) and Strange Sounds (Backbeat 2005) explore early electronic music and musical instruments. He lives in Devon, England. More info at www.minutebook.co.uk.