Somewhere on an old drive is my 1986 interview with Harold Rhodes, conducted at his house in Southern California, with his wife, Margit, sweetly fussing around him and serving us tea.
The thrust of the conversation appears in my book Keyfax Omnibus Edition, but I'll précis it by saying that the legendary Fender Rhodes electric piano first appeared at a US military base, in 1942, as a gleam in the eyes and ears of trainee flying instructor Harold Rhodes.
After the war, his concept morphed into a piano—initially, the 32-note Piano Bass. But he wasn't much of a businessman, and in 1959 he sold the rights to the Piano Bass and all subsequent models to Leo Fender, whose company was in turn purchased by CBS in 1965.
Fender-Rhodes Mark 1 Stage Piano | Reverb Demo Video
Although seven models of Rhodes piano would be made by a variety of companies, the classic Fender Rhodes we know, love, and trade today is the Mark I Stage 73, introduced in 1970.
This model bestrode the music world like a colossus, equally popular in pop, rock, funk, and jazz. With honors only partially shared by the Wurlitzer electric piano, it was the piano to own until the mid '80s, when its weight (95lbs), tone (just the one), and reliability (maintenance always required) could no longer fend off the massed assaults of polyphonic synths and digital sampled pianos, on which the Rhodes sound had ubiquitously become Preset #2, after Preset #1—Acoustic Piano.
Author Julian Colbeck playing a Rhodes at 21 years old.
Put it like this: I loved my Stage 73—which I purchased from Rod Argent's keyboard shop in London in 1973 for around 450 quid—and I played it on many records, including Charlie's "L.A. Dreamer," my homage to Ray Manzarek's groundbreaking intro to "Riders On The Storm." But in 1983, I simply abandoned it under the Glendale house I had been staying in for all the above reasons. It's probably still there.
For the next 20 or so years, the Rhodes sound remained a classic, and those who wanted the real deal could pick up a Mark I for around $300 to $500. Spare tines—the thin metal rods hit by hard, rubber-tipped hammers to create the sound—were relatively plentiful, and there were enough Rhodes repair folk out there to keep this fleet a-floating.

Rhodes Mark 7
In the meantime, Harold's name had been sold to Roland by CBS boss Bill Schultz, inappropriately if not disastrously. To their credit, Roland returned the rights to Harold after a request by Harold's friend and business partner Joe Brandstetter. Under the Rhodes Music Corporation banner, Brandstetter released a Mark 7 model, complete with MIDI, in 2008.
It was a pretty decent effort, but it became an increasingly uphill struggle to manufacture pianos at a realistic price, given the continued delivery of the sound via modern synths—Yamaha Motif and Nord Stage in particular—as well as the preponderance of Mark Is, Mark IIIs, and Mark Vs still priced (until a few years ago) at $300–$500. By 2012, Rhodes Music Corporation gave up manufacturing pianos, and Brandstetter focused on protecting the Rhodes name and trademark.
So what's changed? First, the prices for original Rhodes pianos started to rise. Like crazy. I bought a Mark I in 2013 for $300. Now, you'd probably pay ten times that. Second, Brandstetter granted the exclusive right to sell licensed Rhodes samples to Loopmasters, the British sample and sound design company. In 2020, Matt Pelling sold Loopmasters to Beatport, and Brandstetter offered Pelling a license to build and sell Rhodes pianos under the Rhodes name.
Pelling formed Rhodes Music Group Ltd in 2021, headquartered in the suburbs of Leeds in northern England. He recruited a crème-de-la-crème team to re-imagine this classic of classic instruments: Rhodes repair specialist Dan Goldman as Chief Product Officer; Axel Hartmann of Hartmann Neuron fame handling External Design; and Cyril Lance, the electronics guru who was Bob Moog's right-hand man, as Senior Electronics Engineer.
---
Shop Vintage Rhodes
---
Now, this can't be a review of the MK8, because the instrument is not yet in production. A dozen instruments have been made, but only for beta testing. Production should go into full swing in May or June, and if you order one today, expect it in the third quarter of 2022.
Order one today, did I say? Yup—to get your hands on a Rhodes MK8, you'll need to go to rhodesmusic.com and essentially build the instrument you'd like. Options include the color of the lid (with 12 to choose from), either classic Tolex-covered poplar or American walnut for the bottom shell, and whether you want just the pre-amp or the whole FX section, comprising (analogue) Compressor, Chorus, Phaser, and Delay (bucket-brigade style).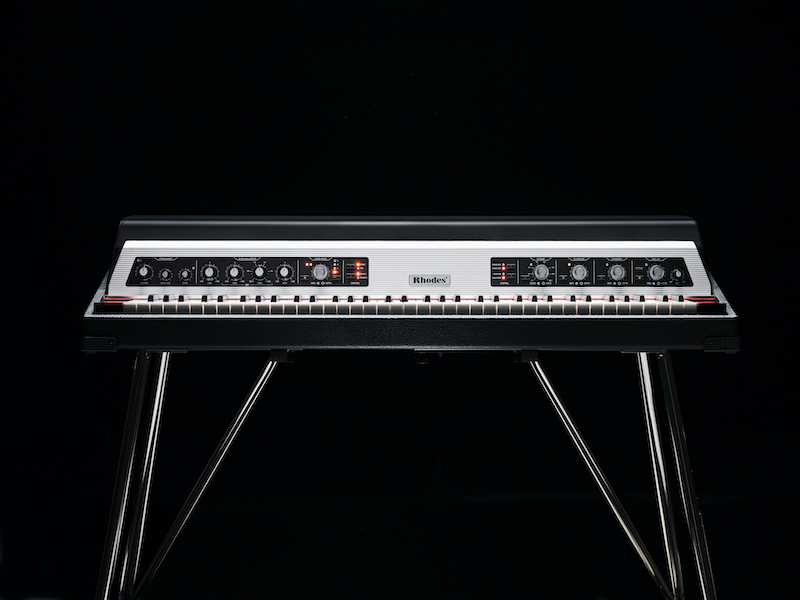 Rhodes MK8
Back in the day, we used an MXR Chorus or a Mutron, or both. It's going to cost you an extra $1,000 from the base price to get the effects, but given the cost of vintage pedals and the hassle of keeping them plugged in and functioning, I would not hesitate to swing for the FX.
That said, one of the most impressive things about the MK8 is its almost uncanny ability to sound like a synth—ha! revenge!—just by using controls found on the standard model: Preamp, Equalizer, and Vari-Pan.The original Mark I Stage didn't have a pre-amp, and the sound can be pretty dull. The smart kids—yes, I was both a kid and smart once—got the Dyno-My-Piano mod, which added a pre-amp with EQ and also tweaked the piano's notoriously unpredictable action.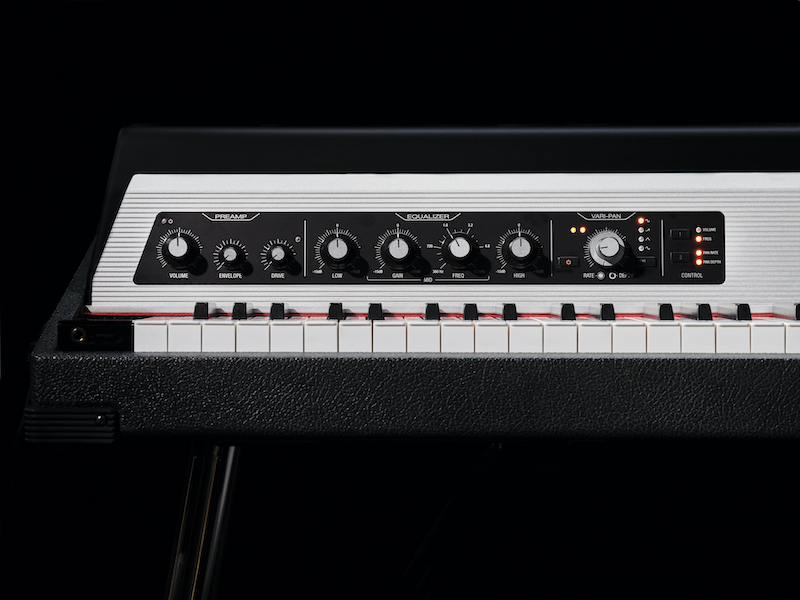 Rhodes MK8
In the '70s, I toured with Charlie, supporting The Doobie Brothers, whose practice it was for us all to join forces on the show's final three numbers. Thus, I spent a few months playing Michael McDonald's Rhodes, and it had an action like corrugated iron. Conversely, most new Rhodes had an action as stiff as the frame of an IKEA futon, and it took years to get them to play nicely before falling into hopelessly-floppy territory, as Michael's had.
Listening recently to Dan Goldman putting the MK8 through its paces, I noticed that between the Preamp and Equalizer panels, in addition to just setting the static tone and timbre you want, you can create both auto and pedal-controlled analogue wah effects.
Once you bring in the Vari-Pan, not only can you set up basic slow and groovy pans, but you can also speed up panning into audio rates until you're in ring modulation territory. Plus, there are four different pan waveshapes: square, saw, triangle, sine. The keyboard becomes like a polyphonic resonator. And you can blend the signal of the pure piano and the processed/modulated one.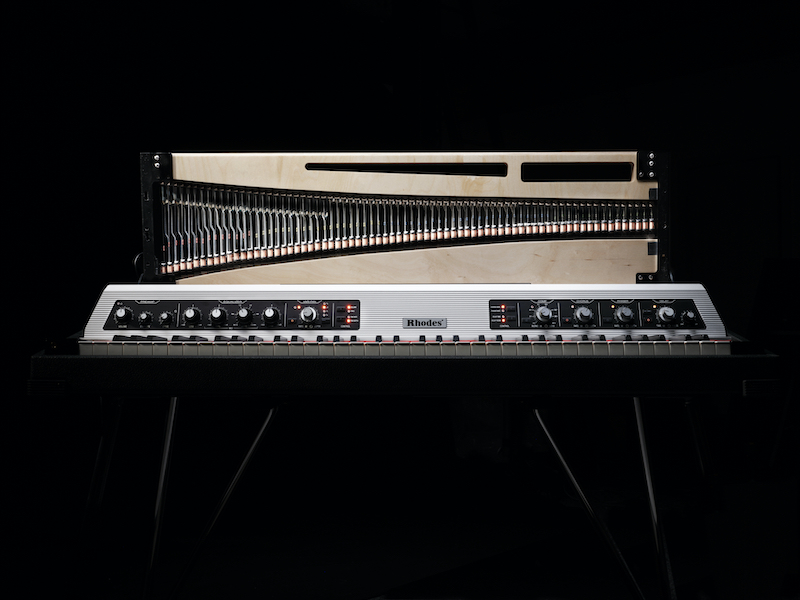 Rhodes MK8
What's so huge about this opportunity is that the sound source is not some fixed rompler waveform but a living, breathing analogue signal emanating from things hitting other things, as it were, with all the musicality and infinite levels of human control that go along with it.
It seems to me highly appealing that under your fingertips you have a precision keyboard—made by Kluge, meaning the same as on a Steinway grand—and a smooth-as-silk Rhodes sound that can be transformed into a snarling synth monster at the rotation of a dial or the squeeze of a footpedal. And this is without even considering the optional FX panel.
Dan Goldman's years of servicing Rhodes pianos has given him a unique perspective into the parts that tend to fail and the mods regularly requested. Couple this with rigorous quality control, and the result should be desirable meets reliable.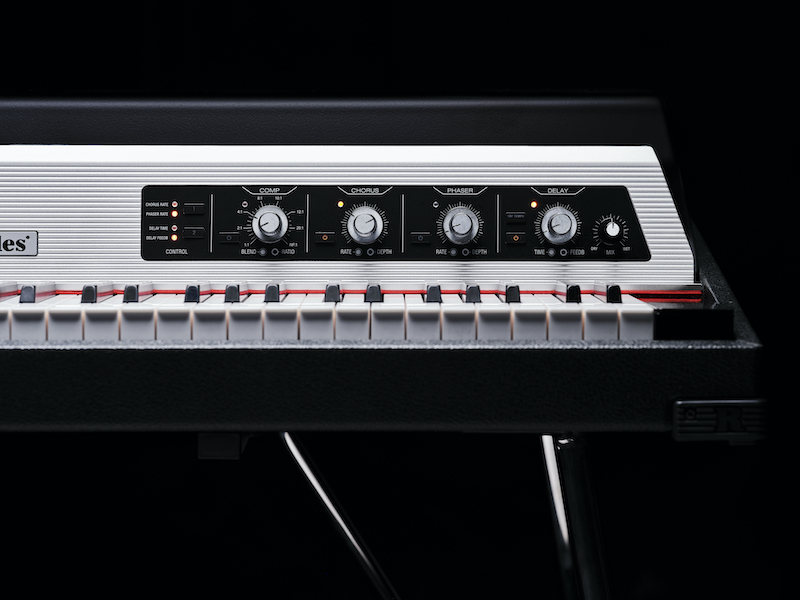 Rhodes MK8
For example, the MK8 has replaced the Neoprene hammers, which would wear quite quickly, with newly developed polymer hammers. Also, tuning springs only slip when you really need to tune the instrument, and there are grip washers under the pickups to keep them really tight. Plus a new-design flexi-cable sustain pedal means it won't keep falling out, that its strength of damping can be adjusted—and there's even a grip mat.
This is not just geekiness. These are practical and important improvements that should remove the word hassle from your life with a Rhodes.
So what's missing? Aside from close on ten grand in dollars from your bank account, the most noticeable absentee is MIDI. This is on the product roadmap, and the plan is to make it retrofittable. I take Dan's point that they first wanted to get the mechanical/analogue/physical design right—and boy, did they ever—but MIDI is a fact of life, and the MK8 would make a killer controller.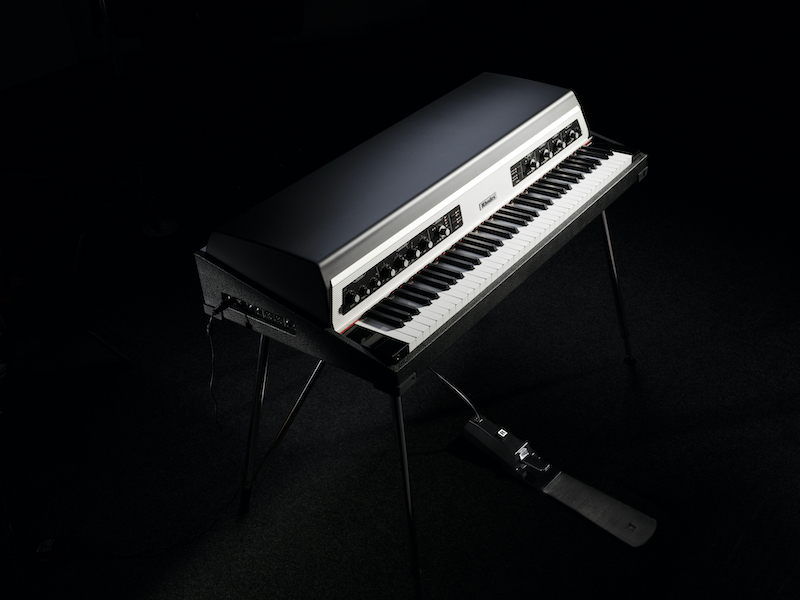 Rhodes MK8
From a distance—again, this is a preview and not a review—Rhodes Music and Dan Goldman have done an incredible job in building what is essentially a dream machine for Rhodes lovers: solid but customizable; analogue signal path and circuitry, but under digital control; heavy hitting but lightweight (75lbs); and tons of nice features.
Billy Preston blew the world away when he unleashed the new sparkle-top Rhodes on the "Get Back" Beatles single in 1969. Donald Fagen went on to propel us through the '80s. And there's Herbie, Chick, Amy, and more. All it'll take now is a new and inspired pair of hands to steer the MK8 into the next stage of the extraordinary journey of the Fender Rhodes piano.
---
About the author: Julian Colbeck played keyboards with Charlie, the Yes supergroup ABWH, and Steve Hackett. Currently he runs ASSR (Art & Science Of Sound Recording) with Alan Parsons. He has written many books on music tech, including the Keyfax buyers guides (1984–'98) and ASSR: The Book (2014).