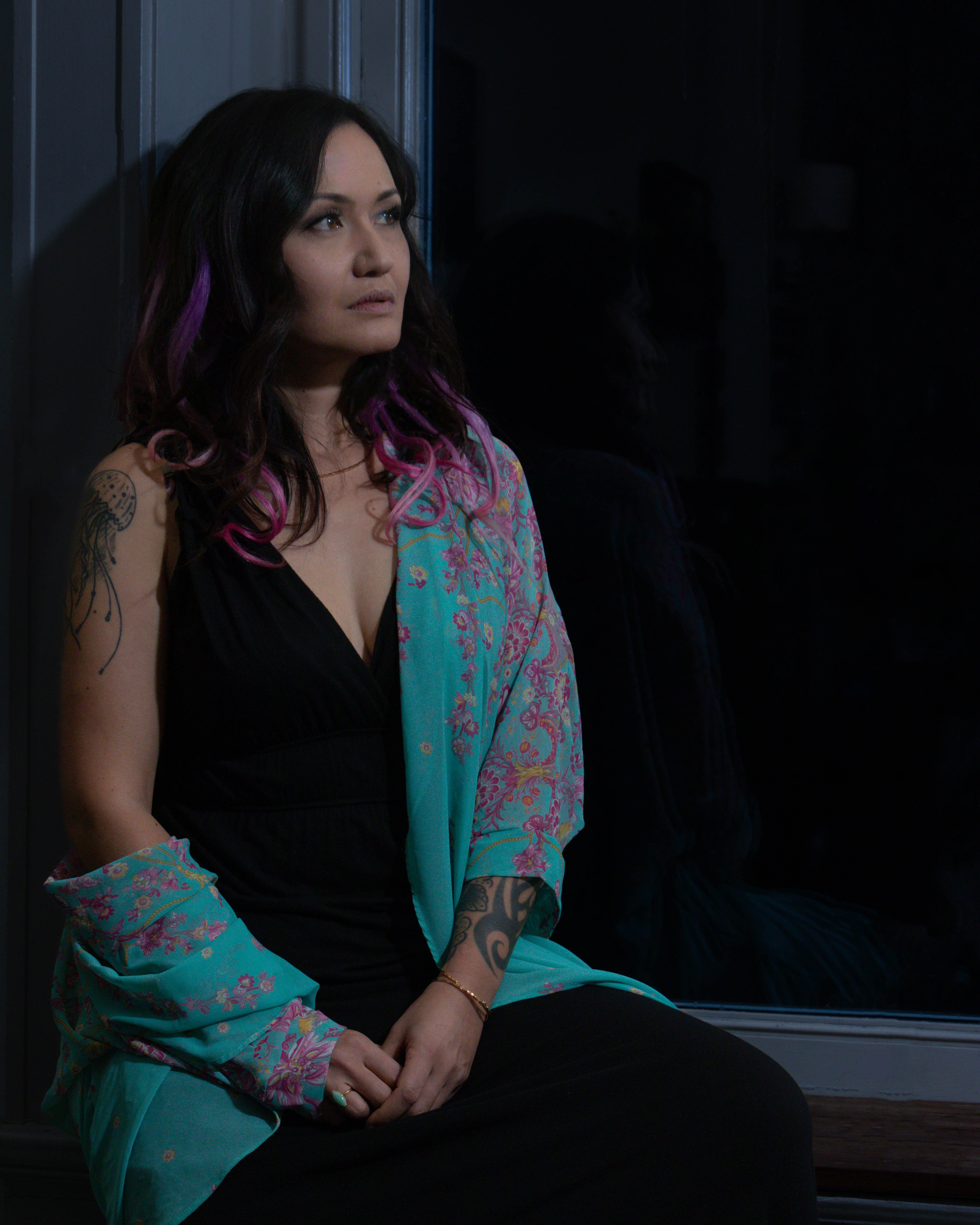 ill-esha. Photo courtesy of the artist.
Builders build—they apply structures, logic and experience to create something greater than the sum of its parts, and the concepts of construction and utility are never too far from their minds. Elysha Zaide, also known as ill-esha has carved a life in the development of sound, from blending genres from all corners of electronic music to being a pioneer for women navigating the drum & bass and glitch scenes. Her resume is a grocery list of global accomplishments and merely scratches the surface of her abilities. Among several other ticked boxes, Zaide is a DJ, producer, vocalist, engineer, keytar enthusiast, and most recently, a sound designer for LEGO. Yes, that LEGO.
Let's rewind a bit: Zaide is a native of Vancouver, British Columbia who began performing and DJing at the tender age of 14. Imagine being born to Malaysian-Chinese and Polish-Israeli parents, falling in love with music but specifically music's marriage with innovation, and being pretty much the opposite of what most tech-obsessed musicians look like. Instead of making your identity a crutch, you study up and leverage it to fuel a long-lasting, fruitful career that has reached far beyond performing.
By her own admission, Zaide has always known she wanted to be involved with music, but she wanted to push the boundaries of what she could do and always looked to improve what was already there. There were the piano lessons, of course, but when she realized that her desire of having a orchestra follow her around was impossible— she admits she "only has two arms"—Zaide discovered that computers could be the next best thing. For years, she played live shows involving everything from hacking Nintendo Power Gloves to designing her own distinct interfaces made to play her tunes. Instead of wishing for a "cyborg orchestra," she constructed her own.
Zaide's career began in the late 1990s after getting a degree in Audio Engineering from the Center for Digital Imaging and Sound in Vancouver, British Columbia. She started as a vocalist and quickly gained notoriety for being the first female drum & bass performer to synchronize singing, MCing, DJing and mixing records. She was unsatisfied by just singing or just DJing or only making tunes—she wanted her expression of music to embody her love of physical play and movement. She wanted the tactile qualities of her art to be on full display, and her commitment to the audio, visual and physical aspects of making and performing music has given her a distinct advantage as an electronic producer.
Since her first 12" single release in 2001 with New York label Breakbeat Science, Zaide had been honing her production chops and by 2007 had toured all over the USA, Europe, and Asia. She was featured on television, built her own production studio and collaborated with producers from all over the electronic scene. In addition to making records, her dream-like vocals graced many other drum & bass records. She continued to grind and evolve, including elements of future bass, dubstep, bass, wonky, glitch hop, trap and hip-hop in her own productions and performances.
By 2010 Zaide was a household name in the glitch community, having released several singles online and co-producing music that ran the charts on websites like Beatport and Addictech. In the same year, a bootleg she made honoring Daft Punk's Tron: Legacy soundtrack amassed almost 15K plays in four days and reached #1 on SoundCloud when that platform rivaled every other streaming service. It was removed from the site because of a copyright claim from Disney. But who cares? That was a big deal and a great boost to her career. She continued to build her reputation as a wealth of information, a producer with an ear for complex compositions, a vocalist with great lyrics, and a beautiful singing voice and of course, a fully seasoned performer.
For over two decades she's played clubs, festivals, and international events of all sizes. She's even lent her talents of innovation to other tech companies, helping them design software and hardware for performance and production. She's made countless sample packs and helped so many musicians realize their goals, but ultimately her inspiration was making beautiful things and getting others to understand their own ability to do the same. After a long period of making music, she did a little bit of teaching as a side hustle only to discover she really liked it. She taught online classes at the Berklee College of Music's Valencia campus in Spain, then decided to accept an in-person position, relocating to Europe full time.
I managed to get the time zones correct and caught up with Elysha at her home in Billund, Denmark to talk about her education, love of keytars, being a true tech nerd, and her transition from performance to sound design at LEGO. This woman is a true pioneer, a wealth of information and an advocate for all musicians to push the limits of their abilities.
---
---
I hate using this term, but you're a genius, Elysha! Please tell me more about your formal education.
I took piano lessons for many years and I got a degree in Audio Engineering, so I learned a lot of the physics and technical stuff from there. But I would say for electronic music production, I was definitely learning as I go because of collaboration. And that's why I always tell people to collaborate because you can learn something from everyone you work with. When I started my career as a vocalist, I would make deals with producers that I would do vocals for them if they would show me some tricks and teach me a little bit. Also, I love reading and I'm one of those people who actually reads the manual! (laughs) Read the manuals! At one point I actually printed out some of the manuals of synths and put them all in a binder. (laughs)…
One of the things I love most about your unique spin on performance is the keytars! You weren't the first person to use the keytar but you sure re-popularized them at a time when folks weren't really checking for them anymore. Can you speak more to that?
Yeah, I just love things involving movement, you know? And these keytars came out that have accelerometers in them, which to me is like a whole other dimension of being able to control technology with movement. See, that's the one thing I always feel is missing when you do electronic music in a more traditional sense: you get tied to the controllers, right? These guys are just sitting there hunched over wherever the cables can reach, so when the wireless motion technology came out, I was like, "Yes, I can dance!" I can flex and jump all over the place.
You actually taught sound design in Valencia, Spain for a while, even through the pandemic. How did that come about?
I started teaching before the pandemic and then halfway through my first year I heard we weren't gonna come back from spring break. I was like "this is crazy." I had a wonderful time in person and then it was definitely a challenge when we all had to switch to Zoom lessons. I spent a lot of time just actually learning video production, motion, graphics, and editing, and trying to make my online classes more fun because we would do them live. But once the pandemic hit, a three-hour university class is too hard to do on Zoom. So we would break it up into these little premade tidbits and tips and I tried to make it as fun as I possibly could. On the upside, the students and I bonded through that time because it was such a weird thing for everyone. But I spent a lot of time in office hours and a lot of time just exploring how people wanted to express themselves in a place where they couldn't really go out and do it.
So you are just applying for different gigs, as many musicians do, and all of your experience gets you this job at LEGO. Within the constraints of what you can say, what is your position there?
I am heading up the sound design department and creating it. it's a new direction, although LEGO has had sound before. They've got some great interactive play with their Super Mario stuff, as well as a DUPLO train that you can buy that makes sounds when the train gets near it. Interesting fact: in 1968 LEGO actually came out with this train that moves and it responds to you whistling. So they've been kind of OGs on experimenting with sound for a really long time.
---
---
1968? Wow! I'm sure they were blowing people's minds back then.
Exactly! So as you can imagine, I was just really excited and I didn't really know what I was gonna do either, but I explored whatever LEGO was gonna do next. I do a lot of tech and innovation stuff and I also help maintain and nurture the exciting sound opportunities and existing projects there are. I spend a lot of time in product design. LEGO has offices around the world, but I work at the headquarters in Billund, Denmark which is where it was originally founded, and where most of the products get designed.
Is the building in Billund just wild and crazy looking?
It's pretty wonderful! The whole city is cool. There have been a lot of cool LEGO models built over the years and there's also a really great community of people that are passionate about it and create their own things. And we all interact with each other, so it's nice.
It sounds like a community of builders!
Yes! And about my transition, I was nervous because you know I've been a freelance musician for most of my life, and although I've worked alongside cool companies, this was a new environment. But it's been so supportive of creativity and welcoming and I really feel like I'm thriving. Because I work with such passionate, excited and brilliant people every day that have amazing ideas. So it's really stimulating to my brain in a way that, say, endless airplanes and green rooms were not really doing…
Absolutely. That's so different from flying everywhere and playing shows. How do you approach the process of creating sound effects specifically tailored for LEGO products and are there any unique challenges or considerations involved when you work?
Yeah, absolutely. Well, what I can say is LEGO is first and foremost about play. Of course there's a lot of other values like education and different initiatives like that but being playful and capturing that magic is essential. Of course it comes down to the kids…so I would say that no matter what I'm creating, I always have to think of them first and if in the end if they're not into something, it doesn't work, you know? Kids are the arbiters of play. They are the people that we serve, so it's really actually bringing me back to the joy of starting to create for myself and inspiring that feeling in others.
---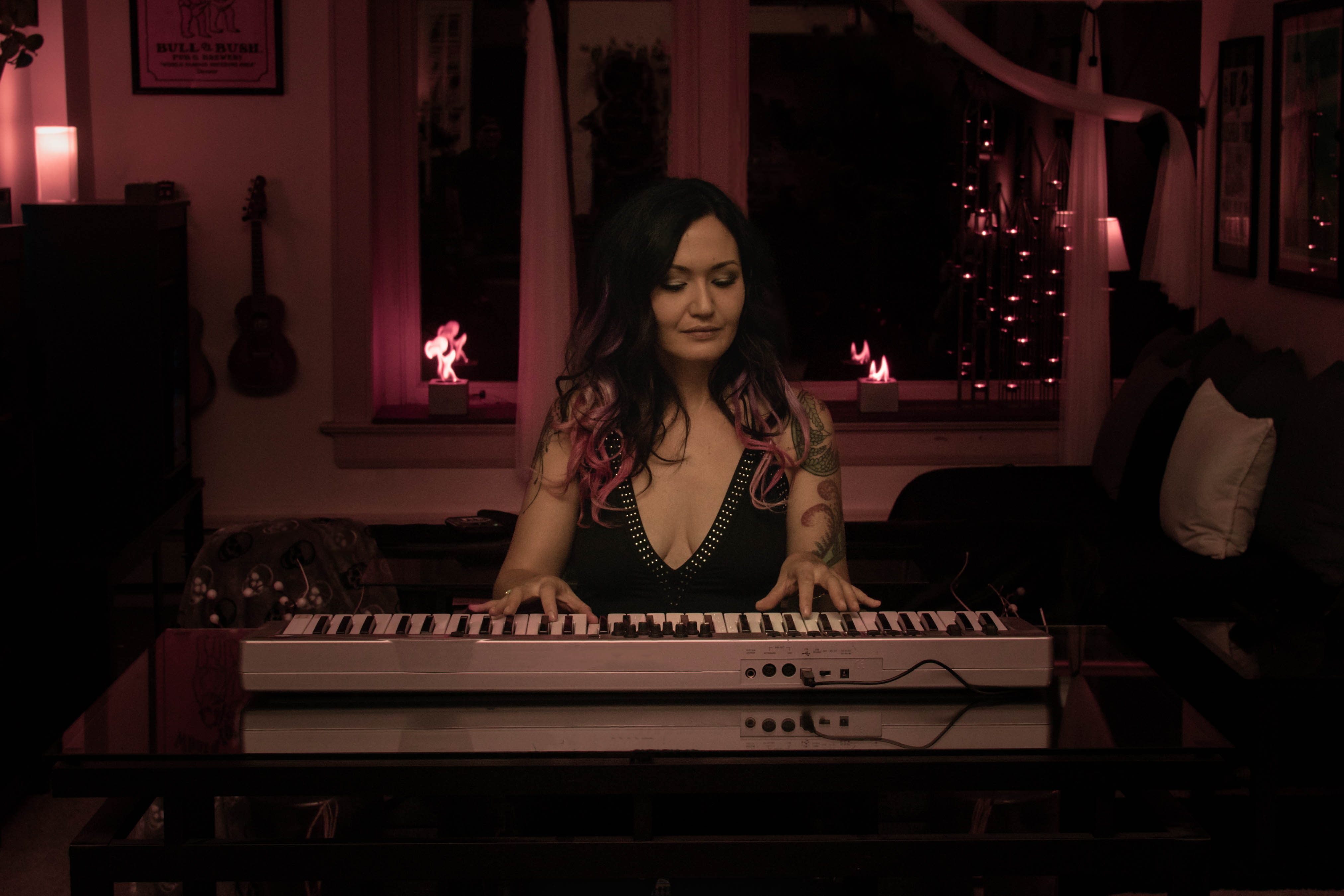 ill-esha. Photo courtesy of the artist.
---
Can you tell me a key piece of gear or software you rely on for your work?
Consistently, Ableton Live has been a lot of the centerpiece of my experiments. It's something that I used as a freelance musician. Coming into LEGO, most of the other sound designers I work with are familiar with it and use it, too. It's something we use a lot for ideating and sharing ideas between each other. It's super useful. Now I'm also really trying to rely on my own imagination and the inspiration of kids, but I really like digital synths. So I use Serum and Vital, which is an amazing free synthesizer as well, but both of those are just great ones for sketching ideas. The interfaces are so great and the quality is so nice. I love to come up with stuff quickly with those.
As far as the user interfaces, what do you look for in a good one? Is it more of a blank canvas or certain things embedded in the software that you prefer?
Any good software for design has to be intuitive and flow with kind of how you would visualize the sound…I mean sound can be very visual if you ever see oscilloscopes and what not, and so I want to be able to open up a piece of software and just understand how to move things in a way that's coming out of my head. It's funny, because obviously quality of engineering is a big thing. It has to sound good and have a good algorithm to convert, but also the UI is important because you need to be able to feel something and get it out without this blockage of something too complicated to complete the idea. If you have to whip out a calculator or type in a wall of text, it's counterproductive.
Almost like you need a blank canvas yet the canvas has a ton of moving parts.
Exactly.
If you could build your own fully operational LEGO piece of gear what would it be?
Wow, I think I would have to build some kind of crazy midi controller of course because as a piano player and as a performer, I love to play things. And one of the things that has always frustrated me is the limitations of a physical controller. That's why I use TouchOSC software to make my own interfaces on an iPad, but the thing that it lacks is tactility - it doesn't have buttons and faders. It's just something that I draw on the screen so of course, I would love to make a fantastical, three dimensional, tactile controller out of LEGO. That would be awesome!
What are you using in your current studio?
I really have a fixation for physical gear with tubes and warmness and saturation. So my actual favorite has actually been discontinued I think, but it's a Blue Woodpecker ribbon microphone. Like the old jazz style …I really like ribbon mics for that reason. They give you that smoky 1940's feeling and it just really suits my voice. I think sometimes people just buy microphones on these top 10 lists without thinking about what their voice is like. Or like, what is the primary thing you're gonna record? For me, I know my voice. I know the frequencies that it has a lot of, and the ones that it lacks. And so when I buy mics it's to balance that out. So I have that, I also still have my first standard studio mic: the Audiotechnica 4050. It's pretty classic. I think a lot of people have that. I have a lot of Blue dynamic mics like the Encore 100 which is a really nice stage mic that is durable like an [Shure] SM58. I have a lot of those, but the Blue Encores have a really nice clarity to them.
I just bought myself as a housewarming gift: an Arturia MicroFreak in a Stellar limited edition. So I'm really excited to get playing with that. I've played with it at friend's houses and I just love the way that it's built. It's got such a weird little keyboard, and again anything that makes me move or react in different ways is a pattern breaker, and that's really what I look for if I'm gonna get something new - it's something that's gonna shake me out of what I'm used to.
---
---
This question is a little redundant yet necessary. What advice would you give women who want to be in sound design and in the world of engineering, software and building things? Any advice for folks who don't necessarily look like the "normal" person who's hired for these positions?
It all comes back to knowledge is power. I think that you know, even in 2023, we're all still a little bit rattled by society. And you know, the YouTube men and this echelon of "very concerned people" who want to correct us as women. And then they'll act like we don't know anything. But my way to combat that has always just been deep diving and learning as much as I can and that makes me feel so confident in my knowledge and my process that it doesn't phase me.
When you feel comfortable, nobody can really touch you in the end. I've worked really hard to get where I am, and in the end my knowledge and also my consciousness that I'm always learning is a big thing. Because knowledge is power, but humility is also a good thing to have. So the more you know, the more you realize, and this is a human thing, the more you realize you don't know. The knowledge and the humility together will make you an innovator. Because you know enough to come up with interesting ideas yet you're humble enough to just try everything and be open to what the results are. And you'll just be excited about working with others, leveling up, and generally making the world a more interesting place through your successes and failures.
Yes, being OK with being wrong and teaching through the failure. It's an opportunity to learn something new.
Absolutely!