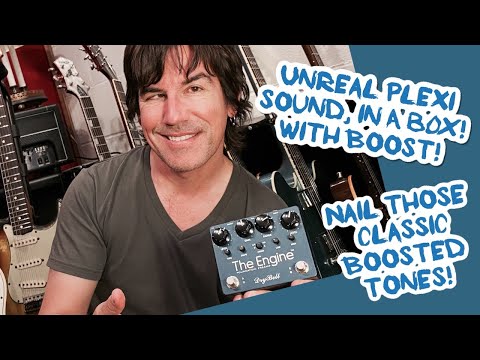 Buy with Confidence – Reverb Protection has you covered
Live support from an expert team of musicians

Simple and straightforward returns

A safe community for finding the gear you want
About This Listing
All of our B-stock The Engines work perfectly. These are brand new, never used pedals, equal to a standard model. What makes them 'not-A-Stock' are some cosmetic imperfections, mostly flaws in the powder coating, small scratches or imperfect silkscreen. So, you still get a great sound, full DryBell warranty and 12% discount!

The Engine – A powerful voice for musicians.
The Engine is a highly versatile and fully analog foundation preamp pedal with distinct voicing inspired by 60's British classic amps and sounds. It covers all the classic overdriven tones on a variety of amps and can be pushed even more with our take on the classic Range(master) and a powerful EQ/Boost section.
Imagine having a quality, compact go-to pedal to cover all the classic overdriven tones on any type of amp with inspiring results. With that idea in mind, we have created The Engine – a highly versatile and fully analog foundation preamp with distinct voicing inspired by 60's British classic amps and sounds.

It features two very strong & independent sections, designed to work perfectly with a variety of music gear, regardless of your playing style.
This unique synergy of dynamic overdriven foundation tone combined with a sparkling Range boost will give you a huge sonic world to explore.
Side A will give you that British flavored tube-like distortion which can be pushed even more with the powerful Range(master) control and versatile EQ/Boost section of Side B.
Before we explain The Engine's functionalities in more depth, here's a little amp history that we had in mind during the conception of this pedal:

Since the early 60's, guitar players have been exploring all kinds of tube guitar amps. Most of them sounded nice and clean unless cranked and often they were still not loud enough for live performances. Many players liked that cranked amp distortion, but they also wanted more power.
The amps therefore became much bigger and much louder. It was a time when everyone played LOUD and if you wanted your amp to distort, you simply turned it up. Eventually guitarists added some kind of Boost pedal to hit the front end of an amp to get even more distortion. Those early amps are the sound of Rock'n'Roll and you can hear it on countless recordings. The only problem with them is that they don't naturally distort on their own, unless you turn them up really LOUD!

This is where The Engine enters the game.

With mostly British, non-master-volume amps in mind, we have created a foundation preamp which allows you to get that cranked Tube-like distortion sound on almost any amp, but without the need to play at ear-shattering levels. It doesn't matter whether you're playing in your bedroom or a stadium arena, you'll have that classic Rock sound ready to go at any volume!
The Engine consists of two fully analog sections.

Side A is very carefully tuned to capture the sound, feel and dynamic response of a real 60's British NMV amp. It's open sounding and very touch sensitive so the amount of dirt on tap is easily controlled by your pick attack. Besides familiar controls such as Level, Gain and Tone, we have added a special feature called Shape. It is a unique control which helps you adjust the overall character and level of the mid frequencies. It's a key feature for adjusting the voice of your foundation tone and it can really help you fine tune the tonal details in your sound on any amp that you're playing.

Side B's most powerful feature, Range(master) is our take on the Treble Booster from the 60's. Range controls specific mid-frequencies whose complex overtones are great for pushing through the mix, whilst also adding some of the nicest sounding sparkle to your tone. Besides that, high headroom and distortion-free Clean Boost (thanks to the high internal power supply voltage) and versatile Low & High EQ will help you even further in tailoring your tone. For those of you who are familiar with our Unit67, think of this section as a Unit67, but without the compressor.

Both The Engine's sections share a high headroom ultra-low noise buffer, designed to have no signal loss. Given that we use only long-life highly reliable components, your Engine will be running for years and years to come.

We wanted to give you that Tube-amp saturation which cleans up nicely with your guitar's volume knob. Special attention has been given to the note separation and clarity at every stage of The Engine, even at its Hi-Gain settings. You will find that the signal-to-noise ratio is excellent for such high-gain tones.

Although The Engine has these two completely separate sections, it really shines when they are working together!

Stacking these two sides can yield some incredibly rich sounds. To help you answer the million dollar question: "Boost in front or after OD/Distortion?", we created what we see as an essential feature called Order.

With the Order switch, you can choose the stacking order of the A&B sections. If you choose the right side B to go into left side A, the result will be much more distortion and complex overtones, depending on your settings. If you choose the left side A to go into B, the final result will be much more volume (if your amp has enough clean headroom) and much more sparkle and detail in your tone. It's a really fun way to explore your tone with different settings and really helps in terms of pedalboard position.

Besides that, The Engine is an amazing platform for stacking with different types of effects, so let your imagination run wild!

As always, we're giving and doing our absolute best to move things forward and create something unique in today's gear world. The Engine is here for you and ready to shine!

A gift for you!
Within each The Engine box purchased directly from DryBell, you will find a nice gift for you – a handmade leather DryBell keychain pick-holder!
Try The Engine!
Your pedal will be shipped directly from our workshop in Krapina, Croatia! Overseas delivery time is approx. 2-3 working days with insured shipping option – UPS (USA & Canada ONLY).

Depending on the time of purchase your package will be shipped the same or the next working day.
So, order your The Engine now, you won't be disappointed 🙂

Thank you,
Your DryBell Team

P.S. If for any reason you are not fully satisfied with your pedal, don't forget you can always return it for a full refund within 14 days of receipt. You can keep your DryBell pick-holder.
Product Specs
Condition
B-Stock (Used)

B-Stock items are sold by an authorized dealer or original builder, but have been opened, blemished, or used in some manner.

learn more

Brand
Model
Finish
Categories
Year
Made In
;