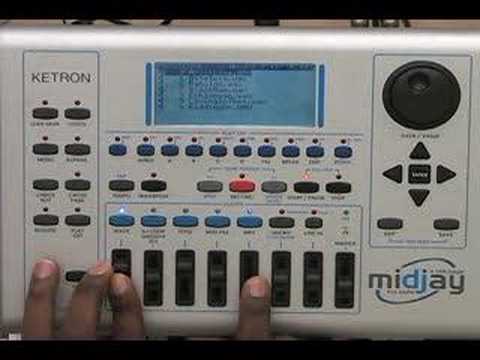 About This Listing
The Midjay (pronounced mi-dee-jay) from Ketron is a high-quality music performance machine with a wide range of features at an outstanding price point. In addition to being able to simultaneously play two WAV, MIDI, or MP3 files, the Midjay offers WAV recording, realistic voices, an arranger section, a drum machine, and more. Perfect for live or studio applications, the Midjay is small and rugged for a long life of professional use.
The intuitive layout of the Midjay, with eight sliders, 40 buttons, and a scroll wheel, ensures quick, direct access to all features and stored media. A large 20GB internal hard drive is included that can store up to 5000 MP3 files, 200,000 MIDI files, or 500 stereo WAV files at CD-quality. A powerful built-in search engine and the ability to connect to a computer make transferring and finding files a breeze.
The Midjay comes with a wide variety of GM sounds, preset voices, sound effects, drum sets, and live drum loops that can be selected and controlled using the on-board controls and backlit LCD, or by an external MIDI device. The arranger functions, which include multiple intros, fill-ins, breaks, and endings, can be assigned and controlled using an optional footswitch or MIDI keyboard. The Midjay also offers excellent connectivity, including a stereo RCA line input, a 1/4" microphone input, a 1/4" stereo output, USB connector, MIDI in, out, and thru connectors, and a VGA output for connecting a computer monitor.
Versatile Performance Machine
The small, rugged unit is perfect for live or studio use by musicians, DJs, karaoke venues, and more.
Intuitive Operation
Eight sliders, a scroll wheel, and 40 buttons give simple access to all features.
20GB Hard Drive
The 20GB internal hard drive (upgradeable to 80GB) can hold approximately 5,000 MP3 files, 200,000 MIDI files, or 500 stereo WAV files at CD-quality.
Searching
The built-in search engine can search for your files numerically or alphabetically.
High-Quality Sounds
The sound module has over 240 GM sounds, 64 voices, 22 drum sets, and 72 live drum loops to provide you with a huge variety of high-quality material to work with.
Arranger
The arranger section offers 104 internal styles and 136 disk styles, each with three intros, four variations, three fill-ins, a break, and three endings.
External Control
An external keyboard controller, piano, sequencer, MIDI guitar, accordion, or optional footswitch can be connected to control the sound module and arranger functions of the Midjay.
Playlists
Create your own playlists of up to 10 files each (WAV, MIDI, and MP3 files can be combined) for instant access. A second playlist can even be brought up while a song is playing.
Automatic Crossfade
The automatic crossfade function allows you to seamlessly fade from one song into another. The type and speed of the fade are selectable, and a transposer function lets you adjust the pitch or key without changing tempo.
Voice Mute
The voice mute function will cancel out the lead vocal on a song so that you can become the new lead singer. This feature is great for karaoke.
DJ Loops and Grooves
A number of CD-quality loops in a variety of genres are provided for terrific percussion backgrounds, which can be controlled like the internal styles. The groove section provides loops that sync perfectly to an internal or external MIDI clock, allowing you to adjust the tempo without changing the pitch.
Sound Effects
Over 300 sound effects are included for enhancing your performance.
DSP
DSP functions include reverb, chorus, and more to enhance your live playing or singing.
Song Library
Several songs have been preloaded in a variety of styles and genres in all three supported file formats.
Line-Level Input
The stereo RCA connectors let you connect any line-level audio device and control the volume directly from the Midjay.
Hard Disk Recording
Record a live mic, instrument, CD player, DAT player, or virtually any other audio signal as a CD-quality stereo WAV file to the Midjay's internal hard drive for later playback. The file can also be transferred over to your computer and burned to a CD.
Digital Connectivity
The USB port lets you transfer audio files, text, and more. The computer will automatically recognize the Midjay as an external hard drive, providing you with the ease of drag and drop file transfers. This is especially useful for editing a song on the computer and transferring it back to the Midjay.
Video Output
A VGA video output lets you display lyrics and chords on a computer monitor; great for karaoke.
Floppy Drive
A 3.5" floppy disk drive allows easy transfer of MIDI information to and from a computer.
Vocalizer
The optional vocalizer expansion provides three harmony voices that can be played with the left or right hand from an external controller or MIDI vocalist track.
Presets Voices - 240
Drum Sets - 22
Live Drums - 72
Sound Effects - 300
Internal Styles - 104
Disk Styles - 136
Intros - 3
Variations - 4 Sequencer No Record and Playback Record: 1 x Stereo WAV File at a Time, Multiple Recordings Supported
Playback: 2 x MIDI, WAV, or MP3 Files Simultaneously User Memory No Effects Reverb, Chorus, Echo, Distortion, Hi and Low EQ Controllers 1 x Alpha Dial
8 x Sliders
40 x Easy Access Tabs Sample RAM No Expansion Slots 1 x Slot for Vocalizer Expansion Inputs/Outputs 1 x Power Input
1 x 1/4" Microphone Input
1 x 1/4" Stereo Headphone Output
1 x USB Connector
3 x MIDI Connectors (In, Out, Thru)
1 x VGA Video Output
1 x 1/4" Stereo Output (2 Jacks)
1 x 1/4" Microphone Output
1 x Stereo RCA Phono Line Input (2 Jacks)
1 x 1/4" Click Output
1 x Footswitch Connector Storage 1 x 20GB Internal Hard Drive
1 x 3.5" Floppy Disk Drive Amplifier No Speakers No Display 192 x 80 Character Backlit LCD with Adjustable Contrast Dimensions (WxDxH) 12.5 x 8.7 x 4.5" (320 x 230 x 110mm) Weight 7 lbs (3.2kg) System Requirements Computer with USB and/or MIDI Connectors (Optional)
Product Specs
Listed
4 years ago
Condition
Excellent (Used)

Excellent items are almost entirely free from blemishes and other visual defects and have been played or used with the utmost care.

learn more

Brand
Model
Categories
Year
Made In
;